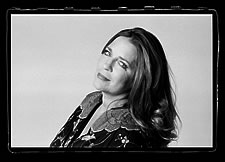 The editors at Still present an extended interview with an artist with Appalachian roots each new issue. The Winter 2010 issue features musician, songwriter, and actor Carlene Carter, daughter of country music icons June Carter Cash and Carl Smith, and granddaughter of Maybelle Addington Carter, the foremother of traditional roots music.
Still fiction editor Silas House conducted the interview with Carlene Carter for a 2007 feature in No Depression magazine as Carter was about to release her CD, Stronger, after a 13-year-hiatus from recording. House spoke to her about this CD, her 30-year-career as a musician and songwriter, and about playing her mother on stage in the musical Wildwood Flowers: The June Carter Story, which focused on her mother's early years with Mother Maybelle and the Carter Sisters.
House called Carlene Carter a "miraculous storyteller, drawing the listener into the tale with the same ease and power that she imposes on someone bouncing along to one of her songs." Following is a slightly edited version of their conversation about her family roots in country and traditional music, her struggles with her own career, and her recent acting and musical successes. As is the nature of feature-writing, most of the interview was not used and the following reflects those "lost" questions and answers.
As we went to press, Still learned that Carter's father, Carl Smith, died on January 16, 2010, making her responses to the first interview question all the more poignant.
Silas House: It's often been noted that your music blends lots of forms, including country, rock, blues, and rockabilly. Your father Carl Smith was one of the original rockabilly stars, so how much of an influence has his music had on your own?
Carlene Carter: I covered two of his songs, one a duet with him. He never sang around the house, and I've only seen him perform a couple times. He retired in the 1970s. He used to sing when we were riding horses. That's my big connection to my father. And we have a similar sense of humor. I just saw my daddy on New Year's Day; we went out and watched football with my brother and sister and I'm still really close to him, but there was a period when I didn't get to see him much and after (his wife) Goldie (Hill) passed away I decided I needed to come back. People ask me sometimes if he's still living and I'll say, "Oh hell yeah! He still rides his damn horse everyday." He looks great, just a little wrinkled is all. His advice to me was always that I was going to burn out. He'd say, "You gotta slow down." One time I remember he said to me, "Don't do that old cocaine cause it'll mess your voice up." Daddy would give me little snippets of wisdom here and there. He'd say "Once you been on the road as much as I have you won't want to do it anymore," and I never wanted that. I've always loved being on the road and onstage and seeing my fans. The thing is, I can't do it half-assed. If there are 80 people in a 500 person room, I still put on the same show. And I still stay and sign until the last person is gone. I don't know how to not do that. But he got burned out. He wanted to have a family and do the horse thing and he's been very successful with that. So I got lots of wisdom from him and from watching how gracious he is with it. . . . He has a wicked sense of humor. He and my husband get along great.
(Editor's note: Carter reported on her website that at the time of his death she was working with her father on a recording project that she hoped to complete in 2010.)
SH: Your mother June Carter Cash is part of one of the greatest love stories in America's collective memory. Is that hard to live up to?
CC: Yeah, the Ballad of Johnny and June. Well, it was just that my expectations were so warped. I wanted that but then after a couple of failed relationships I thought well, maybe that's it. Like my marriage to Nick Lowe. I really loved him but it didn't work out. It's hard work. I thought it was never going to be anything like they had but then I was rudely awakened by Joe Breen (Carter's husband). Neither of us were looking for anyone and we just came across each other and we're both shocked by how we fell in love, how quickly. People think we've been together about 20 years or something and we tell them, no, we're newlyweds.
SH: What did you think of the movie Walk the Line?
CC: I thought it was great that they were making a movie about my mother and John. I was there with Mama for some of the interviews when she was talking to the writers and I remember saying to her, "Tell the truth, now, Mama," and she'd . . . (gives a dirty, hush-up, look). The times I got emotional—of course they were about me—were when I called Mama on the phone because I remember that so well, so many times of calling like when Rosey had done something to me. And then, the scene where John walks all that way to the house and I run in going "Mama, Mama!" In every scene they had me hollering "Mama Mama!" it was never just "Mama." And the last scene, where they had them really singing together, Rosey and I loved that song so much. Reese was great and it was really brave that they sang. I think it helped them because Mama and John's voices wouldn't have gone with their physical presences. Joaquin did a really good job, too, but I always thought John was such a big man and you didn't get the feeling that he was such a big physical presence. But I only know that cause I was there, and really who else could've done it? Nobody. The first time I watched it I separated myself from it, second time I did, too, but I enjoyed it more. It was kind of surreal. The other cool thing was I was in awe that there was a musical called Ring of Fire, and my Mama always wanted to make it to Broadway and that was her way of doing it. So I cried my eyes out over that. Not because of the show but because she had written that song and there it was on Broadway. She would've just loved that.
SH: How important is it to you to carry on June's legacy?
CC: I have an obligation, a good obligation. My grandma wanted me to carry on the music so I've always tried to be respectful for her kind of music, particularly now, I always try to put autoharp at least once on a record. People don't usually notice that but I do. Mama was a huge influence on me so it'd be weird if I didn't carry on her legacy. I could talk about her all day. She was one of the most interesting people I've ever known in my life. Interesting and funny and quirky. I have a gazillion June stories.
SH: Your albums I Fell in Love (1991) and Little Love Letters (1993) were both huge hit albums. What was that time like, being at the top of the charts after years of critical acclaim but not much notice from the public?
CC: After I left the Carter Family I wanted to start going into the studio a little bit. Well, my friend Traci Gershon (she was at Sony at the time) suggested I hook up with Howie Epstein. We'd been friends since we were 23 years old, since he joined the Heartbreakers and I was already friends with Tom (Petty) and Ben (Tench), so I'd known him but I'd never hung out with him because I was just a little bit too wild and by this time I had cleaned up and gotten sober. So I called him up and he had a studio in his house. I went up there and he had a track and I wrote the lyrics and the melody to it and within three hours we had a song and I thought, wow, this is good, this is going to work. So I started making little trips out there and I'd stayed with Kathy Valentine, my friend I wrote a lot of songs with, and I'd go up to Howie's and we started working. I had some great friends who did my demo that turned out to be "I Fell in Love" the single, on spec: Albert Lee, Ben Tench, Howie, Jim Keltner. It was really special that they did that for me.
So then Howie and I got romantically involved; we just worked all the time. It was a working courtship, completely. I knew I had to set myself apart from everything else that was happening, so I came up with my look, my hairdo. Marketing stuff, which I've always been pretty good at when I wanted to. I hired the guys who did "Baby Got Back" to do the video. I worked really hard on that record and the one after that and I toured my butt off. But I honestly think video completely broke me. When "I Fell in Love" came out people would call the radio stations and say, "Can you play that song that was on CMT?" They didn't do a video for "Come On Back" and I was in there telling the president of Warner Brothers, "You don't understand, my videos sell my records!" I was fearless. But that single ended up going number one anyway, but still…then I did "The Sweetest Thing." That was back when 80% of the buying market was women and they believed that women wouldn't buy a woman singer unless she did a ballad. I thought "Sweetest Thing" was a really good song—I'd like to hear someone else do that. For "Every Little Thing" I got Adam Bernstein—I've always loved watching MTV—and I was always around rock people; that was my lifestyle. I didn't watch CMT but then I started trying to watch it and I saw some people coming out and doing a little bit of a Carlene thing, which was fun. And a lot of them are still doing that. Country music and videos have really changed but I think that was right at the beginning of videos selling records to country audiences. "Every Little Thing" was a lot of fun—Adam had done "Love Shack," and I loved the way that video popped, so I got to jump on a trampoline and play drums and be in front of a blue screen and be all these different characters.
SH: Does country music nowadays speak to the lowest common denominator? Has it always been that way?
CC: I think a lot of it is promotions. They played my records when I went to see them, all over the country, visiting the stations 10 a day, they played my records. I don't know where my market is and I don't think about that anymore. As time went on I got more and more involved in the business end of it and I don't think that was healthy for me as an artist. So if you can, I think you need to hire the best people you can to do all that and (jokingly) then I just get to show up and be fabulous! And become difficult!
SH: In 1991 the Academy of Country Music nominated you for top new female vocalist despite the fact that you had been making records since 1978. Does this lack of acknowledgement by the industry bother you?
CC: Well, to most people who were listening to those records and buying my albums then, they really didn't know about my other albums. I look at my life like I've had three careers. The first five albums, then the next four, and then there's now. It all goes in little spurts. I had never felt so driven to feel consumed, to not have a life, as when those big hit records were out, and then, I realized, if I don't have a life, then I don't have new songs. Because I need to live to write. What you got a write about? (Sings): I'm on the bus again! Woo-hoo! And I think one reason so much of mainstream country is one-dimensional may be because they're all on the bus so much, working so much, so it's hard to keep going, to keep good songs coming if you're killing yourself. I took two or three years between I Fell in Love and Little Love Letters. It took me that long to write the album, and people were freaking out! They kept saying, "They'll forget you." And I said, "You know what, if I make good music they won't forget me." I'm not a perfectionist, if you listen to my records you'll know that, but there's perfection within imperfection for me. It's like I can't do that road thing all the time, 200 days out of the year, go to the studio, write songs. That's the reason the real talent is the songwriters, because they're not the ones out on the road. They're writing the songs for the ones out on the road. I see myself doing that somewhere down the line, just writing songs. I know I can always write songs and I think that often I can write songs for others better than for myself. I get too emotional.
SH: What's the best song you've ever written?
CC: "Stronger." "Stronger" was completely stream of consciousness, talking about losing my sister (Rosey). That was real heavy duty. I cried writing that song, wrote it in an afternoon while Joe was building something and he came home and I was . . . (mimics herself weeping). I wrote it about two years after she died. She was a big inspiration. She was wild as could be. People think I was wild, Lord! And then the chorus is about losing all of them. The verses are more particularly about Rosey, but the last verse is about all of them. The last half of the last verse, anyway. That's about all of them because it was devastating to me. I couldn't believe that it kept happening, that I kept losing one after another. I don't want to get into the poor me thing, but I went off the deep end for awhile. February Howie died after being with him 16 years. Then in May my mama died. Big John in September, then Rosey in October. So I was reeling from John when Rosey passed away. The irony of all this—there's a lot of irony in my life—is that I was staying with a friend in Illinois and I had booked a flight to come down to put Rosey in treatment the day after she died. So when they called and told me, I already had a plane ticket. So I kept thinking, if I'd only come one day earlier. For a long time, I just thought why why why why why? But you have to go on. It took me a long time to write about my feelings, and this album (Stronger) is just full of feeling. The album is about a lot of people but they're all connected by me loving them, by caring. I used to not even be able to talk about it. I'd just be blubbering, so it was good to get these songs written. They've helped me. I've done a lot of healing. This album was a lot of healing.
SH: I think one of the best lines you've ever written is "I'll lay on the floor in this black funeral dress" from "Judgment Day."
CC: That's true. That's about Howie, about how I had to make the decision to leave. I didn't want to go but I had to. The road we were on was so dark and scary and as it turned out, he didn't survive it and I did. I knew if I didn't get out of there I was going to die. Not even from drugs, the way he died. I thought somebody was going to kill me, just the people who were around us. Howie had no boundaries with these people. I had to get out of there. I'm pretty tough. I'm not no fraidy cat at all, but these people, I knew it was going to end really badly. And I thought if I left, he'd leave there, too. But he didn't. So that song is about the day I left the house and how hard that was and it's about when I got the call that he was gone. So I had to go back and claim his body. His brothers took the body. I didn't go to his funeral. I had a private memorial for him in California with his friends. So that helped me a lot, letting go of that, realizing it wasn't my fault. That's a heavy song. When I wrote it, I thought, "Damn, that's good? Where'd all that come from?" I don't know where it comes from. It comes from somewhere in here (touches her heart) but I think it comes from God. I sit down and close my eyes and touch the keys on the piano and I'm there. I don't know how I got there but it works.

SH: I know you've said before that Little Acts of Treason (1995) is your best album. Why?
CC: I produced it. I had a whole lot of creative control. I got to experiment, use things I've learned. I put everyone in my entire family on there, even my son, who doesn't sing. My daddy, Big John, Helen (Carter's aunt), Anita (Carter's aunt), Mama, Tiffany (Carter's daughter). There was one situation on that album that was hard for me. "Love Like This"—it was strongly suggested, strongly suggested, that I record that song. They were trying to follow up "Every Little Thing" and I said, well, you know, I'll write more songs and they said, no you've got enough, so I did that song, and I had big reservations about that song. Not because of the song—it's a great song—but because it had been recorded and put out by two other people and it had not been a hit, even as singles with videos. So I thought, how can I come out as a songwriter with a song that's not mine? Because that'll send a message to radio that there's nothing else on this album worth listening to. And that's what happened. They never put another single out. It was a bad bad thing because there are some good songs on there. I think I should go through there and pitch some songs to people because most people have never even heard it other than true blue fans.
SH: When you performed "Jackson" with Brooks and Dunn at the Johnny Cash Tribute in 2003 people said it was the best part of the event.
CC: That was a lot of fun and it should be coming out soon. (A studio version of Carter's collaboration with Ronnie Dunn was included on the album Anchored in Love: A Tribute to June Carter Cash, which was released in 2007.) It's on Dualtone. Ronnie's great on that. My husband sings it with me on the road and the audience goes crazy. He's a lot of fun on stage. So I'm thinking of putting that on my album, as well as my version of "Ring of Fire," which is much more like Mama wrote it, more folksy. I was in Denmark for three weeks and really honed it in my mind. So I think I'll add those two for the European release at least.
SH: When Wildwood Flowers: The June Carter Story was playing, No Depression said that you didn't so much play your mother as you became her. What was that experience like? Do you think that playing your mother in Wildwood Flowers helped you to grieve her passing?
CC: I felt her around in a big way. It was amazing because I didn't consciously do anything, I just knew what she did. I knew how she moved, talked, all her little nuances. Without really thinking about it I could just do Mama. Particularly because I spent the last year of her life with her, pretty much. Mama just loved having me around. She'd always say, "Honey you just left home too early. You need to come home for awhile." I didn't have anywhere to go, really, so it felt good to go home to her. I worked with them on the road a lot, too. Helen and Anita and Mama. We used to roll our eyes at each other because—well, one time we timed her and Mama talked 17 minutes between songs. And we're all just standing there on stage, you know, and she just kept talking, just rambling about this and that. It did help me with grieving her; I never got through a performance without crying. It was overwhelming to me the people who came and how much they loved her and how much they loved the Carter Family and how much they loved my grandmother. There would be these little old women who would say, "I was a fan of your mother's my whole life." That was so sweet and moving. I felt like I needed people to remember her and what she did as a performer so I tried to be as true to her as possible. I didn't want it to be me up there, acting like my mother. I wanted to show them what she was like.
SH: It's striking how much you look like June since your hair went brown.
CC: Yeah, Joe and a girlfriend of mine and I went to the Opryland Hotel during Christmas and we walked in and I had on this fur coat Joe bought me for Christmas and a little leopard-print hat pulled down to my eyes and we walked in and this woman says to her friend, "Look, there's June Carter!" And I said, "She dead!" It's funny how people don't quite get it. They see her on TV or in a movie and they think she's alive. When I first did it, I'd walk by the mirror and I'd go, "Oh, man." When my daddy came to the show he came with Little Jimmy Dickens and they had both known Mama during this time, when the play is set. Daddy said, "Carlene, I'm looking at you now and you're my daughter but when you were onstage you was June and that's weird. That's eerie." It freaked out my little brother, too.
SH: It was a big deal for you to let your hair be brown for the role since you had always kept it blonde. But you've kept it brown…what's the significance of that?
CC: I've found a lot of freedom in being my natural color because I was always blonde. My hair bleaches out in the sun and gets kind of blonde, but it's brown. And now I'm getting gray hair. And I kind of think I deserve it. I want to move into the rest of my life—the next half of my life 'cause I'm gonna live to be a hundred. I'm gonna have a silver cane and I'll whack my great-grandchildren in the head with it when they misbehave. I think it's about being comfortable with who I am, not trying to fit some sort of idea of who you are or were. I'm a different person in a lot of ways. I'm the same, too, but I'm much more comfortable as myself. In my previous sobriety (it went almost ten years) I was still trying somehow to be something people expected me to be, this little vixen, quirky, fun. I bit off a lot to chew with that whole persona. Doing cartwheels and shit. I can't do cartwheels no more.

SH: How has becoming a grandmother changed you as a person and a musician?
CC: I'm so into it, I get so excited about it. I get so much joy from it. I could just hang with them. I don't get to see them enough. Joe and I are in a place in our lives where we can enjoy so much, spend time with this one and that one. He has three daughters and I have a daughter and a son and we have four grandchildren.
SH: Can you tell me about MusiCares?
CC: It's a great organization that looks after its own. Addiciton, treatment, halfway house living, money to go to therapists, groups for free, like-minded musicians with issues about their addition. Very comforting place. Anonymity. I don't care about that but some people do. I don't care if people know I'm in rehab. I'd rather people know I'm alright. My friend Kevin Wells, a drummer who plays with me from time to time, his house burnt to the ground and MusiCares helped them. So they do all kinds of things for the music community. I called them when I needed help and they helped me and I'll always be indebted to them. If they ever need anything from me I'll be right there. I know that's true of a lot of people.
SH: What was at the root of your addition?
CC: Boredom, boredom of being on the road. The weird thing was I was always happiest and did my best work when I was clean. It didn't work for me. It was too much of a hassle. I'm so glad I don't have to worry about it (getting high). I can't say me being an artist contributed to it so much and I don't think it was anything from growing up. It was just where I was at, what was going on around me. For a long time I was a party girl and I had a great time. It wasn't always awful. I had a great time. In England, it was a blast. But then there's this line you cross and I remember crossing that line and I thought, "Uh-oh." Listen to that song, "Change," that's about the morning I realized "I gotta get out of here." That was the first time I realized it, my first sobriety. It's an ongoing project, keeping your life together.
SH: I've heard rumors that you're entertaining the thought of writing a memoir. True?
CC: I have written about ten chapters and they're just vignettes, little stories: the first time I got married, one about being robbed, a lot of different stuff, funny ones. I just haven't felt like my life has progressed enough to be writing my memoirs. It's an ongoing thing for fun right now. It's the kind of book you can read a chapter in the bathroom.
SH: What do you want to say about Joe?
CC: My song "Bring Love" is all about us getting together. It was a real hard time for me, all around, and I had to get out of Nashville. Everywhere I went there was a picture of Mama or John and it was tough, it was real tough. I needed to go somewhere neutral, so I went to California and lived there for about eight months. I met Joe at that time and I lived with him for about four months and then we came back here for Wildwood Flowers. He's an actor and he's actually a really good actor. He's actually classically trained as an opera singer. He went to Julliard. So he's the real voice in the family. He also writes screenplays. He's a really big part of why my life is so much more balanced and on track right now. I was just so lost in my grief that I was finding myself in deep, deep depression. Just when I was getting my recovery from drugs together they all started dying. And I just went off the deep end; I couldn't handle it. I didn't go back to the drug problem. Well, I did do cocaine but I didn't go back to the really bad one. The heroin. Thank God I don't have to do that any more. But today, and that's all that matters, today I'm clean.
I was really happy, coming back to Tennessee, and I had to do it. I had to come back and face my grief and to know it's okay for me to have a weep a day if I want to. That doesn't mean that I'm not happy; they were all just such a huge part of my life. But I can say that most of my day is filled with good memories. And also too I have to say that spiritually I'm in a really good place and I've never doubted that I had that connection. Ever. I came from a real religious background where we went to a real holy roller church where everybody spoke in tongues and I know the spirit moves in a lot of different ways. But I've found a lot of grace in a lot of different places than some people might but basically mine comes from the earth and the goodness in people's hearts. Little random acts of kindness that people do for each other. That's God.
SH: Closing remarks?
CC: I'm in a good place, I have my life back on track. And the music tells my story, I think. If people listen to the songs they'll know my story. I'm here and I'm back.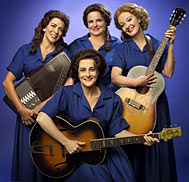 Cast of Wildwood Flowers (2005): Carlene Carter (left) as her mom, June Carter. Lorrie Davis Bennett (back center) as her mom, Anita Carter. Janet McMahan (right) as Helen Carter. And Gina Stewart (front) as Mother Maybelle Carter.