Godey Spurlock by Cassie Mullins Moses





The house was literally built into the side of a mountain. It was held up by poles and really didn't belong among the trees and other normal houses of my tiny town. It seemed to just be hanging on by the skin of its teeth to keep from falling down onto Route 550. The Pole House was some kind of wonder to me. There were three floors but I only have memories of the top and middle because that is where life happened. My mom said she could feel the house sway in a big wind. I moved in after my first birthday when my dad became Director of the Hindman Settlement School and moved out before I turned five when my parents bought their own house. Thirty-five years have passed since I shared a closet-sized room with my older sister in that house and played with my younger brother on the porch, but the memory of our next door neighbor is sharp.

One of the downsides of living in such an odd dwelling was the lack of parking. Cars had to come up a winding, mostly paved road and park in a gravel lot shared by three houses. One of my greatest fears was that my dad would misjudge the amount of space needed to turn our Volkswagen van and I would meet Jesus as we all tumbled down the hill together. The first house we could see was very modest. It was usually painted light blue and was one floor. There was a door at the front and another at the back. The man who lived there was named Mr. Still. I don't think I knew he had a first name for many years because I lived in a world of first names only and Mr. Still was in a completely different class. He was old. He had tons of books. He wore light blue jeans and thin cotton button-down shirts. He could be very funny and very grumpy. He was my friend.



~

James Still and I met when I was one and he was 72. He never married or had children but loved being around kids. My mom often told the story of when my brother, Nathan, would crawl from our house over to Mr. Still's for a visit. Mr. Still would open the front door and Nathan would crawl in, make his way through the house, and crawl out the back door to return home. If Mr. Still felt it was time for a visit, he did not call in advance. My mom learned to always be dressed because he did not knock. He would simply show up and walk into the house and look for us. It sounds insane to me now but that's just how it was with Mr. Still.

As I grew older, Mr. Still stayed exactly the same. He wrote, travelled extensively, ate Thanksgiving with my family, and dominated Jeopardy each night. When I went through the big hair phase of the early '90s he gave me hell for a solid year. One night as we ate dinner together (we had dinner family style at the Settlement School for the first 18 years of my life) he asked if maybe I had started washing my hair in nearby Troublesome Creek. I don't remember my response but I'm sure it pleased him that I fought back just a little. Even after my hair came back down to earth, Mr. Still kept the comments coming. His book Rusties and Riddles & Gee-Haw Whimmy-Diddles was published in 1989, and I was one of five children he named in the dedication. When Mr. Still signed a copy for me nine years later (my parents gifted me with all of his books), this is what I found, "For Cassie who washed her tresses in Troublesome water which she shouldn't have oughta."
"When I was down beside the sea. A little spade they gave to me. To dig the sandy shore... Home soon, James Still."

The notes I have in each of Mr. Still's books are treasures to me but they pale in comparison to the cards and letters he sent me over the years. I don't have all of them. I had no idea that someday I would cherish each word this man wrote just to me in his very distinct hand. A postcard with a beach scene arrived in Hindman for me in March of 1978 with some words from Robert Louis Stevenson, "When I was down beside the sea. A little spade they gave to me. To dig the sandy shore... Home soon, James Still." Another postcard from one of his many trips was dated February 15, 1979. I was two. "Practically a heat wave here in Central Florida. Off come the long johns, into shorts and short sleeve shirts. Good to see green grass again. Expect to cross the line into Florida about 4:00 p.m." The front of the postcard shows a very 1970s hotel with a pool, diner, and candy striped roof. I could not read but he wanted to make sure I knew what he was doing in his absence from the blue house.



Mr. Still sent me many cards over the years but I only wrote to him one time. It was during my freshman year in college, and I was so homesick I really thought I might die. When I found a note from home in my mailbox it was like a tiny Band-Aid to help hold in the hurt I felt. I missed my family. I missed the Hindman Settlement School. I missed going to sleep and realizing it would never be as dark as my bedroom tucked against the base of a mountain in Knott County. I don't remember why I decided to write to Mr. Still but a week later there was a white legal sized envelope with my name and address neatly typed waiting in box 865 on the campus of Georgetown College.


Dear Cassie,

A letter from you. Surprised. Astounded. Delighted. The world must be coming to an end pretty soon!

What's the current news here? I do have a speck. KET was here today with a plan to do a documentary on me in the spring. University Press of KY will be offering a small book—or rather the King Library (UK) on me with such a title as "The Alabama Boyhood of JS." And President of Cumberland College called, offering me an honorary doctor's degree next graduation day. And three days ago denizens of National Public Radio (Washington, DC) was here to do a 3-hour taping. Which is enough for one week. Next week heading to Joseph Beth Bookstore to do a book signing 2-4, Nov. 4.

Godey Spurlock
(This was Mr. Still's alter ego; he often signed letters and notes this way.)

P.S. Keep hitting the books. Professors are never as smart as they would have you believe. They button their breeches like everybody else.

I was 18 and trying to figure out how to navigate life without my parents, and my dear friend back home was 89 and doing more in a week than I could even fathom. I read the letter over and over. I made it through that first semester and the next three and half years just fine. Mr. Still knew I didn't need a pep talk. He knew I would make it. We had dinner together a few nights before I left to study abroad in Spain between my sophomore and junior year. My love of the Spanish language and the culture of South America came from the many stories Mr. Still had shared with me after his trips to visit Mayan and Incan ruins. I told him my plan was to bring home some special souvenirs from Spain and one might even be a bullfighter. The day before I set off on the biggest adventure of my life, Mr. Still handed me a well-worn Spanish dictionary and phrase book he had used for years. Inside he had inscribed, To Cassie and her Spanish bullfighters. James Still.



~

During my senior year of college, I invited Mr. Still to be a guest speaker in one of my classes. He was 91 at this point and only travelled for short trips and no longer drove at all. My dad was sort of his "agent" and agreed they would make the two-and-a-half-hour drive from Hindman to Georgetown together. Many of my classmates had never read Mr. Still's work and I'm sure they had very little interest when class started. Then Mr. Still began to read some of his poems and tell us about himself. Every single college kid was mesmerized. They didn't want him to stop. It had been a weird morning. I could tell my teacher was having a hard time but had no idea that by the time Mr. Still finished his presentation, she would be having a complete mental breakdown. It was one of the most bizarre events of my life. It became apparent something was truly wrong with her and no one knew what to do. Mr. Still had brought copies of his books in case anyone wanted to purchase one and the teacher gave them all away. I was stunned. I wanted to run away. I wanted to cry. I wanted to get Mr. Still as far away as possible from this disaster. But he just stayed and managed the situation with grace and dignity. He did not ask for payment or that anyone return their book. He never made me feel like I handled things badly (someone did make sure our teacher was safe and got help right away). This man was a famous writer in his 90's and he could have easily demanded I take him back to his hotel but he loved me too much. He stuck it out with me.

I did not get to say goodbye to my childhood neighbor. Mr. Still died at age 94 after a brief illness. He had been sick before and always managed to rally and return home to his simple house tucked quietly between a gravel parking lot and a house that was held up by poles. I suppose I should have thought about being in world that didn't include Mr. Still considering our vast age difference. I could not. Sometimes I still don't believe he isn't on one of his wild trips to Egypt or Guatemala or maybe just to Lexington, Kentucky to sign a few books.

I know Mr. Still had many friends and admirers. I saw people flock to him. They simply wanted to eat beside him or get a snippet of advice or maybe the rare compliment. In his later years if there was a large group at the Settlement School, I would often fix his plate for dinner so he would not have to wait. My dad made it clear that Mr. Still would not wait in line like everyone else. One evening I carefully picked out what I knew he wanted to eat and quietly placed his plate in front of him as he held court over a group of writers. Mr. Still looked up and sharply said, "I would prefer dark meat Cassie." I turned and replied with my own sharp tone, "Then I guess you'd better get up and find some for yourself." A few of the other writers were alarmed and I'm sure they thought I was a total brat. But they did not notice the twinkle in the eye of a very old man and the sly smile of a girl who had been friends for a very long time.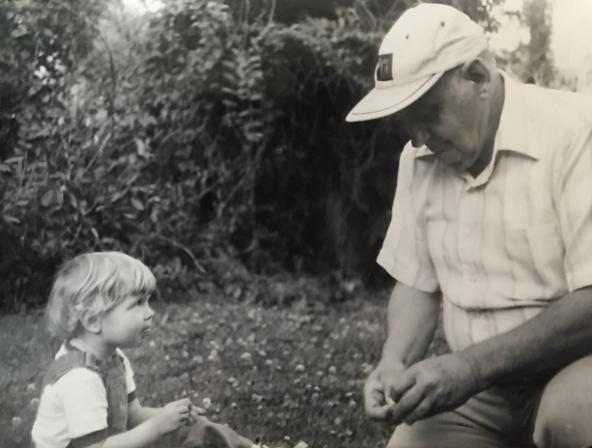 Cassie Mullins Moses with James Still, c.a. 1978

(photo supplied by the author)














Cassie Mullins Moses
grew up on the campus of the Hindman Settlement School. She has been published in
Still: The Journal
and
Piano in A Sycamore: Writing Lessons from the Appalachian Writers' Workshop
. Cassie lives in Cynthiana, Kentucky with her husband, Stephen, and three daughters. She is a community volunteer and proud Hillbilly.



r

eturn to creative nonfiction

home