Salvator Mundi by Chris Cocca
Salvator Mundi

Now the thing to know about my dad
he doesn't care if you know
(he'd rather I not even say)
but who gives a shit, really,
because I studied for
priesthood (Nonno had all the books)
and, let me tell you,
the Holy Church doesn't blush.
But my dad, for some reason,
embarrassed by riches
he fucking deserves
his ring finger bent sideways
above the first knuckle
his hands brown and twisted,
Christ's head sat low
on his sternum,
diamond-crowned,
my pop's one allowance
the heavy gold chain
from when Nonno
came back from Naples.
You know what they say
about Naples
(the ghosts of the gone world,
the lares, their iron-tipped spears,
that poor wop Longinus).
Unlike the church, Christ,
my dad blushes
has one holy treasure;
it's no fucking idol, bunkshooter;
no subway token, no charm,
no mask for Apollo, some laurel-wreathed sun.
It hides in the hem of dad's white v-neck tee,
Christ in the clouds, Christ sweating blood,
Christ's head sat low on dad's sternum,
Salvator Mundi entombed on a double
my old man's fucked hands
bent for work.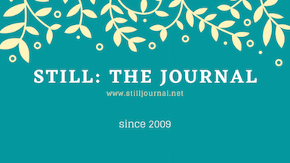 Chris Cocca
has published fiction, essays, and poetry in
Hobart, Brevity, Schuylkill Valley Journal
, and
The Huffington Post
, among
other venues
. He is recipient of the Creager Prize for Creative Writing at Ursinus College and completed the MFA in Creative Writing at The New School. Chris lives and was raised in Allentown, Pennsylvania.