The Queen of the Banjo Players
creative nonfiction by Chris McGlone



I was looking for a cemetery. Vague directions led me to the hills above Tygart's Creek in eastern Kentucky. About half an hour drive from home I turned onto a narrow blacktop road that became a gravel road and followed it to what used to be the town of Wolf. Rusted signs advertising chewing tobacco and flour identified a former store building, across the road from an abandoned church. A weathered sign pointed to the cemetery I was looking for and I drove up the dirt road to it. My car was the only one there on that summer afternoon. The only sounds were the birds and the distant hum of a tractor.
The graveyard was in a clearing along a ridge, in bright sunlight except for the shade of a few old cedar trees and dappled shadows at the edge of the woods. I walked carefully over the uneven ground between the irregular rows of tombstones, reading the names and dates. Some graves had vases of artificial flowers amid neatly trimmed grass; others had weeds around the stone and rusted wire wreath frames, the graves of those with no remaining descendants or whose family no longer makes the long drive from Ohio or Michigan or wherever else they had migrated to find work. A few elaborately carved tombstones were adorned with lambs, angels, and Bible verses, while others had only a name and two dates. Several of the oldest markers were just flat rocks with a carved name and, if there was room, birth and death dates. A tall cenotaph stood in the middle of the cemetery with the names of local soldiers who fought in wars from the Revolution through the Spanish American War carved on its base. The dedication read "They trusted the 'God of Battles' & kept their powder dry."
I was looking for a specific grave. As I explored the graveyard, I saw a rock almost hidden in knee-high grass at the edge of the cemetery, next to the woods. I pushed the grass aside and read the words: "Gertrude Phillips / Queen of the Banjo Players."
It was the end of summer, 1980, and I was hanging out at home in eastern Kentucky until October when I would go back to Purdue and defend my dissertation. The "Queen of the Banjo Players" grave had been mentioned in a local newspaper column. I was intrigued by the story and decided to look for her grave.
Not much is known about Gertrude Phillips. A historian friend of my mother's said that she played banjo at parties and dances in the area and was about 16 years old when she died in the flu epidemic of 1918. This small bit of information raised more questions for me than it answered, mostly about her music but also about how she lived. I wondered who she learned from, a family member or a neighbor, and how she played. She was very young to be a good banjo player, much less a queen. Did she play with other musicians, fiddlers or guitarists?
It wasn't just the banjo that connected us; Gertrude and I were from the same place, the same hills and valleys, creeks and hollows. Gertrude's world was circumscribed by the distance that she could walk or ride a horse or mule. Most of the people she saw would have been family or neighbors. I felt similarly circumscribed and restricted growing up there. I could drive, but where to? The hills seemed like barriers cutting me off from the things I imagined in the world beyond them: Education that was challenging instead of boring, music that wasn't played on the local AM country station, shelves of books available in libraries and bookstores. I was so obsessed with my shining vision of that outside world that I devalued what was around me, considered it boring and backward.


I heard tapes of scratchy 78 rpm recordings of ballads originally from the British Isles and songs with their roots in African American blues, songs about the mountains, love and murder, coal mining and railroads, leaving home and family.


It was not until I went away to college in that magnificent outside world that I began to appreciate what I had left behind. The hills looked different from the other side, or maybe I had changed enough to look at them differently. My path back to the hills began through an informal class I took on old-time music, the music Gertrude would have played. The songs, musicians, and the stories behind them exposed me to Appalachian history and culture that I didn't know much about, even though it had been all around me as I grew up.
I heard tapes of scratchy 78 rpm recordings of ballads originally from the British Isles and songs with their roots in African American blues, songs about the mountains, love and murder, coal mining and railroads, leaving home and family. There were gospel songs I had sung in church with my family. There were rhythmic and raucous dance tunes played on the fiddle and banjo. There were tunes with crooked rhythms and odd changes, based on scales somewhere between major and minor.
Hearing this music inspired me to start playing banjo and to learn more about the music and culture. Once I became good enough I started playing with other people at college. I also found musicians back home, wonderful musicians who had been there all the time while I was listening to music from California and England. Gertrude could have been one of those musicians.
I stood by Gertrude's grave for a while, working through my thoughts. The gravestone embodied my conflicting feelings toward my home, how I had come to appreciate and even love the hills that had felt like they confined me. The crude, homemade character of the stone epitomized the poverty and isolation that I resented. At the same time, for her family to have thought of carving "Queen of the Banjo Players" on her tombstone reflected the importance of her music to a close-knit family and community.
I trampled down the grass around the stone to take some pictures, then discovered that that there were only a couple of shots left on my roll of film. I took those and left, sure I'd come back soon.
I finally returned to the cemetery a few years ago, forty years since my original visit. I had often thought about revisiting it when I was home, but the trips home from wherever I was—San Antonio, New York, Pittsburgh, Virginia—were usually just long weekends and seemed to be too short to do anything other than to visit family.
Like many other things around home, the area around the cemetery had changed. The gravel road was now blacktopped, some nice houses had been built along it, and there was a new sign for the cemetery. New granite tombstones stood over recent burials in the cemetery and the memorial to local soldiers had been restored. I hurried toward Gertrude's grave, eager to see her stone again after so many years.
It wasn't there.
I walked around the cemetery looking for her grave, hoping I was mistaken about its location but sure that I wasn't. Had her grave been moved to another cemetery? Had the mowers removed the stone not realizing that it was a grave marker? Had those digging the newer graves not noticed her carved stone and dug a new grave on top of hers? I looked for her marker in the woods nearby and turned over rocks that could have been pieces of it. I stood there in the late afternoon quiet, looking at where Gertrude's gravestone should have been. She was gone.
I never had the chance to hear Gertrude play her banjo or to learn any tunes from her, but I still feel a connection to her through the music and the hills. Her tombstone inspired me as a symbol of the music that helped bring me back home and of the community around that music.
Traditional music is not just the tunes, but also the community around it. It's personal music, passed from person to person and from generation to generation. Musicians often introduce tunes by naming who they learned the tune from and where their teacher came from, explicitly acknowledging their inheritance.
The death of a musician is a double tragedy, the loss of a person and the loss of their music. A musical note begins to fade as soon as it is played; the sound waves disperse until they finally disappear, obliterated by other sounds. Gertrude would have passed her tunes on to others. I hope that someone in her family or some musician friend kept her banjo and played her tunes on it.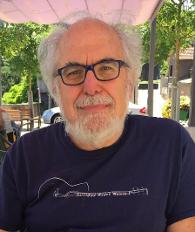 Chris McGlone is from Grayson, Carter County, in eastern Kentucky, where the rest of his family still lives on the family farm. He recently completed an MFA in Creative Nonfiction at George Mason University. He received a B.S. in Civil Engineering from the University of Kentucky and M.S. and Ph.D. degrees from Purdue University. His work has been published in The Nasiona, Floyd County Moonshine, and the Brevity Nonfiction Blog.