Two Poems by Christina Fisanick
Fashion Statement
What does one wear to her own murder?
The grey knit dress with kitten heels or
the glossy crimson clogs and tight black maxi
that makes her hips ripple when she walks?
Should she brush back her chestnut hair
or wear it down to cover her face
so she doesn't see it coming?
What about eyeshadow, she wonders?
Would the brown sparkle "Lost"
by Urban Decay seem like she was trying too hard?
Or would anyone even notice when her broken body
is hauled away, past rubbernecking onlookers
shooting the whole scene on Facebook Live?
She told them all for so long that she eventually stopped talking.
And now she plans to walk into the crowd and take her seat
across the table but by the door.
No one wants to believe that any one person can be so obsessed.
That anyone—grown—can be so blinded by their own self-hatred
that they would be willing to soothe it by taking a life.
The life of a woman, say, in a burnt orange pullover
and chocolate gabardine slacks
who kissed her son goodbye just hours before.
Her left foot now hanging low from a stretcher,
the scuffed Mary Jane dangling perilously
from her bare unpolished toes.
Penny Arcade
He said her money smelled like fruit stripe gum. Every time she came in to rent a video—Jaws one Saturday afternoon and E.T. one Friday night—she opened her suede wallet, dirty-pink from years of use, and handed him two one-dollar bills. By the time they headed towards his register drawer, where he clawed for her penny in change, the quiet manufactured scents of grape and lime and strawberry had filled the space between her waist and his. A mere counters-width of burnt-orange Formica transformed from its capitalist coldness into a kind of intimacy that only being in public allows.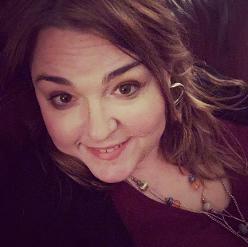 Christina Fisanick
is the author of
The Optimistic Addict
(MSI Press 2016) and
Digital Storytelling as Public History
(Routledge 2020). In addition, her writing has appeared in
The Awakenings Review, Riverwalk Journal, Journal of Appalachian Studies
, and Survivor Lit. She teaches writing at California University of Pennsylvania and lives in Wheeling, West Virginia. She's on Twitter
@SassyWVian