Elegies

Elegy for Lyn Lifshin by David Cazden
You wrote easily
as fireflies making light.
A poem for every grassblade
in my summer lawn
and one in every magazine
—
mainstream to xeroxed.
You'd slip into print
with short, tense lines
and stanzas like stained
enough to nick skin
or slit down to the bone.
Book by book,
page by page, your words
ripened before me.
You were widely read, almost
ubiquitous, even appearing
in Rolling Stone, yet always
scoured by dust and film grain
as if a gritty 70s street scene
overlaid your languorous hair.
Autumn after autumn,
each bough caught fire
sparkling like fuses lit
to your last winter.
Perhaps you left
on what you loved
—
a horse,
tail flicking through a river, water
rising on its rippled flanks
and up delicate black legs,
as it took you
to the other side.
Now your bones lie hungry
among stones and tubers
in the black loam of New York.
Only the ink of words
remains--in books on shelves
by coffee cups and dust
or on the web in L.E.D.
Yet your spirit lingers,
diffuse as twilight
on these warm Kentucky evenings
when my lawn's
sequined with fireflies.
Here I read your book
beneath the sugar maples
watching as they
flash and rise
all through June, into
the continuous night.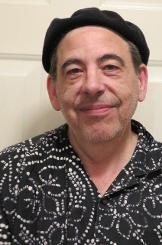 David Cazden's second book of poetry is The Lost Animals (Sundress Publications, 2013). His work has appeared in Nimrod, Passages North, The Louisville Review and elsewhere. He received an Al Smith Fellowship from the Kentucky Arts Council in 2008 and served as poetry editor of Miller's Pond magazine for five years. He just started writing again after about an eight-year hiatus. Visit him on Twitter @dcazdn.