Two Poems by Ellen Austin-Li


Great-Great Grandmother: A Fiction
In the worst hour of the worst season of the worst year of a whole people


~"Quarantine," Eavan Boland
To survive was a stone
swallowed and grown
until hers was the granite
sewn throughout the countryside.
Hard, silent, cold. Her head,
vertigo of hunger, her womb
the warm core that carried
her to shore. The ship strapped
heavy with her empty. What family
she left behind, some buried,
some too hollow for that mercy.
Mercy, her face turned to the sea
spray, the wind she fights across
the way. Woman on the Atlantic. I wish
I could say brave before she went over
the rail. At night, I see her floating
until she lands. The sea floor is where
she must be — when I wake,
the sand weights me.
Consider the Seahorse
tail tethered to seaweed, anchored
on the harbor floor. Consider this fish alone
missing its other moor, the link
in a pair. Consider a horse tremoring
in the field, how your friend once said
you were like this, too, barely held,
quavering in waves. Consider this sea
monster, diminutive yet holding fast,
open eyes surveilling you, a foal entwined
in grass. Ponder the hippocampus
embedded deep within the brain, how it swims
in the temporal lobe. Consider the construct
of time, how it is memory defined
even as it moves forward into fathoms
unknown. Consider the synapse
between senses and past, how the smell of salt
takes you to a familiar beach somewhere—
the hippocampus reigns this in our minds.
Ponder the delicate seahorse, spent
when seas get rough, its tiny middle fin
gives out and they're swept up. Consider
damage to the seahorse, the limbic border
between two worlds, as my hand fans flat
against the sand, I study the currents unfurl.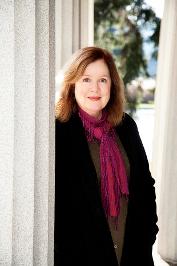 Ellen Austin-Li's work has appeared in Artemis, Thimble Literary Magazine, The Maine Review, Salamander, Rust + Moth, and other places. Finishing Line Press published her two chapbooks—Firefly (2019) and Lockdown: Scenes from Early in the Pandemic (2021). Recipient of the Martin B. Bernstein Fellowship, she earned an MFA in Poetry at the Solstice Low-Residency Program. Ellen co-founded the monthly reading series, "Poetry Night at Sitwell's," in Cincinnati, where she lives with her husband in a newly empty nest.