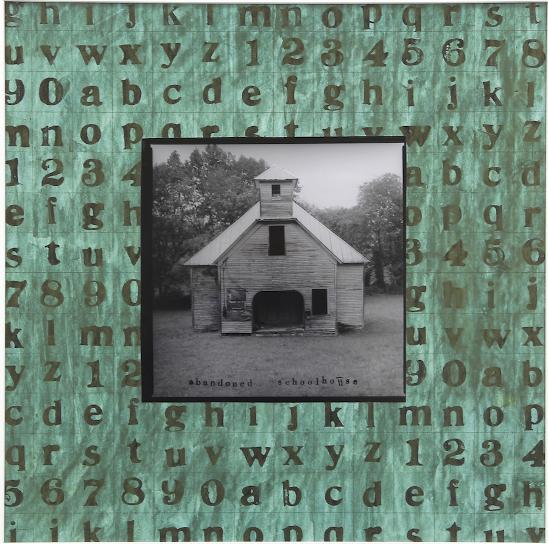 Abandoned Schoolhouse, 2014. Silver gelatin photograph, acrylic, ink, &
mixed-media on paper. 20" x 20" by David Underwood; used with permission
David Underwood is a Professor of Art, the Director of Art Exhibitions, and a former Art Department Chairperson at Carson-Newman University in Tennessee, where he has taught art and photography since 1990. He is an artist and fine art photographer, with work included in the permanent collections of 15 museums around the US, including the Asheville Art Museum, the Knoxville Museum of Art, the Smithsonian American Art Museum, and the California Museum of Photography. He has held 26 solo exhibitions and had artwork included in more than 100 group exhibitions. During the summer of 2015, Underwood's work will be included in juried group exhibitions at the Center for Fine Art Photography, in Fort Collins, Colorado, and at the Arkansas Arts Center, in Little Rock.


In the summer of 2014, Underwood and his wife, the poet and writer Susan O'Dell Underwood

, founded

Sapling Grove Press

, a small, independent publishing company. The couple strives to publish a handful of poetry, fiction, creative non-fiction, and art books from deserving Southern Appalachian voices. Their third publication,

Rich Community: An Anthology of Appalachian Photographers, is due for release June 21, 2015. David served as juror and editor of this anthology, which includes photographs and artists'€™ statements from 82 regional photographers.

Click the thumbnails below to view David Underwood's unique series of image/text works featured here. More about David and his work is available at his website.
Artist's Statement

My current series of mixed-media, image/text artworks are intended to invite open interpretations of meaning from each individual viewer. Each artwork's title is included as actual readable text within the artwork itself, leading the viewer to infer content in guided, yet also in somewhat intentionally ambiguous paths. This text is imbedded within abstract, post-minimalist painting, drawing, and/or collage, and is often accompanied by the inclusion of one or several of my own original photographs. These component photographs are usually not intended to be literal illustrations of the text, but rather are intended as auxiliary gateways to personal interpretations for the viewer.

I am making artworks in two image/text sets; in a 36-inch square format on wood or canvas, and in a 20-inch square format on paper. I have chosen the square for its formal neutrality (neither vertical nor horizontal) and its inherent aesthetic challenges. The nonobjective, post-minimalist color field backgrounds on wood or canvas are created by painting many layers of acrylic paint in custom mixes of colors and clear paint medium. The text titles are applied by a variety of methods and materials, including hand-painting, applying dimensional plastic lettering, stenciling, or inking with individual letter forms. The square works on paper also include a variety of media, and each include some of my own photography.

Throughout my 30 years as a practicing artist, I have been exploring ways to create various different series of artworks in which individual artworks relate to a variety of subject matter while maintaining a consistent aesthetic for the series. I have made a series of abstract drawings that concentrate on the repetition of shape and color, a series of composite photographs that concentrate on the formal relationships between component parts, and am now making this series of image/text mixed-media paintings that concentrate on text statements which are supported by photographs and layers of abstract color fields.
~ David Underwood, May 2015

All images by David Underwood; used with permission