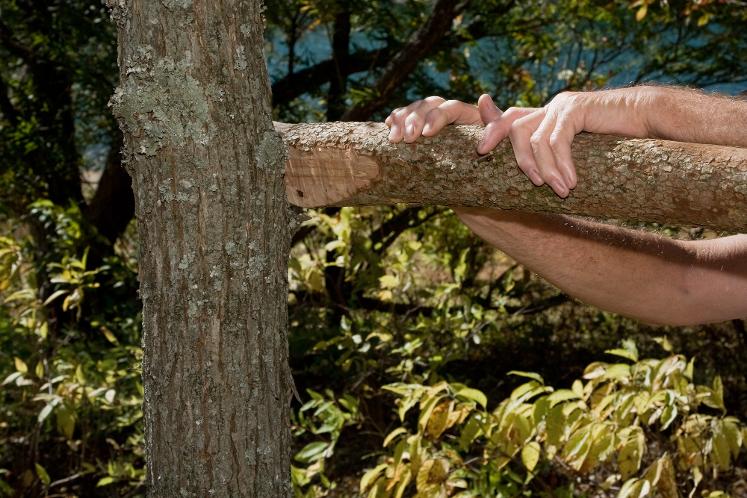 "Jack's Hands" from the series Late October ©John Edwin May; used with permission
John Edwin May (b. 1960) is a photographer located in Knoxville, Tennessee. May studied photography at Lincoln Memorial University, University of South Carolina and East Tennessee State University, where he earned a MFA in 2010. He has held teaching posts at Pellissippi State Community College, Lincoln Memorial University, Walters State Community College, East Tennessee State University, and Arrowmont School of Art.

An avid workshop participant, he has studied with Marsha Burns, Mark Goodman, Tim Grey, Christopher James, Brian Kaufman, Mary Ellen Mark, John Sexton, Craig Stevens, and Joyce Tenneson.

May's photographic work has been exhibited nationally and internationally. Recently he has been photographing small-town wrestling venues with their constructed realities. Images from May's wrestling series, Bell Time, have recently appeared in two important photography collections that feature work from Appalachia: Rich Community: An Anthology of Appalachian Photographers, created and edited by David Underwood (Sapling Grove Press, 2015), featured May's "TWA II, Louisville, Tennessee." May's work from this series also appeared in Looking at Appalachia, a crowd-sourced image archive founded and curated by Roger May.

John Edwin May writes about documenting small-town wrestling: "In my Bell Time series, I am exploring the spectacle of the entertainment venues known as indie wrestling. These events are simultaneously realities and yet contrived simulacra. That this ambiguity has become manifested in two particular subcultures and is embodied in such dramatic visual form interests me as a documentary photographer."

The Bell Time images as well as several other documentary series can be viewed on May's website. Featured below is Late October, the journey of long-time friends camping at Dale Hollow Lake.
Artist's Statement

Late October
This body of work evolved from my father and his friends. For some fifty-four years, these men enjoyed a camping, fishing and hunting trip to Dale Hollow Lake, near Albany, Kentucky. They never missed a trip. This adventure started the third weekend of October and lasted sometimes as long as ten days. From 1987 after I was discharged from the United States Army, I was a welcomed participant.

For years the only images I made were the "big fish," funny moments, and what we called "our yearly, family photograph." It was during the past few trips, I realized what an important thing I was witness to . . . friendship, companionship, sportsmanship and just enjoying the out of doors.

I tried to make images that depicted these bonds and friendships. Some trips we caught lots of fish and sometimes, very few. Seasons with ample rainfall, there were abundant nuts for the squirrels, which made for productive hunting. Seasons with rare rain made the hunting sparse. No matter, we were together in God's creation. We told the same stories, ate the same food, and enjoyed the stories even more than the years past. Now, looking at these images, they are a dream of better times, bitter sweet. The trips had ended for various reasons, and in 2012 we lost Jack. I look back and feel it was fitting that his passing occurred in Late October.

This work is dedicated to Jack Eversole | July 6, 1933 - October 23, 2012.

~ John Edwin May, October 2015
All images ©John Edwin May; used with permission