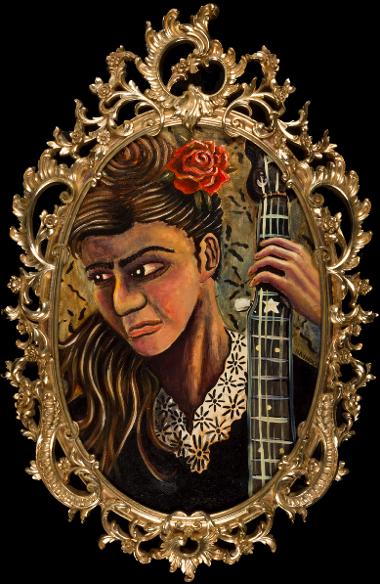 "Blooming Rose" ©John Haywood; used with permission
John Wezley Haywood (b. 1977) is an artist, tattooer, and musician currently located in Whitesburg, Kentucky. Haywood grew up in the family community of Risner, in Floyd County, Kentucky, near Martin.

He was a self taught artist at an early age, inspired by his father's friend and artist Timothy Sizemore. Later, after the encouragement of girlfriend and future wife, Kelli B. Hansel, he decided to study art at Prestonsburg Community College under Thomas J. Whitaker, a well known, inspiring, and highly collected Appalachian artist. He then went on to study graphic design at Morehead State University, where he received the Bachelor of Arts, and the University of Louisville, where he received a Masters of Art in Painting and Intaglio Printmaking. During this time, he became a tattoo apprentice to Trey "Big Daddy" Benham, the owner of two very successful tattoo shops in the Fort Knox area of Kentucky.

After starting a family, and later returning to southeast Kentucky to live on the farm of George Gibson, banjo historian and mentor, Haywood refocused on painting and traditional music. He soon opened the Parlor Room Fine Art and Custom Tattoo in Whitesburg, a venue that offered a permanent location to display his artwork, play music, and tattoo.

Despite the fact that Haywood's artwork has been exhibited mostly in the Southeastern portion of the United States, his list of collectors span the globe from California to Scotland, from the deep south to Canada and New England. He has been sought out by international tattoo enthusiasts, from as far away as Sweden and Denmark; all looking for an original Haywood piece to wear on skin.

In 2010 his art and music were featured in the documentary film The Wild and Wonderful Whites of West Virginia. He has also created album artwork for numerous musicians from folk to cow punk. He continues to perform traditional music, and was honored to be a featured guest at the Olympia Old Time Music Festival, and the Festival of American Fiddle Tunes in Washington State, presenting old time southeast Kentucky banjo styles. Haywood has performed solo, and with various groups such as the Travelin' Snakes, Rich and the Po' Folks, and the Lee Sexton Band.
Artist's Statement

My subject matters range anywhere from ruthless rednecks, mamaws and papaws, musicians, to historic narratives. I've been influenced by fine artists, folk artists, musicians, historians and tattooers alike. Becoming interested in traditional music and folkways has been one of the driving forces behind my art.

My papaw was a prominent Old Regular Baptist singer, often called to sing at funerals. The unaccompanied style harkens back to traditional ballad singing, mournful and heartfelt. This feeling and attitude at life is ingrained in me, not the dogma, but the feeling — the part of it where you hear the words, but you sometimes don't have to know exactly what they are to get it. As a kid I didn't know the words, but the sound shook me. That's where I come from. That's how I wondered my way through playing in Metal and Punk bands only to end up on the banjo, trying to figure out those old songs. I didn't just learn the tunes, but I painted a lot of what I discovered as well. Many of the historic paintings I've done came during my apprenticeship to George Gibson.

I used to feel that to verify myself as an Appalachian artist meant I would have to play up to the stereotypes — put on some overhauls and chew me some 'backer. In reality, being an Appalachian is more of an attitude, or state of mind. It is connected to a place, but it is in this connection to the place that everything else becomes filtered. Being Appalachian no longer limits my art, but filters into every piece of rock and roll, tattoo imagery, and subject matter that I create.
~ John Haywood, February 2016
All images ©John Haywood; used with permission