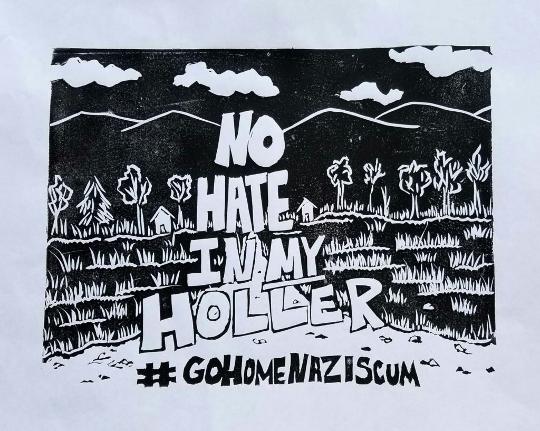 "No Hate in My Holler"
©Lacy Hale; used with permission
Lacy Hale has emerged as an important and visible artist working in Appalachia today. Her work continues to resonate with people within the region and beyond.

Perhaps her best known piece of work is "No Hate in My Holler." Hale originally conceived the idea in 2017 when it was announced that a Neo Nazi group was going to hold a rally in Eastern Kentucky.

"As that image, saying, and hashtag were shared, it began to resonate with people," she says.

The image has since appeared widely on T-shirts and other mediums. A few months after Hale created the piece, the national spotlight went to Charlottesville where a gathering of white supremacists at the Unite the Right Rally led to several days of violence, culminating in the murder of protester Heather D. Heyer. One of the most popular protest hashtags surrounding this event was #NoHateInMyHoller. In 2018 Hale and the piece were mentioned in aTime essay on the region's evolving reactions to injustice by our own fiction editor, Silas House. The phrase has also become a popular rallying cry for rural people fighting for LGBTQ equality. With the recent global protests for racial justice spurred by the killings of George Floyd, Breonna Taylor, and Ahmaud Arbery "No Hate in My Holler" has gained popularity once again.

Hale's eclectic body of work has made an impact beyond this piece, as well. Her drawings, printmaking, and paintings have been transferred to masks that have become popular during the pandemic. One shows a small hissing possum along with the words "Stay Six Feet Back!" while another features Kentucky's widely beloved governor, Andy Beshear, along with his famous pandemic catchphrase, "You can't be doing that." Her murals have places of prominence in Lexington, Harlan, and Hindman, Kentucky.


Lacy Hale at work on a mural. Photo supplied by author.


Hale says she has known she wanted to be an artist since she was five years old. She attended Pratt Institute of Art in Brooklyn and returned shortly thereafter to her native Southeastern Kentucky to pursue a professional artistic career. Her work has been shown throughout the country, including a traveling Smithsonian exhibit in 2012. In 2019 her piece She Speaks and the Mountains Sing was included in an exhibit in New York City.

Hale is co-founder of regional arts groups EpiCentre Arts and Appalachian Women of the Arts. She was also co-host of the monthly radio show "Art Matters" on Appalshop's WMMT-FM for four years. Hale serves on both the Artist Advisory Board and the Executive Board of the Appalachian Artisan Center in Hindman, Kentucky and was appointed to the Board of Directors of the Kentucky Arts Council in February of 2015.

She has received such honors as the Eastern Kentucky Artist Impact Award, as well as grants from the Kentucky Foundation for Women, Great Meadows Foundation, and the Tanne Foundation Award.

Hale's work can be seen and purchased at her website and Etsy shop and at several locations throughout Kentucky, including Roundabout Music Company (Whitesburg), The Mountain Muse (Prestonsburg), the Appalachian Artisan Center (Hindman), Moonbow Mercantile (Corbin). Her work is also available at Appalachian Revival in Roanoke, Virginia, as well as Microcosm, an online site and store in Portland, Oregon.

Hale lives in Letcher County, Kentucky with her husband and two dogs where she continues to create paintings, prints, and more that articulate the Appalachian experience.
All images ©Lacy Hale; used with permission