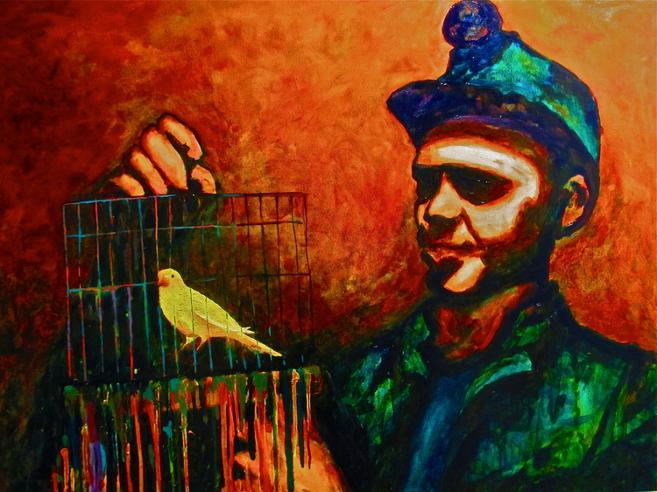 The Canary, oil on canvas, 48x36, ©Rebecca Wudarski; used with permission
Still: The Journal
was happy to recently make the acquaintance of artist Rebecca Wudarski, a painter and multi-instrumental musician from West Virginia. In addition to the paintings featured below, you can see more of Rebecca's energetic and vibrant creations at her
website
. Her music is also available on the CD
Old Fashioned Joy
.

Rebecca began cultivating her creativity in her youth, skipping enough class regularly to be considered truant to stay home and do art. Even at a young age she enjoyed having the entire house to herself so that she could diligently pursue her work in peace. These were the formative years where she began to identity as an artist, and those were the years that helped build a foundation that she would later rely on.

After graduating high school in 2001, Rebecca merely dabbled in art. Taking a long break from any real serious art-making, she spent that time traveling around the country, experiencing a transient life-style. After working a series of odd jobs and gaining a wealth of life-experience in her travels, she decided to settle down for a little while and accept a scholarship to play guitar in an Appalachian music ensemble at Davis & Elkins college in Elkins, West Virginia. It was here where she began to re-cultivate her talent for painting under the tutelage of professor Michael Doig.

Rebecca is now working towards a fruitful career in art, having recently discovered her favorite and most expressive medium, oil paint. She had a very successful first art show, in the spring of 2014 at an event in Thomas, West Virginia called "Artspring". She also won an honorable mention and a second place People's Choice Award at a 2014 fine arts event in Leesburg, Virginia. Rebecca continues to receive much support for her career and shares her work online and in regionally located galleries.
Artist's Statement

I am currently working on my Graffiti Series, which is a series where I am taking old photos (some of which that have sort of an archaic feel to them), and juxtaposing them with graffiti. The graffiti itself and the person in the photo are both part of cultures that have been essentialized or reified in some way, and by juxtaposing these two cultures, I am creating a modern narrative that seeks to shed light on the compelling nature of our pluralistic society; not to mention, it also just looks really neat.

In addition to that, I am constantly working on themes considering Appalachian culture, some of which I am incorporating into my Graffiti Series. Being from Appalachia, I have a vested interest and an acute awareness to the way Appalachia is viewed from the exterior. I use carefully chosen bright colors and dripped paint to represent the liberation, celebration, and complexity of that culture. When choosing specific ideas to paint, subject matter varies and can be chosen because it is either extremely thought provoking or simply beautiful.