Tornado Weather
creative nonfiction by Halsey Hyer



I wore silicone ear plugs at night & imagined angels creating a golden aura of safety around my bed. I didn't want to hear the house settle, or the winds moving through the floorboards & uninsulated windowpanes. I thought the sound was the clouds conjuring, hot & cold currents clashing against one another overhead—I was afraid that a tornado was coming for me. I had a recurring dream where a tornado came & destroyed our living room wall while my dad was working on his laptop from home. When the wall burst from the swirling wind, Flat Stanley was there to repair the damage with his paper-thin body & 2x4s & a hammer & saw. My dad's eyes never averted from his work.


~
Tornado weather is when the stop lights flash yellow, or they aren't flashing at all. Tornado weather is when it's raining heavy, & the sun is still in. Tornado weather is when the clouds make you believe it's night, even though it's nearly noon. Tornado weather is Severe Thunderstorm Warnings & Watches—overlapping red & yellow parallelograms & red & yellow & green blogs moving over the map in Allegheny, Armstrong, Butler, Beaver, & Lawrence Counties. Tornado weather is watching channel 25 & listening to Meteorologist Jim Cantore as I pack my MJH embroidered magenta JanSport backpack full of my prized possessions: a stuffed blue dog named Cosmo, my handmade diary (bound with cardboard & glue; covered with collaged pink fabric); my purple Game Boy Advance with the YOU ARE #1 sticker placed over the speaker, two double-A batteries from my Xmas stocking, a see-through squiggle wire light, & Pokémon Gold or Yellow or Emerald; a five packs of Wrigley's Doublemint gum; a roll of duct tape (just in case). Tornado weather is picking your favorite corner of the basement to crouch in. Tornado weather is powerless nights playing Scrabble & Canasta in front of the fireplace. Tornado weather is PNC Bank missing one of its walls & fantasizing with the other kids at school about finding hundreds & twenties & fifties on the side of the road. Tornado weather is everyone driving to the next town over & eating out for dinner. Tornado weather is stay out of the shower & bath until the storm has passed. Tornado weather is the car is the safest place you can be because if you're struck by lightning it won't get you. Tornado weather is practicing lying face down in my neighborhood soccer field just in case one strikes while you're out & about, vulnerable to the sky & its antics.


~
My father's speech at Mama Haley's funeral is the only time I've ever seen him cry & I hope I'm one of the last to notice the only time they ever saw their father cry as if it was a sight to be seen or a miracle that a man can feel anything but anger. There I sat in the first pew of the church as he pulled at & folded then unfolded his handkerchief in front of the mic stand & everyone else. I kicked my dress shoe feet against my wooden seat as he spoke—he would go into her rose garden as a boy & pick all the petals off her roses with his face swollen from his pollen allergy. He quaked as he said she would scold him, but he would do it again & again & again, anyway. She loved her attention whether it was loving or mad. She was buried in Tazewell, Tennessee in that church graveyard. My dad held me as he watched his mother buried, as friends & family threw rose petals on top of her casket. I didn't let him put me down because I believed that the dead would come alive & grab at my ankles through the ground. We left & stopped at my Great Uncle Carl's grave—my mom always said my dad & I had his lashes. We went to Red Lobster & my brother went into anaphylactic shock because he ate shrimp & got stuck by our server with an EpiPen. We went to the car to start our drive back to Pennsylvania & the wind so strong it began to carry my five-year-old body along until my sister grabbed me & dragged me sideways into my father's Subaru Outback. The sky flashed more than it didn't, & the air was filled with dirt. I saw the body of a funnel cloud form as my father drove in the opposite direction. I saw how when it met the Earth it pulled trees & roofs of houses. I asked him what it was. "Don't worry about it," he said, & left it at that.


~
I watched a tornado with my brother Eric & father from our open garage. It was tearing through suburban development plans just two miles from where we stood. I found out in my teens that it was my high school sweetheart's house that was destroyed. I saw a picture online of a tornado at the end of a road that looked identical to the road where that tornado happened. I saved it & still have it & I don't care if it's the one that was there or not—it felt alive in me.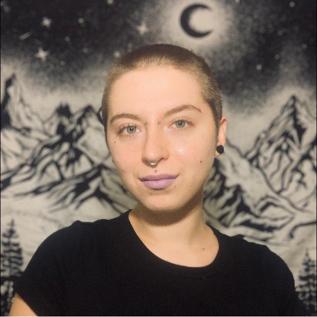 Halsey Hyer is currently earning their MFA in Creative Writing from Florida International University in Miami where they teach in the Creative Writing and Writing & Rhetoric programs. They're an associate editor of Pittsburgh Poetry Journal, editorial assistant for Seven Kitchens Press, reader for Gulf Stream Magazine, member of The Madwomen in the Attic writing workshops, and the virtual events assistant at White Whale Bookstore. Their debut micro chapbook of micro poems on ecological distress, everything becomes bananas, is set for release from Rinky Dink Press in 2022. Their poems have been chosen as finalists for the North American Review 2021 James Hearst Poetry Prize and Cutthroat's 2022 Joy Harjo Poetry Prize. Their work can be found or is forthcoming in Notre Dame Review, The Boiler, SoFloPoJo, Rogue Agent, The Watershed Review, Santa Clara Review, The Blue Nib, Rappahannock Review, and elsewhere.