Interview with poet Ron Houchin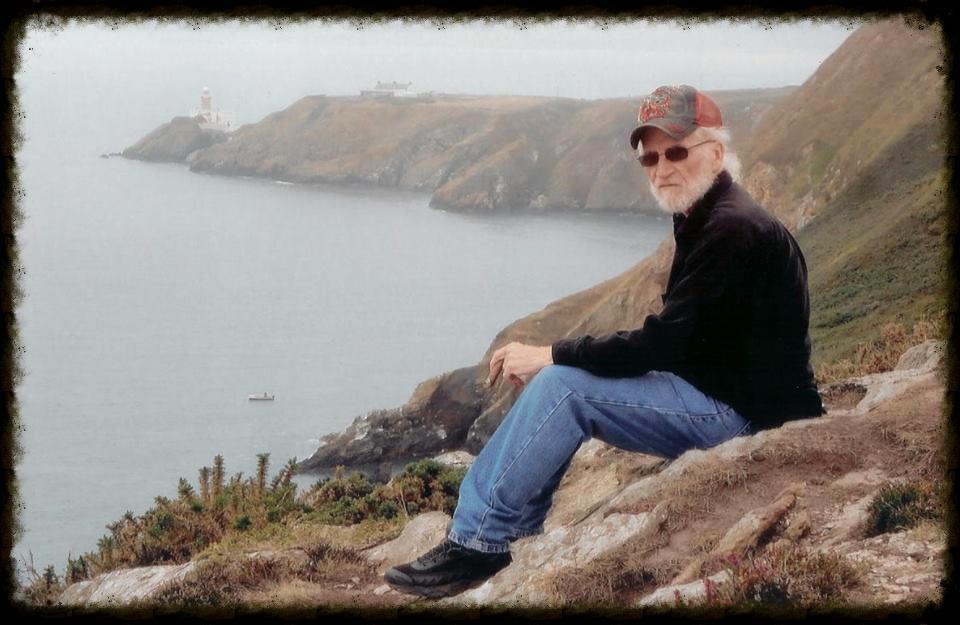 Ron Houchin at Mt. Loop Walk, Howth, Ireland, 2013 photo by A. E. Stringer
Poet Ron Houchin has just released his seventh full-length collection of poems from LSU Press' Southern Messenger Series.
The Man Who Saws Us in Half
is now part of one of the most distinguished poetry series in America. The Southern Messenger Poets began in 1996 and publishes two books per year in the series. Dave Smith is the series editor. Ron Houchin's newest honor seems fitting since those who know him understand that his life has been devoted to steady and disciplined writing.
He was raised in Huntington, West Virginia, and still lives nearby in the Appalachian region of southern Ohio. He taught public high school there for over 30 years. His work has appeared in over two hundred journals, and his awards include the Vesle Fenstermaker Poetry Prize from Indiana University, an Ohio Arts Council Fellowship, and nominations for Paterson and Pushcart Prizes. His previous collections are
Death and the River, Moveable Darkness, Among Wordless Things
(winner of the Appalachian Writers' Association Poetry Book of the Year),
Birds in the Tops of Winter Trees, Museum Crows
, and
The Quiet Jars
. His short story collection
Tales Out of School
, was published in 2013.
Beginning with Death and the River in 1998, Ron has had an interesting international publishing collaboration with Salmon Publishers of Ireland. His collections Moveable Darkness, Museum Crows and The Quiet Jars were also published by Salmon. He frequently travels to Ireland for readings and collaborations with Irish poets. His other previous collections were all published by the Kentucky-based Wind Publications.
We spoke to Ron about his newest collection, his life's work as a poet, and about his fascination with nature, zombies and the dark forces of the human condition.
STILL: Well, first, congratulations on your newest poetry collection and on being a part of the historical Southern Messenger Series at LSU Press. Can you talk a bit about how The Man Who Saws Us in Half came about?
RON HOUCHIN: The poems of the collection came about the same way most of my book manuscripts have: I wrote the title poem and then realized within it were seeds of several other poems and it became the title to indicate that. As I was working on the title poem, it occurred to me that like the kids in the poem who cluster about the magician in his backyard to see him practice his act, we spend our lives hovering around some sort of idea of the magic and wonder in life.
The book came to be selected by Dave Smith for the Southern Messenger Poetry Series he edits for LSU Press: I sent him the manuscript a few years ago to see what he thought of it. I had gone to the RopeWalk Writers Conference and taken Dave Smith's poetry class in New Harmony, Indiana, in 2008. We hit it off and began corresponding and exchanging books. December 20, 2011, he sent me a letter stating he very much liked the book manuscript I'd sent and would like to publish it as a Southern Messenger book. I knew he had been the editor of the Southern Review; I had no idea he had anything to do with this book series. That was the best Winter Solstice/Christmas ever. I know how corny it sounds, but I framed the letter and it still hangs on the wall above where I work every day.
STILL: What do you think distinguishes this new book from your previous work?
RH: There was some talk of changing the book's title to reflect more of the animal-nature-wonder magic these poems try to evoke, but after discussions with Dave and my LSU editor, and my coming up with several rather silly alternate title suggestions, the original title stayed. The degree to which this book dwells on the nature and evolution of our wonder sense distinguishes this book, I think.
STILL: Tell us about your evolution as a poet. Were you always aware that you would be a writer or did that come to you later? What were your earliest connections to poetry?
RH: No, I was not aware from the start. It sort of dawned on me one day that I spent a lot of time writing and putting ideas and lines together in my head—often not even writing them down at all. I think my first connection to poetry was a nursery rhyme my great grandmother would just come out with at random times when I was little. She would just start to chant in her raspy rattle of a voice, "Baa, baa, black sheep where is your lamb? Down in the valley, the buzzards and the flies picking out its eyes and the poor little thing crying 'Mammy'." That and the book of Revelation every weekend at the Nazarene church were beautiful and horrific early connections.
Then, as a senior in high school I realized I wanted to BE a writer. I majored for a year in journalism. Almost a waste of a year.
"We were taught that everything of the world was evil, of the Devil . . . The best and worst part was that I was ignored most of the time and allowed to roam the streets."

STILL: We think the fact that you've lived most of your life in or near Huntington, West Virginia, is unique in these days of mobility and lack of roots. Tell us a bit about your upbringing in Huntington.
RH: I was born outside San Diego, California, but moved to Huntington when I was three. My family has always lived in Appalachia as farmers, coalminers, surveyors, factory workers and just came back when work played out in California. We were so poor. My sister and I were dumped on our grandparents after our parents divorced when I was six. They were crazy, wonderful people who had raised their seven kids through the Great Depression, and were tired, religious fanatics and hypocrites, in my view. They followed one part of the Bible very well: straining the gnat and swallowing the camel. We were taught that everything of the world was evil, of the Devil, yet they were only interested in Jesus to save their own hides. We had little food, lived in tiny shotgun rental houses. The best and worst part was that I was ignored most of the time and allowed to roam the streets. My uncles came and went, in and out of prison. One killed a man with a lead pipe down on the Ohio River.
I broke my right femur during the summer after the fourth grade and went on to break the same bone two more times. My sister married very young and got out of the house, and I suppose I broke my leg three times to get out, too. I moved back with my mother and stepfather when I was thirteen and things began to settle down. I was not only the first person in my immediate family to go to college, but the only one to finish high school. Along the way, I had a couple good teachers and now think that they must have influenced me toward teaching without my realizing it.
I got into many scraps in school and usually got beaten up for being a smart ass. At one point, I had a counterfeit scheme involving coin changers in laundry mats and stole cars with some friends for joyriding, but never was caught in any of it. I know I developed a love of adventure and that got me into regular trouble as a teacher. I was almost fired after seventeen years of teaching for sponsoring a student underground newspaper that criticized and skewered everybody in the school. Taking chances has kept me sane, somewhat.
STILL: Does Huntington as a home base figure prominently in your worldview? Your poetry?
RH: Huntington is the mythic land of my childhood. I stayed here, at first, like many because I couldn't make enough money to leave. Now, it's the land of ghosts. I can't walk down a street or to a corner without finding myself at 10 or 12 or 22 running past, on the way to a friend's house or running from the police or a gang that's chasing me because I stole one of their bicycles. In some ways, Huntington is the source of inspiration. It's Br'er Rabbit's patch of briers. I don't have to think about living here, it comes naturally, so it no doubt leaks into my poems in terms of things observed daily. It definitely informs the settings of almost all of my short stories in the Tales Out of School collection.
"Why I love Ireland: At first, it was the land and people, so beautiful and history-laden with ages of oppression—not completely different from Appalachia. . . . I can't get used to how much the Irish love the arts. I keep going back to get more of it."
STILL: Tell us how you came to have a relationship with an Irish publishing company. What is it about Ireland that draws you back for visits and readings?
RH: Back in 1990, I applied for and received money from the Ohio Arts Council in the form of a grant for teacher of the arts, and I also applied to a workshop in Dublin, Ireland, which offered me a "Teaching Fellowship" to work with young Irish writers. I had such a good time, I returned as a regular participant three more times. I met many Irish writers, Eavan Boland, Seamus Heaney, Paula Meehan, Theo Dorgan, Tony Curtis, and others. They all seemed to like me and my poems. Theo Dorgan pushed Salmon Publishing to publish my first book sooner rather than later, and they did. This is how my love affair with Ireland began, I'm sure.
During 1994-95, I twice attended a workshop in Galway that Billy Collins ran. There is a great Irish lady, Joan McBreen, who set up a reading for the workshop members at the Galway Arts Centre there. I'd had a few poems in Poetry Ireland Review's latest issue and decided it would be good to read those poems from that issue. I did so and after, as things often go there, we went round to a pub. In comes this woman in a shawl or cape-like garment leading two golden retrievers. She was Jessie Lendennie of Salmon Publishing. She was introduced to me and said, "I liked the poems you read. You should send me a manuscript sometime." I reached into my bag, pulling out a book manuscript, and said something like "Here you go." The rest, as they say is history. My first book came out from Salmon in 1997.
This also explains why I love Ireland: At first, it was the land and the people, so beautiful and history-laden with ages of oppression— not completely different from Appalachia. And then because they loved me back and published my first book, Death and the River. I was back in Galway this summer reading stories and poems and sold out of books. I can't get used to how much the Irish love the arts. I keep going back to get more of it.
STILL: Do you see your poetic work as having a particular voice or ideology? If so, how would you describe it?
RH: There was a point, years ago, just after college, when I began to sense a voice rising in the poems, a voice that is not exactly mine, at least not my regular speaking voice, but mine nonetheless. If that makes sense. At that point, I began to recognize when a line or a metaphor strayed from what that voice would say or how it would sound. I am aware this sounds a bit schizoid. I practiced by taking other poems, famous ones, and re-writing them in the new voice. Of the earliest were Frost's "Stopping by Woods…" from the horse's point of view and Poe's "The Raven" from the raven's point of view. These rewrites were disasters but good practice in capturing and learning the voice I had to use. I hear a slightly different voice in the short stories. Dave Smith said something in that letter he wrote me about The Man Who Saws Us in Half when he accepted it: He said he'd never read poems like mine. They were different than any he could think of for their sense of the reader being spoken to as an intimate, an insider to the life of the speaker of the poem. He said it much better than that. I love that he said this. And I hope it works that way for anyone else who reads the poems.
"I've never understood what people mean when they say they wish they had more time to write or read. It's your life and it's going to be over before too long. Why are you waiting?"
STILL: People who know you are often impressed and inspired by your daily writing habits. Can you walk us through a typical writing day for you?
RH: Each day, I get up between 6 and 9 in the morning depending on how late I stayed up reading or watching horror films the night before. Breakfast of oatmeal, yogurt, mixed nuts, and ginger tea usually holds me, and I don't even think about food until late afternoon. This sounds funny to include here, but it is a part of it. I work until at least 1:30 or 2 p.m. After, I go to the Huntington YMCA. Again, this sounds odd to include, too, but I'm convinced exercise is just as important as reading other writers. More oxygen in the brain means more ideas and more energy for the body. I'm free to get something to eat around 4 p.m. Never overeating is very important to the writing process for me: We were hunters for most of our existence as humanoid beings, and hunters are a little hungry most of the time. It's in our blood and gives us the edge we need to catch the quarry—poem or partridge. And I think it goes to show how everything we do is connected to what we may produce.
I've been lucky never to have to deal with writer's block, per se. Although, I did work on one poem for a year, and little else besides, that had to do more with my emotional immaturity and getting married. I spend more time on each piece—poem or short story— than I did before I retired in 2001, but I don't write any more than I did when teaching. I've never understood what people mean when they say they wish they had more time to write or read. It's your life and it's going to be over before too long. Why are you waiting? Even a child knows that we spend time with what we love. If you don't do it, you don't love it, or don't need it.
STILL: What are some specific things you do in the revision process of poems?
RH: One of the things I do in everything—living, writing, dealing with people— is remind myself to avoid the pitfall of viewing things from some ideal position of perfection downward. I want to see it all, the poem, the world, etc., from a point of view of chaos up. If that makes sense. Of course, I'm as idealistic as the next person. I have a sense of the perfect poem, but I feel that is basically a concept that keeps some poets from writing very much because they are always intimidated by that ideal of, say Keats' "Ode to Autumn" or some of Rilke's Duino Elegies, or any number of others. Look at those famous poems closely; they are far from perfect. They have the glow of yesteryear about them. To me anything short of chaotic trash is workable. I never throw anything out or aside as if it were beneath me. I never know where I will be, in my head, in a month, a year. So here's my list of ten things I do in revising:
1. I always keep the first draft handy—it is where the original energy burns, to be regained as needed as I continue to work.
2. I always read and reread the poem aloud and in various setting to see how it may want to change in different a setting—thought is setting and changing the setting changes the thought.
3. I go through the poem looking for all the "don'ts" I've been told to avoid and see how many of them the poem wants to keep.
4. I remind myself often to be the lawyer of the poem— what does the poem want? For as long as I have it, I have to listen to it, be on its side first.
5. I think about the poem many times a day, even sometimes wake up at night to go change a word, a comma, or line break.
6. I look for areas where I may have been unmindfully fashionable and areas where I am being too much like myself, perhaps stagnant— that's the hardest.
7. As one of the later activities, after I'm pretty sure the poem says and does what it wanted to from the start, I look for lines, words, images that may not be load-bearing structures for the poem. There are, almost always, words, articles, prepositions, even punctuation that can be dropped and not take anything from the poem.
8. As the almost last thing, I go back and see where I have eliminated what I thought was not a load-bearing structure and replace it after, say a day or two of cooling-off time— if I can see a place where it sags.
9. And finally, I look for any place in the poem where I've done something, added something, removed something merely because someone I respect is still whispering in my ear that I should or shouldn't do that. This is the continued duty of the lawyer of the poem.
10. And for the long haul, I remember what my friend Paula Meehan once said in the Dublin Writers' Workshop, "Don't forget to invigilate your poems." That is, stick with them. I often go back and revise a poem ten years after I started it, sometimes even after it has been published. I think almost everyone does that.
"Sacrificing a little sense for a great sound is a great secret."
STILL: If you had to give two or three pieces of advice about what makes or breaks a poem, what would you say?
RH: William Stafford said (paraphrased) when it comes to sound or sense, always go for sound. It's the only thing that is always true for me. Also, it's one of the best ways to surprise myself and, perhaps, surprise the reader. Sacrificing a little sense for a great sound is a great secret.
Another thing, I think I can tell when I have failed to look back at a poem after it has sufficiently cooled and not caught a simile or a line or a flat sound that is so startling, regardless of how clever it may be, that it takes me as reader out of the poem and makes me realize I am reading a poem.
And obscurity for its own sake. I realize that often what a really great poem does cannot be quantified, cannot be picked apart. And there are plenty of them out there, but they have to make sense on some level, if only to our neurons or ganglia, the way that "Jabberwocky" does.
STILL: What poets have influenced your work and how?
RH: Gobs of them. The ones I mentioned earlier and many since. If I read enough of say, Richard Eberhart, I will take something away that will influence me for years, maybe forever. Others would have to be the obvious ones: Whitman, Dickinson, James Wright, James Dickey—a lot, Jim Wayne Miller, Karl Shapiro, Archibald MacLeish, Weldon Kees, Trumbull Stickney, Basho, Li Po, Tu Fu, Galway Kinnell, Seamus Heaney, Yeats, Anna Akmentova, Kenneth Fearing, Francis Ponge. The list is almost endless and growing.
STILL: Tell us what you enjoy reading and why.
RH: The dictionary—I have dozens of them. Irene McKinney. H.P. Lovecraft. Horror and the supernatural, especially, because the real world is the real horror. These literary horrors end. I check out everything new and give it a chance to catch me up. Much doesn't, but then much does. Right now, I'm reading Inferno by Dan Brown, Fiends by Peter Stenson, The Wisdom of Insecurity by Alan Watts. I reserve the right not to finish any of them, if they let me down. I've quit reading Stephen King because he has no idea how to end a novel.
STILL: We know you are a fan of vampires and zombies, of the dark, mysterious forces. Could you talk a little about that and how that fascination perhaps influences your creative work?
RH: Mainly, horror fiction shows me what not to do in poetry. I do love the new zombie books such as World War Z, Fiends, Pride and Prejudice and Zombies, and any others I can find because the zombie is such a great metaphor for us and our clumsiness as a race in dealing with problems. The zombie in fiction is like the McGuffin in spy novels; it's the thing that starts the ball rolling, the device for getting the story going. I look at reading anything the way athletes look at cross training. It allows me to stay limber and use muscles I wouldn't ordinarily use enough.
STILL: What do you want readers to take away from your poems?
RH: That feeling of "Holy shit, how'd I miss seeing that?"
Post Script: We asked Ron Houchin to ruminate on his previous six collections of poetry. Here is what he offered:
Death and the River—I was fifty years old when this book came out, May 3, 1997, in Ireland and was launched at the Beltaine Festival in Dingle. I was docked several days' pay by my school when I took beyond the maximum-allowed personal leave days and went to my launching. It was great, and I didn't give a damn that I was being docked. My book's title was among the few phrases in English in the festival's booklet, the rest being in Irish. What a kick, my first book was launched at an Irish pagan festival. It makes me high thinking about it today.
I more or less cannibalized five other book-length manuscripts to get the best poems I had for this first book. The original title was "Childhood, Religion, Death and the River," suggested by my friend, Shayne Barker, who said, "Everything you write is about childhood, religion, death, and the river." Brilliant of him. Ultimately, I shortened it when the Salmon director, Jessie Lendennie said, "Just about anything you put in front of 'and the river' would be good." I sold five hundred copies of that book myself because I worked in a bookstore in Huntington on the weekends over the next few years, and everybody I knew who came through the door had to buy one. They didn't have to, but they did.
Moveable Darkness—This one came out in 2002, dedicated to my daughters, Natalie and Leigh-Ann, and was the first of the concept books published. The title suggests the concept of our being darkness surrounded with flesh, moving in a universe that is mostly darkness, too. The poems aren't as dark as that may suggest, but they do dwell, for the most part, on the dual nature of everything about us and in the world, as I saw them then. It was the second book of five with cover art by my friend, the late great Ariyan.
Among Wordless Things—I heard Galway Kinnell once respond to the question: What is our greatest responsibility as poets? He said it was to stay in a condition to be able to reply. I took that as my only commandment. Not easy at first. I spent years changing my life, my handwriting, my hair, everything, to be able to reply continually to those things that stick, pop out and snag my attention because they need replying to. (I'll bet the French have a neat little expression for it.) It seems easier just to push aside the little snags in things we notice and go on. The more one does that the less they come up. I write about everything that comes to me as if it were a creature out of the wild that, for some reason, has come from the woods to be recognized. These wordless things wanting words to make them more visible are my subjects. I know that sounds so self-important, but I feel everyone has this and for whatever reason ignores it until it becomes all-but extinct in them. And poetry reminds them of it. When this book was nominated for, then awarded, the 2004 Appalachian Book of the Year in Poetry by the Appalachian Writers Association, I was completely amazed that anyone had paid any attention to it. This was my first American book, published by Wind Publications of Nicholasville, Kentucky, and the grand Charles, Charlie Hughes.
Birds in the Tops of Winter Trees—When it came out in 2008, also by Wind Publications, dedicated to my love, Shannon Butler, I feared this book would be hard for people to read. If they took it at face value and missed the irony and the humor, it might seem depressing and resigned, but readers seemed to have faith in it.
Museum Crows—This, the third book from Salmon, in 2009, was dedicated to Art Stringer, my great friend who reads so much that I write. His bringing to it his literalist precision and clarity, had in some ways made it the best book to that point. It is the first book wherein I am able to have the sense of Buddhist surrender to the subjects of the poems. The Zen people say, "The greatest gift you can bring to the world is a quiet heart." I feel that the earlier books may have more edginess to them, more of my agenda, but I hope Museum Crows has more of the agenda of the poems—that's what I strove toward, as much as I strive for anything in poems. I hope that's not too mature. I'm only sixty-six and don't want to mature before I have to.
The Quiet Jars—Having come out this past spring, this book is still gelling in my thoughts. It is a "new and selected" poems collection, and as such the selected part of it has gelled. It is amazing how different those older poems feel in new company. Over all, it is still a concept book. Maurice Manning and I discussed one year when he taught at Hindman at the Appalachian Writers' Workshop, that my strongest poems sometimes are the ones based on lived experience. From that I began to think of doing a collection of poems all based on events I'd lived through. Also, I thought that making it a "new and selected" would allow for a different kind of "new and selected" book, one where the poems from previous books would be those of lived experience with some new ones fitting into an almost chronological narrative. I think it helps a lot that the cover design by Salmon's Siobhan Hutson is such a stunner.