Three Poems by Jenn Blair



What everyone knew for certain [in Fayetteville, West Virginia] was this: On the night before Christmas 1945, George and Jennie Sodder and nine of their 10 children went to sleep (one son was away in the Army). Around 1 a.m., a fire broke out. George and Jennie and four of their children escaped but the other five were never seen again. —

Karen Abbott "The Children Who Went Up in Smoke"

(Smithsonian)
Render

Jennie Cipriani Sodder (1903-1989)

Tell the butcher to leave nothing

on the appalled floor or his murder
hands, I will own each smear on his
apron, pull the last cuts of pork,
chicken, and beef from the shelves,
plunder more heft and more meat
than I ever bought all those weeks
I scrimped and saved, employing
water, flour, cunning, and dented,
discounted tins of beans and corn
to try and fill multiplying mouths,
hapless animals trapped in our
gut as my husband and I bowed
our heads, thanking heaven we
had found favor and fellowship
in a place where we were not born.
Tell him that whatever I am now,
I'm not the woman who used
to stand there, basket in hand,
meekly glancing past the most
gracious slabs of marbled ribbon
to point at gristle choked scraps
while inquiring after his family.
Today, I do not speak to anyone
at all before hurrying death back
to my kitchen—to un-string it—
hack it—studiously observe how
low then higher, more painful,
flame licks piles of bone, see what
endures after hide, tongue and kidney
slough off and fall away, all the soft
parts unable to watch and pray, faith
-less disciples fast asleep in Gethsemane
as God wept blood. But bone is not
ash but what sits down in it, stubborn.
So much beautiful flesh—flesh of five—
the eye would go in a blink, skin quickly
turn to film curling in smoke and air
but how could everything else formed
in that secret place come to nothing so
soon? Who would be so cruel as to leave
us no knuckle to put in an inlaid box—
no pine-knot knob of spine to sift then
fall upon, weeping—no single tooth
to serve as reliquary—dread—relief.
Mountain Town
At the river's last visible curve, a mother pretends
to slay her son with the tomahawk she's just bought
him while a man pushing a baby stroller sits down
on a park bench near the museum—head in hands.
The placard hung above the faded raccoon cradling
a lacquered crawfish in its dusty paws called these
hills worn down nubs of their former selves, bluest
chaff of the ages—severely shucked spire of the one
right Word, diminished Astonishments. All day long
they undulate in place. Moving water standing still.
And Will the Unborn
sing us or curse us? We who
meant well but squandered
and wasted and now sense
a new chill crept in beneath
the eves—darker shadow
reflected back in the glass
—all our loves and hates
swiftly gathering to naught
in our spindle bone arms
as myriads of gnat-motes
hang suspended in twilight's
amber, briefly transfigured,
briefly visible. The scythe—
already lifted. As it hurdles
down, we hurry the children
out, inadvertently crushing
the snail's back and brains
as we move though the tall
grass searching for Orion
—Aldebaran—that old,
still startling, thrill—(Venus
threading itself low in the pines).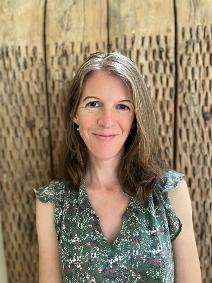 Jenn Blair is a graduate of King University and Hollins University, and her work has appeared or is forthcoming in Copper Nickel, The Chattahoochee Review, Appalachian Review, and Kenyon Review among others. The 2019 recipient of Broad River Review's Ron Rash poetry prize, her poetry books are Malcontent (Press Americana, 2017) and Face Cut Out for Locket (Brick Road Poetry Press, 2022). She teaches at the University of Georgia.