Three Poems by Jeremy Michael Reed
He Tripped, Rabbits in Hand, on his Way Home


She heard the crack from the springhouse,
the echo down the holler, knew
what the sound contained: nightmares,
losing home, seeking help, depending. All of it
thrust on her as quick as grief can travel.
They'd turned away the park rangers,
been allowed to live on mountainside
in the old ways, the entire family
together, but lacking one the structure
breaks, crumbles to pieces, diffused.
Still in the springhouse, the one my grandmother played in,
the last of my family who lived this way sees
all of her future laid before her, and my grandmother,
today on the phone, can't remember her name.
The woman smells the humid air, opens the door.
Dear Future Child,
In my voice, you hear my father's voice. You do not know this, but I do. To you, hearing me, a smudged mark shimmer of all who came before me: Geneva, Katherine, Abbotts, Looneys, their voices under tongue, held like cool river stone.
I traverse boundaries of old farms, territories, treatied lands without knowing where their borders are. I hike knowing mountains they crossed are near, knowing I cannot find my way back to where they settled, how it's been destroyed since then in all except my voice.
But I've found the river. I've found a rock face scratched near water's bend, shoals. I continue speaking, and you can hear my father. I know you hear him when I speak to you.
I return from pines and cedars,
from aspen clusters, through beech spinneys
to farmland, foothills, flatness. The hills begin,
Smoky Mountains, Appalachia. My grandmother
returns through me.
This landscape shapes me,
affects my words for things, how I hold
my shoulders, how I set my mouth when I speak.
Geneva did in the thirties what I do now:
watch films on Gay Street, hike the Smokies,
walk Market Square, observe the Tennessee,
keep these stories to herself. I do these things,
but presence remains underneath.
From within
the odd, shaky light of morning, mountains appear
out of fog as if cast by projector, but this time not
obscuring how we sit in the dark. Instead, clearly:
hills remain, always remain, with or without the fog.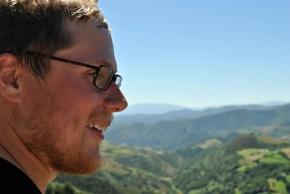 Jeremy Michael Reed holds a Ph.D. in English and Creative Writing from the University of Tennessee, where he was editor-in-chief of Grist: A Journal of the Literary Arts and assistant to Joy Harjo. His poems and essays are published in Still: The Journal, Valparaiso Poetry Review, Western Humanities Review, and elsewhere. He is an associate editor for Sundress Publications and assistant professor of English for Westminster College in Fulton, Missouri. Find him on Twitter @jreed1490.