Two Poems by Joyce Compton Brown


Ceremonial

When George gave Martha
her fine nuptial bedspread pure white
linen, my mothers were stuffing
cornshucks and straw into sackcloth
and rough cotton, some still sleeping
on bundled rags, dragged toward
somebody's vision of plenitude.
Some were singing of
fine linens and love's betrayal—
How do you like your snow-white
Linens? How do you like your sheet?
How do you like that fair young bride
Laying in your arms asleep—
because even broken-hearted
death was better in a high-hall
with soft clean pillows and sheets
than in a straw-stuffed bed in dark cabin.
Our mothers had sung those distant tales,
heard of kingly brocades for royal births.
They knew of fine-wove muslin.
Knew the dream of steady home and hope.
No wonder women knotted, tufted their own
beauties, or settled for plain-sewn
until factory democratized
the bedspread and covered all those layers
barricading from nighttime chill
with purity of tough white cotton
and then chenille, like the one
my mother called counterpane
(after the way of her mother)
which she washed and hung to dry.
It hung so white and thin and worn
you'd think it was witch-spun.
She'd cover that iron bed we slept in,
as chill as the bed of Procrustes,
spread it over layers of worn-stitched
stories from that other life—
Smooth white clean— resurfacing
of the bed, always the morning ritual,
the emblem of life's order,
survival out of chaos— always,
until that last morning, the blessed sign
that she would live another day.
italicized lines from "Little Margaret," Child Ballad #74 ~Francis Child, The English and Scottish Popular Ballads


After Degas, "Woman Ironing"

There is satisfaction in pressing
metal iron downward
against damp cuff, working
it dry—the angular arm,
the circular motion.
Degas must have seen that power
in the faces at work—the jutting elbow,
the firm black wedge wielded over
white collared shirts,
ruffled billowing skirts.
His artist's eye caught the motion,
the beauty of shifted hip, bent-back press,
billowing pastel, All else secondary—
the laundry stench and heat, the endless piles
of blouse and skirt, the pallor of lives.
I remember the touch of chilled blue cloth,
the sacks of shirts, strength of hand and arm,
that certain twist—push and press toward rebirth
of rumpled wad and crease
into stiffened collar and sleeve—
then the flattened expanse, smoothed
for badge and tie, readied
with wriggle and point,
the sizzle of blade
commanding the cloth—
A cosmos of servitude, from ancient
laundries to housewives and hired help—
all bearing secret power in hot irons on hardened
surfaces, dampened shirts— the weight
of transfiguration in starch-stiff hands.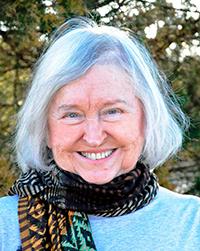 Joyce Compton Brown studied under Cratis Williams at Appalachian State University then taught over 40 years at Gardner-Webb University. Joyce is author of three poetry chapbooks: Bequest (Finishing Line), Singing with Jarred Edges (Main Street Rag), and most recently Standing on the Outcrop (Redhawk Press). She lives in Troutman, North Carolina.