Almost There
creative nonfiction by Maura Way



Daddy Bob removes his watch at 6 a.m. and puts it in his footlocker. It has the face of a Liberty dollar and hands. We are driving to Bethany Beach. A man on vacation doesn't need to know the time of day. Only in July did he venture outside the Capitol Beltway. My brother Bobby and I were under ten, but even we knew the way once we got close to Bowie. Before that it confused us because Bebe and Daddy Bob went through downtown to go to the beach. They didn't use the beltway like my dad. My dad would use the beltway even when he didn't need to. No lights. I was born overlooking it; the third floor of Holy Cross Hospital, exit 31. I didn't care much about it, but I liked seeing the Angel Maroni blowing his golden trumpet from the top of the Mormon temple. That's how I always knew I was almost home.
Once we get over the bridge, we stop at Eat Diner because it told us to, until it closed and became a strip mall selling Oral Surgery. Instead, my grandparents started stopping at shack-like gas stations with inside rooms that served fried eggs and didn't have air conditioning. Once Bobby and I convinced them to stop at McDonald's, but they didn't know what to do, sat down and asked for menus. Bebe tried to order her eggs over easy once we got her up to the counter. We never went back there.
When Daddy Bob passes other cars, which isn't often, he likes to stick his head out the window and ask Where are you going? A funeral? They never heard him, but Bobby and I did and knew the trip was going just fine. Bobby was quiet, but he knew he had to yell MERGE RIGHT! at 404. Daddy Bob always wanted to get on Rt. 1 because the sign says To DELAWARE. That's where we were headed, but you can't go up it and get to the Atlantic Ocean. Even I know that.
When we pass all the corn outside Dagsboro, Daddy Bob tells us about a donkey he knew when he was a kid, back home in Kentucky. One summer that donkey was out in a cornfield and it got real hot. It got so hot that all the corn popped! The donkey thought it was snow, and he froze to death.
We don't have to ask.
We are almost there.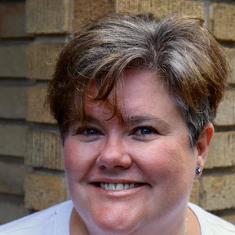 Originally from Washington, DC, Maura Way lives in North Carolina, by way of Boise, Idaho. Her debut collection of poetry is Another Bungalow (Press 53, 2017). Her work has recently appeared in Poet Lore, 100 Word Story, Crack the Spine, and Appalachian Review. She has been a schoolteacher since 1995, most recently at New Garden Friends in Greensboro.