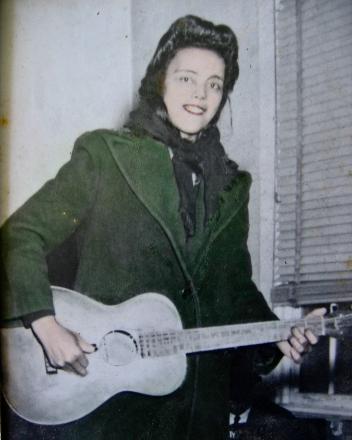 Etta Baker (1913-2006)
Valerie June, Yola, Amythyst Kiah, Mickey Guyton, Rissi Palmer, Miko Marks, and Rhiannon Giddens are just a few of the Black women musicians who garner attention in musical genres previously dominated by white men and women. Black women were foundational to the roots and histories of country, folk, and traditional music, and some of the musicians above are reclaiming and paying tribute to their musical foremothers while paving their own paths.
One of those musical foremothers was Etta Baker, who played guitar and banjo and popularized a style of performance known as the Piedmont blues.

"I used to practice guitar to Etta Baker's album Railroad Bill," noted Our Native Daughters band member Leyla McCalla. Rhiannon Giddens, founding member of The Carolina Chocolate Drops, said that Etta Baker reminded Giddens of her grandmother, even down to the clothes she wore. But it was Baker's music that moved Giddens to be "part of the community of North Carolina women of color who play the old songs."
Etta Baker grew up in Virginia and began to learn the Piedmont blues from her father, Boone Reid, from the time she was a small child.

"I was awakened with my daddy on the banjo or either the guitar; so that's all it took to get me out of the bed. And I would get up at four o'clock, four-thirty, and sit and listen to my dad. And I was such a nuisance to him until he would take time to show me the different chords on the guitar. And I would follow him around; I'd stand up between his knees and come up between him and the guitar and watch over the top. And that's all the lessons that I ever had about my music was from my father." ~Etta Baker
Baker recorded her first songs in 1956, but her husband did not want Baker to leave home for performances. After his death in the late 1960's Baker's music became better known. Finally recording and performing more regularly, Etta Baker earned a reputation as an important national musician. She was named a National Heritage Fellow in 1991 and stayed active in music nearly until her death in 2006.

We pay tribute to Baker's uncanny two-fingered picking style, her sweet spirit, and her many musical contributions below. As well, you can see more information on Etta Baker's life at The Etta Baker Project and The Music Maker Foundation. Additionally, you can access and listen to her performances at the 1983 Berea College Celebration of Traditional Music and the 1989 Appalshop Seedtime on the Cumberland Festival.

Below you'll find other resources and three performances.
A recording of Etta Baker and her sister Cora Phillips playing "Jaybird March"
A visit with Etta Baker from the Music Maker Foundation
Excerpt from a documentary on Piedmont Blues featuring Etta Baker and her sister Cora
Our Native Daughters discuss Etta Baker's influence on "I Knew I Could Fly"