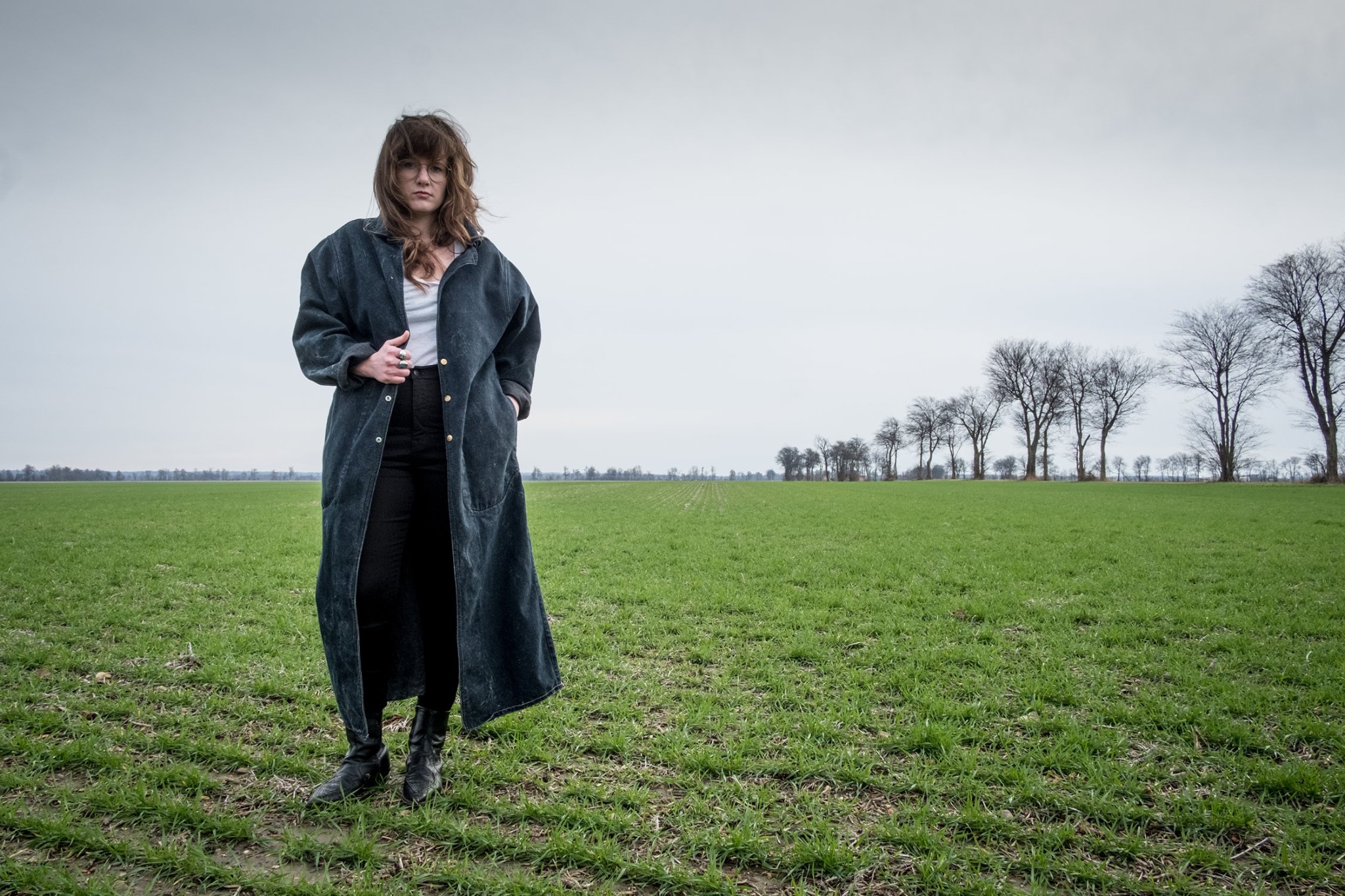 In this issue's multimedia feature, we spotlight the phenomenal new voice for rural working class people: S.G. Goodman.
Not only does Goodman possess an ethereal voice, but her writing is so concise and timely. In the featured single, "The Way I Talk," from her Old Time Feeling album, she calls out class and regional discrimination and explores the convolutions of dialect and accent. She critiques a culture in which corporations have gained more rights than individuals, all in a track that is bursting at the seams with a mix of folk, rock 'n' roll, and country. This single, and her entire debut album, announce the arrival of a powerhouse.
(by Still's fiction editor Silas House)
First, there is S.G. Goodman's voice: raw and completely unique. Equal parts grit and balm, it is all emotion. S.G. can fly high with plaintive tones or prowl the low valleys of longing, sometimes within the course of one line. And she possesses the power to stop you in your tracks like a bite from the cottonmouth snakes swimming in the slough water of her Western Kentucky homeland.

Her otherworldly vocals take center stage on her Verve Forecast debut Old Time Feeling and were the catalyst for her collaboration with co-producer Jim James, the Grammy-nominated solo artist and lead singer of My Morning Jacket.

"When I first heard her, I was spellbound," he says. "But perhaps more important is what she's saying on issues that affect working class folks in rural areas."

James believes S.G's experiences of growing up as a farmer's daughter in rural Kentucky who wasn't like everyone else can be a bridge for a divided country.

"I think she could play an important role in the healing we need to see happen right now," he says. "She's living proof that we can be whoever we want to be, no matter where we come from."

Old Time Feeling often explores the way most people see the South without fully understanding its complexities. As a gay woman who grew up on the banks of the Mississippi River in one of the most isolated parts of Kentucky, S.G. has the unique perspective of the insider who is also the outsider. She says that while writing the album she thought "a lot about the complexity of wanting to carve out a space for yourself in a place that you were born to but doesn't necessarily reflect all your feelings about the place." One of the album's standout tracks, "Space and Time", epitomizes this notion. The ballad, with its refrain of "I never want to leave this world/without saying I love you" is a universal love song on the surface that is also recounting her suicidal thoughts surrounding her family's reaction to her coming out. "Most people would assume I want to seek refuge somewhere else," she says. "And it's not that I don't understand why some people have to do that, but I feel like everybody abandoning ship is not solving any of the problems." Instead of leaving, she has stayed and made music that has saved her.

S.G. says her central technique is singing "with conviction," which she learned while growing up in a rural Kentucky church. She believes what she's singing, so the listener does too. She feels it, and so do we. Her conviction reveals one of the fundamental elements of lasting music: the truth, which is on constant display on Old Time Feeling.

S.G's songs are simultaneously sparse and elegant; they're layered with both meaning and melodies that rock out, tremble with passion, and sometimes do both at the same time. Attending her Southern Baptist church as a youngster three times a week also informed her writing. While she counts Link Wray and Karen Dalton as major influences, she says hymns were "more influential to me than anybody out there, just in their melodies."

S.G. has lived in Kentucky all her life except for a brief time when she needed a change of scenery after a breakup and came to Nashville. There her talents received quick notice. "It all happened very fast," she says, recounting a couple of performances where she received industry notice. The album was recorded over seven days at Louisville's iconic La La Land Studio. S.G. loved the studio because it possesses three of her favorite things: a creek, a big porch, and a kitchen. She built community by cooking for the entire crew every day. Her and James's main goal was for the record to be an authentic representation of S.G. and her bandmates as possible. "We didn't want it to sound overly polished," she says. "We felt like this was such a raw album lyrically that the music should reflect that."

S.G. manages all of this without ever allowing the issues to take over in songs that are always rooted in raw emotion. On the title track she's looking at the complexities of her place in the world while rocking out against a background of drums, electric guitar, and tinkling piano; and while a song like "Burn Down The City" is filled with Biblical references, a human story of devotion is at the forefront. "The Way I Talk" builds in intensity and frustration with its look at "a tale as old as time / turn the poor against the poor" that refuses to allow the listener to sit still; instead of railing against corporations in the song she gets to the heart of the matter by singing about being "a sharecropper's daughter of a coal miner's son."

Many of the songs are populated by Southern imagery like redbirds, cotton, cottonmouths, and long drives on country roads, which S.G. says are images that fill the way she thinks because the place is such a part of her. "Remember how you pressed a daffodil/so that time wouldn't kill / Go back and find the book / pressed for you to look," she sings in "The Tender Kind," one of a quartet of love songs that are also letting-go songs. Another is the Neil Young-infused "If It Ain't Me Babe," which meditates on how much beauty a former relationship possessed instead of going the vengeful ex-girlfriend route of so many mainstream songs. "Kitchen Floor" conjures up a hot June evening complete with Spanish moss as our narrator sweeps the kitchen floor while lamenting a lost love. By the album closer, "Big Girl Now," S.G. is claiming her own identity, ready to forge her own path.

The result is one of the finest albums of the year, equal parts tenderness and hard truths, with co-producers Matthew David Rowan and S. Knox Montgomery providing expert percussion and guitar work on every track. It's an authentic sonic experience built upon beautiful songs that provide glimpses into ordinary lives filled with extraordinary emotion. S.G. Goodman does it all with unforgettable vocal performances."

I go to a different place when I sing," she says. "When playing all these little bars with no monitors, you have to know what you sound like when you're singing something, right in your body. You have to feel it."

Best of all, she makes us feel it, too.