If Heaven's Not My Home
creative nonfiction by Patty Ireland
T
he first time I saw the gray and white cat, she (he?) was scrawny—barely a pound in weight, I guessed. The puny, rawboned creature peered out at me from behind a tall cluster of spring wildflowers, surveying me warily. I spoke gently in the same high-pitched tone once used to sooth my children when they were babies. The cat scurried away.
When I next saw it a few weeks later, it still was not brave enough to come close. But this time, it didn't run; it remained stationary behind a pile of wood, its wild, hollow eyes following me as I tended to newly planted tomatoes. Where was the little creature's mother? How did a cat like that survive on its own? Where in this world was its home?
When I went back inside the house, I told my husband, the one person on earth whom all cats automatically adore despite his gruff, self-protective exterior, about the stray kitten. He did exactly what I expected: winced, grumbled and proceeded outside with a can of tuna. Soon the cat was a regular visitor, arriving like clockwork each day around 4 pm. It meowed ardently as my husband approached with food, yet hissed if he advanced too rapidly.
As summer slowly burned its way through July and into August, the cat continued its now comfortable routine. Even scorching, muggy East Tennessee afternoons did not discourage it from venturing out of the woods and into the oppressive, shadeless glare of our side yard.
All through that blazing summer, as we sat on our porch watching the cat gobble up whatever the current fare might be (tuna or Fancy Feast), we speculated that summers seemed hotter now than when we were children. We each remembered playing outside for hours on end through long, August "dog days," never noticing the airless, sticky heat that now seemed all-engulfing. Was it because we were too guileless and carefree to pay attention to oppressive heat as youngsters? Or was it because summers really were cooler then? Winters seemed warmer now, too, we mused. We recalled two-week stretches of snowfall when Tennessee schools were abruptly shut down. When parents flocked to local grocery stores at the first hint of coming snow to stock up on essentials. When gloved, scarved, hooded, multi-layered kids were sent outside to build snowmen, go sledding through hills and into hollers, and gather buckets of snow to make snow cream. Out for ten or fifteen minutes. Back in for hot chocolate. Then out again for another ten. It was difficult to remain in the biting cold of those fondly remembered winter days for much longer.
Now we wondered: Would this winter be increasingly warmer like those in recent memory or would it be a "real" winter like those of our childhood, spelling possible death for the gray and white cat? We soothed one another's sense of guilt by agreeing that we would happily take the cat in, of course, but for the fact that we already had one, and our current feline would not respond kindly to a stranger imposing on her territory. Besides, feral cats aren't easily domesticated, and we had no experience or knowledge about such things.
As September gave way to October, the hundred-year-old trees in the woods behind our house bronzed and turned brittle. The brilliant colors that normally blazed forth from their tall branches seemed muted. A balding weather forecaster on the six o'clock news explained that it was because we did not have normal amounts of rainfall this year. What he could not predict, though, were the wildfires that would cremate Gatlinburg and the Chimney Top Mountains only a few weeks later. Yet back in July, massive floods gushed through western Kentucky, and mere days after the wildfires, an EF3 tornado was to rip through Polk County. What was the explanation for such weather-related extremes?
The gray and white cat with no name was becoming friendlier; still, it did not allow us to come close enough to touch. One autumn afternoon that felt more like a blistering summer day, my husband went out onto the front porch to find that the cat was there too. When he sat down on the swing, it crept closer. When he came inside a while later, the cat wailed mournfully as if to say, "Please let me in. I need a home."
I started dinner. My husband went downstairs. A few minutes later, a barrage of sawing and hammering ensued from the garage. My husband was building a shelter for the outside cat so that if winter in East Tennessee was by chance "normal" this time around—in other words, snowy and icy with temperatures in the single digits as we remembered from our childhoods—it might survive.
That night, our pampered indoor Persian had a nightmare. We saw her twitching, her closed eyes darting about beneath their lids. Then she let out a shrill cry like a frightened human child and awakened with a start, her eyes scanning the room madly, seeking reassurance that all was well.
We didn't know cats could dream until we witnessed this phenomenon unfold. We debated as to what she might dream about. What would frighten her to the point of crying out? She had been an indoor cat all her life, after all. We raised her from the age of three months since adopting her from an animal rescue center. No other animals ever attempted to prey upon her. As far as we knew, no one ever abused her. What experience could trigger a nightmare in a creature whose life had been without trauma? Was it some innate fear of losing her home with us? And did the feral cat outside have nightmares too? Nightmares about its waking reality of being without a home in this world?


Spring, summer, fall, winter all bleeding into sameness might kill the cat and the wildflowers and the tomatoes and the birds and the trees and us.

I ask: Could environmental catastrophe happen that fast? Could we all be dead in five or ten more years?
It is mid-November. The high is 74. The low is 56. We can sit out on the swing comfortably. The winterized "cat house" is positioned under our front steps. We trailed "Temptation Treats" into its interior, which my husband lined with Styrofoam and stocked with an old pillow we were planning to discard. The gray and white cat follows the trail into the "cat house," devours the treats, trots back up onto the porch, meows and visits, albeit while keeping a safe distance. After having tried without success to capture it several times so that we might take it to a rescue center, we again debate our options. It stares at us complacently, unaware we are discussing its fate. Hoping it will go into the "cat house" for the night, we watch as it descends the steps, but every evening, it disappears into the woods, unsure of an artificial home it cannot understand. And every evening, we once more ponder its plight.
Judging from the balmy weather we've had so far, winter will probably not kill the gray and white cat this year, my husband surmises. I agree, feeling relief. But, he suddenly adds, the increasing lack of clearly defined seasons eventually might. Spring, summer, fall, winter all bleeding into sameness might kill the cat and the wildflowers and the tomatoes and the birds and the trees and us.
I ask: Could environmental catastrophe happen that fast? Could we all be dead in five or ten more years?
Okay, he admits, maybe not this gray and white cat and maybe not us. But all future gray and white cats? Our grandchildren perhaps? Or our great-grandchildren?
The discussion deepens: Will our great grandchildren see the clear robin's egg blue of spring skies? Will they know the warm fingers of June sunshine on their bare shoulders? Will they see the maroons and butternut yellows and bright pumpkin oranges of autumn leaves? Will they breathe in brisk December air and know the sting of January snowflakes on the tips of their noses? Or will a dying earth pale, dry up, combine its seasons into an unending, desert-like summer? Will it waste away before their very eyes? Before doing so, will it heave and jolt and crack and lurch itself into a frantic death-dance of increasingly devastating floods, fires, earthquakes, hurricanes, and tornadoes?
We sit silent with only the rhythmic creaking of the porch swing to interrupt our foreboding thoughts. We gaze back into the now darkening woods, wondering where the gray and white cat twitches in the throes of bad dreams underneath a night sky whose stars might become blocked from view entirely after so many long years of ill-treatment by the humans in charge.
My husband breaks the silence with a parenthetical thought: Scientists speculate about possibilities of a human colony trekking through the galaxy in search of a new heavenly home, a place to start again when earth can no longer support life. Jeff Bezos, Richard Branson and Elon Musk all seem invested in the idea. Musk, he points out, even announced plans to establish a colony on Mars.
Hmm, I muse. Elon Musk? Really?
He shrugs his shoulders and nods his head, acknowledging my cynicism.
I ask: Wouldn't rocket launches worsen the environmental crises? Isn't carbon dioxide released in massive quantities from one launch alone? And isn't Mars a planet with less oxygen and far cooler temperatures than Earth? And wouldn't we still be dependent on food and supplies from Earth? And isn't there a reason why gazillionaires are the only people visiting space? After all, the poor can't exactly leave in a space ship any time they wish, now, can they?
No, no, they can't, he agrees.
We gaze out at the woods in silence again.
He finally breaks the strange, impassive quietness, declaring, human beings aren't designed to live anywhere else but right here. We are bonded to the earth, physically and spiritually. How do we know what long-term effects might result from spending extended amounts of time in space? How healthy would it be to live in an artificial, enclosed environment? And what good would life be anyway if we couldn't look out at the trees and the fields and the misted, blue hills and the glint of yellow sunlight flickering on water?
We do not verbalize the ultimate, bottom-line, gut level questions that swirl around in both our brains right then, but our eyes tell an old story: What are the odds that all the ingredients for life might come together and manifest here on this fragile blue ball hovering on the outskirts of an obscure galaxy's starry spiral arm? Did some great force in the heavens beyond will all this into being? Or are we merely the results of a fortunate but unlikely series of happenstance?
For some reason, the ending lines from an old song we used to sing when I was a little girl back at St. James United Methodist Church in East Ridge, Tennessee, pop into my head. It was entitled "This World Is Not My Home":
Oh, Lord you know I have no friend like you,

If heaven's not my home, then Lord, what will I do?
The gray and white cat will live on through two winters and die one bright April day when a careless driver rounds a curve on our country road too quickly, mowing it down in an instant. The driver will speed past in his big, black Land Rover, tossing a McDonald's bag out the window, never thinking twice about the life he just took. Ironically, Childish Gambino's "Feels Like Summer" will blast from his open windows as he whizzes past: You can feel it in the streets/On a day like this, the heat/It feel like summer/Seven billion souls that move around the sun/Rolling faster, faster, not a chance to slow down/Oh, I know you know that pain/Slow down/I'm hopin' that this world will change/But it just seems the same.
My husband and I will pick up the trash later, but first, we will tenderly gather the cat's broken body in a blanket and bury it at the edge of the woods. As we bend over the spot, we will whisper a pure, primeval prayer that heaven is now its home. We will rise up then, our hands red with the rich dirt from which we came, to which we all return, knowing that our prayer is far too simple. Yet we will hope that somehow, someday, there will be visions of heaven: a collective commitment that gives purpose to chance in this singular moment. Right now, right here on this good earth.
________
Baxter, J.R. "This World is not My Home." Stamps-Baxter Music and Printing Company, 1946.
Childish Gambino. "Feels Like Summer." Summer Pack, RCA Records, 2018. EP.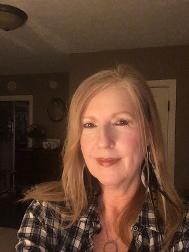 Patty Ireland holds an MA in Creative Writing from the University of Tennessee, Knoxville and is an Associate Professor of English at Pellissippi State Community College. Her work has appeared in Appalachia Bare Journal, 100 Days in Appalachia's "Creators and Innovators" series, The Old Timer's Guide to Chattanooga Tennessee: The Legends, History and Fun of Chattanooga, and the Alzheimer's Association Press, among others. She is currently at work on a debut creative nonfiction book, East Ridge As Eden, about growing up in the 1960s and '70s with a mother who suffered from early onset Alzheimer's disease and an uneducated but wise Appalachian father.