Four Poems by Rebecca Griswold


Possession


Thirty-three autumns.
More autumns than I have names
for; this season of ash and wilt, I count
backwards but I'm still here, in this one. The past
is impassable; a choked-out tunnel I find, over
and over again. Behind pine boards, the secret
passage is full of rubble; shale, dolomite
rocks mined in Ohio, brought by dump truck,
impossibly, over time. Every minute
swallows back more at the exact pace I could dig,
so I don't.
Where would I go, if I could go, anyway? What's waiting
for me, whose body can I enter, like a spirit, move
their arm with my arm, leg with my leg, to what purpose?
Why walk down the same street over again?
Where is the fun in knowing the weather for the day, the exact
moment gun-gray sky will relent, clouds will wring
themselves out over me. Our charcoal cotton shirt drinks the rain, clings
to skin, your skin, and eventually, my skin by proxy.
This is the closest we will ever be.
I spiritually unzip you, climb into
your ribcage, unfurl myself to every corner of you,
my fingers brim the glove of your skin. Some of me is bursting
at your seams. I'm taller now, and bright with time.
If I walk us back to the tunnel, will you dig for me there?
Sweep the Barn Floor
the dirt and dead birds,
the threshing floor
cut baseball cards from 1940
and a fencing suit
that belonged to the landlady.
At that time, who were we?
while she wove her sabre like a needle
en garde, heavy, lunged her opponent
breath labored under mask.
We were specks, little ideations
nothing more. We were cuttings
from the rose bush, stemless, round
flowerfaced and no thorns, not yet.
The barn and the house kept time
tapped impatient feet
in syncopation. They waited on us
for 133 years. The barn burned out
the top floor, lost. Still, it keeps
secrets, parts held on and hidden
for you, dear one. I see your face shine,
see your delight as you pull treasure
from nothing, My explorer
Milk Teeth
Small maple jar
like perfect bones
belonging to the vertebrae
of a small mammal.
in a handwritten font.
I don't know why
my mother kept them
or why I've kept them too, strange
treasure. I tip them out carefully
and stack them back inside;
tooth Tetris.
The broken bits are fine powder
I excuse to the floor
with an exhale.
I run the shiny side of a molar
along my lips, the grooves catch
slightly as the enamel glides.
The roots are gone, leaving
calcified chambers on the underside.
One tooth, pewter striped amalgam,
like a nail forced in,
or an unearthed piece
of howlite with its silvered vein.
Two wisdom teeth, still caked
in dried blood, a ruddy brown,
sound like two acrylic beads
as I strike them together,
of a clock.
St. Bernard Soap Factory
Symmetric stone-stepped gables bookend
an ivory clock tower, a Midwest Amsterdam
imitation saddled along Mill Creek.
The smokestack is a blown-out taper,
smoldering since 1886,
an industrial smudge stick.
My grandfather is here, in 1933, and once someone
figures out travel across time and space,
we will finally meet.
Or in Youngstown, breaking horses.
Or on the farm in Pennsylvania, up at sunrise with the cows.
Or in the doublewide in California, worrying about the bakery,
over coffee.
Or in New Zealand, fetching Olive after the war.
Tending the sheep while mom walks to school.
I've been working out the mystery of you;
excavating, collecting the spectacular and the ugly of you,
trying on the cloaks of your mythology
to understand the shrouded quarter of my DNA.
The St. Bernard Soap Factory still stands,
a white brick guidepost,
a monument to your past,
or a hollowed-out husk
where history embalmed itself.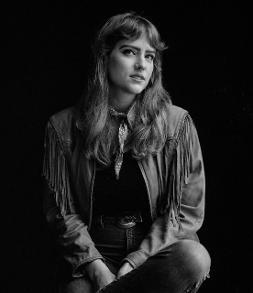 Rebecca Griswold is an MFA candidate at Warren Wilson. Her debut collection of poems is The Attic Bedroom (Milk & Cake Press, 2022). Her poems have appeared or are forthcoming in Cimarron Review, Autofocus, Revolute, Pine Mountain Sand & Gravel, and others. She owns and operates White Whale Tattoo in Cincinnati alongside her husband.