Poems and Erasures by Sonja Johanson
Laurel Hell, 1780
(Kalmia latifolia)
It isn't a circle. It's a river,
and we walk the water, hemmed
on both sides by tangles,
hard wood woven,
keeping us on this path.

Our skin shines.
We crown each other,
lost laureates, reading
through a miasma,
choking on the lines.

The walls are watching,
strange and vegetative,
antennae springing back
from our touch, bloodshot
eyes open wider.

We walk, humid miles,
wet circles. Wives
across the ocean, children
we may never see again,
cottages, walled gardens,
a thousand small balloons
lifting away...





Poke Salad
(Phytolacca americana)
Annie stirred the greens,
pot a weathered helmet, silver
where her fingers shined it clean.

How fast the root grew,
thick as a fist in one season,
seeds sprinkled by the birds,

cells sprinkled in the belly.
How fast the cancer grew,
slender as a finger when she knew.

Strain the sallet, toss the water.
Boil again. Write your name
in disappearing ink.
Artist's Statement
This series of erasures uses the Anne Rice novel Taltos as their source text. I elected to perform these erasures using plant materials as a way of celebrating and mourning our current ecological state; the breakneck speed of climate change and globalization is easily observed by those working in horticulture and conservation. In selecting materials for these erasures, I sought diversity of form, texture, colour, and botanical structures. This specific set of erasures represents plants which are native to the Appalachian mountain range; native plants and the ecosystems which have co-evolved with them are threatened both by habitat loss and by the non-natives that are replacing them.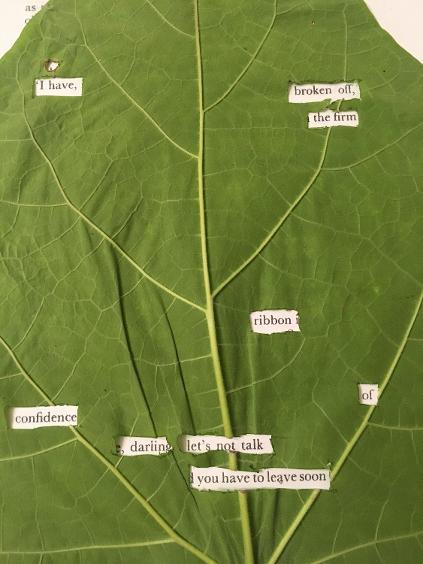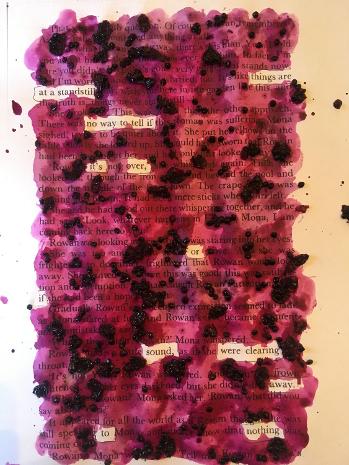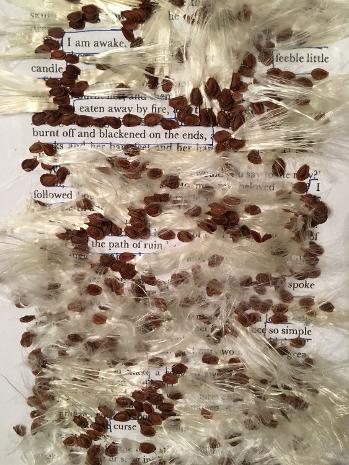 Casting Doubt
I have
confidence
erasure, Anne Rice, Taltos, pg.40
entire leaf, underside, Northern Catalpa, Catalpa speciosa
Aftershock
things are
at a standstill
no way to tell if
it's over
sound were clearing
away.
erasure, Anne Rice, Taltos, pg.60
macerated berries, Pokeweed, Phytolacca americana
Tallow
I am awake.
feeble little
candle
eaten away by fire
burnt off and blackened on the ends
I
followed
the path of rain
spoke
so simple
a
curse.
erasure, Anne Rice, Taltos, pg.460
seeds and coat hairs, Common Milkweed, Asclepias syriaca





Sonja Johanson
has recent work appearing in
BOAAT, Ninth Letter
, and
Poet Lore
. She is a contributing editor at the
Eastern Iowa Review
, and the author of I
mpossible Dovetail
(IDES, Silver Birch Press),
all those ragged scars
(Choose the Sword Press), and
Trees in Our Dooryards
(Redbird Chapbooks). Sonja divides her time between work in Massachusetts and her home in the mountains of western Maine.


return to poetry home