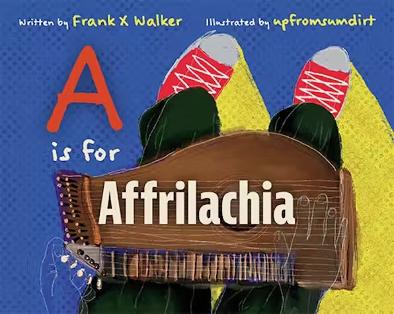 From the University Press of Kentucky:

The people and places in Appalachia are as rich, multifaceted, and diverse as the region itself. When author Frank X Walker first coined the phrase "Affrilachia," he wanted to ensure that the voices, and accomplishments of African Americans in that region were recognized and exalted. A is for Affrilachia not only brings awareness of notable African Americans from this region, but this inspired children'salphabet book is also an exuberant celebration of the people, physical spaces, and historical events that may not be as well known in mainstream educational structures.



Illustrated by acclaimed artist upfromsumdirt (Ronald W. Davis), every image exudes with vibrancy, beauty, and whimsy as it depicts each of the alphabetized words alongside the appropriate letter. Featured are a range of musicians, artists, and activists, as well as mountain ranges, literary works, and coal mining implements. Famous names, such as playwright August Wilson, writer Nikki Giovanni, actor Chadwick Boseman, and singer Nina Simone are spotlighted, as well as lesser-known individuals, such as artist Romare Bearden and musician Amethyst Kiah. Particularly poignant are the letters representing the four girls—Addie Mae Collins, Denise McNair, Carole Robertson, and Cynthia Wesley—who were killed in the 16th Street Baptist Church bombing in Birmingham, Alabama in 1963.



Equipped with a glossary to engage discussion regarding the importance of the individuals and places
represented, this children's book is a unique and engaging ABC primer that offers a rich display of
regional, racial, and cultural heritage through word and image.
Frank X Walker
,
the first African American writer to be named Kentucky Poet Laureate, is an artist,
writer, and educator who has published eleven collections of poetry, including
Buffalo Dance: The
Journey of York, Updated Edition; Masked Man, Black: Pandemic & Protest Poems; and Turn Me
Loose: The Unghosting of Medgar Evers
,
which was awarded an NAACP Image Award and the Black
Caucus American Library Association Honor Award. The recipient of the 35th Annual Lillian Smith
Book Award and the Thomas D. Clark Award for Literary Excellence, he is a founding member of the
Affrilachian Poets.
Ronald W. Davis
,
whose artist name is upfromsumdirt, is an award-winning artist
who has galleried in Kentucky, Indiana, Ohio, and Tennessee, and participated in curator Tewodross
Melchishua's traveling art exhibit entitled MCs, MICS, AND METAPHORS. His work has also been
featured on the covers of
African American Review
and
Tidal Basin Review
, and he has created book cover
designs for a number of authors, including Crystal E. Wilkinson, Dr. Adam J. Banks, Honorée Fanonne
Jeffers, Keith Gilyard, and for his own chapbook collections,
Caul & Response
and
Tangerine Tubman: A
Long-Playing Poem
. upfromsumdirt's art or poetry has been featured online at
Connotations Press, About
Place Journal, New Southerner, Accents Radio
, and
Nat Creole Magazine.

"What a gift to children of color and all children worldwide to learn about the history of the Affrilachian region and those that made significant contributions to humanity as well as the American experiment.... Though it is a children's book, I found myself deeply engrossed and

engaged in A Is for Affrilachia and could not put this down until I reached the last letter of the Alphabet."









all images used with permission of University Press of Kentucky