Rivers
poetry by Silas House
Not far from the water
your daughter was sleeping.
O Kentucky: you hurt me and you heal me.
You cut me and you stitch me.
Your mountain tongues, your bluegrass
tongues, your western tongue,
your Louisville tongues.
Lou uh vuhl
Louey ville
Louis ville
Lou uh vuhl
On the banks of the Ohio.
The Cumberland and the Laurel.
Red River, Green River, Big
Sandy, Russell Fork, Levisa
Fork. And then:
the twisting Kentucky River.
O my Kentucky. You
hurt me and you heal me.
You cut me and you cut me.
Not far from the water
your daughter was sleeping.
When you won't listen you won't
listen. When you holler and scream.
When your silence means everything.
You hurt me. You cut me
and I wish you loved me
as much as I love you. I would
not just stitch you. I would never
cut you to begin with.
But then you march in the streets
for her. Then you say her name.
Then you lay down in front
of bulldozers. Then you stand
up for your children. And you
take me in, again. Begin
again. You put your arms around
me and tell me you love me.
You show me when you stitch me,
your needle catching the light
of the blue moon, the thread
that runs so true, the salve
made of coal, and tobacco, whiskey.
The salve made of rivers.
Not far from the water
Your daughter was sleeping.
Prove it, right now. Love me
as much as I love you.
She was a Kentuckian,
so be the best of Kentucky.
Be the holiness of your waters,
holy still even when polluted,
even when secret, when wild,
when dammed, in the dark stillness
of the night when you can hear
them if you hush, and listen.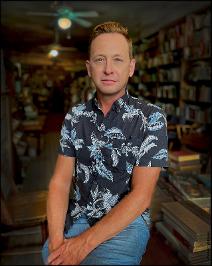 Silas House
is the
New York Times
bestselling author of seven novels, including his most recent,
Lark Ascending
, which was a
Booklist
Editors' Choice and is the winner of the 2023 Southern Book Prize and the 2023 Nautilus Book Award. Four of his plays have been produced. He is also the author of the 2009 book of creative nonfiction
Something's Rising
(with co-author Jason Kyle Howard). In 2022 he was the recipient of the Duggins Prize, the largest award for an LGBTQ writer in the nation. The same year he was named Appalachian of the Year in a nationwide poll. In 2023 he was inducted as the
Poet Laureate of Kentucky
for 2023-2025. House teaches at Berea College, where he is the National Endowment for the Humanities Chair, and at the Naslund-Mann Graduate School of Creative Writing. He is serving as one of five judges of the National Book Award in Fiction (2023). A native of Eastern Kentucky, he now lives in Lexington, Kentucky.