English to Spanish:
Jeremy Paden and
Tatianna Verswyvel translate the poetry of Maurice Manning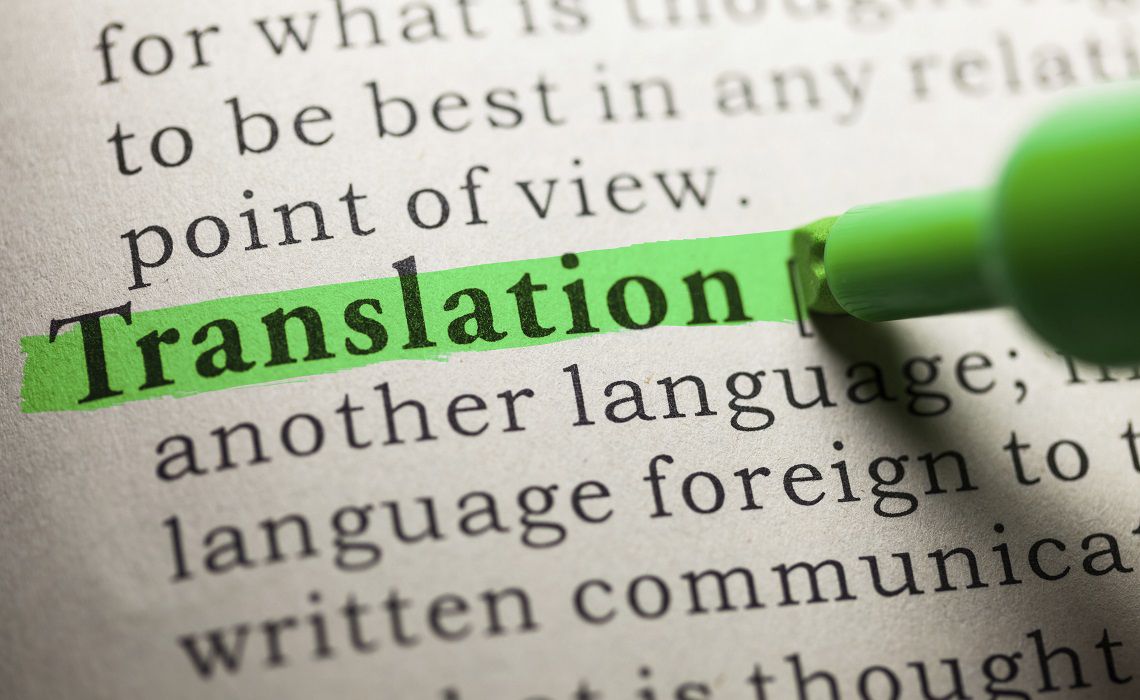 From the translators:
Maurice Manning's
Bucolics
is grounded in earthy language and in observation of the natural world. These poems exude humility. Humility from humble, which comes from humus, or earth. And these poems smell of earth and sweat and sweet water coursing over limestone creek beds. This humility, we should note, is not of the quiet kind sprung from insecurity and that quickly turns into resentment. It is of that kind that grows up from an understanding born of close study of the contradictions and ironies of the world. And, yes, born of those small moments of grace that the world bestows on us.
When the pandemic forced us into confinement and isolation, forced us onto screens for a bit of that human touch and also forced us to walk outside alone as a way of escaping the enclosure of home, we found ourselves returning to these poems, to this long dramatic monologue between a hired hand and his Boss. The soothing rhythm of these poems opens up the mind and heart in ways that interrupt the negative tales we tell ourselves in times of grief and loneliness. We looked to the sky, the moon, and the hawk in meditation rather than condemnation. The reflective solitude of these poems leads us to love and mercy, rather than self-pity.
Translation is an act of love and wonderment. Translators turn to works they admire and works they want to learn from. How does the rhetoric of these poems create that sense of calm, of wonder, of peace? Translation is a way of opening up the poem to see what is happening, and one that, hopefully, will find a way to recreate those same feelings in another tongue and for readers in that other language.
Spanish and English, despite the fact that each are major branches of two very different European languages, share more than we realize. Yes, both follow a Subject, Verb, Object syntax. Yes, English has absorbed an inordinate number of Latinate terms. But, more than either of these similarities, both the British archipelago and the Iberian peninsula are lands with people who have had a long history of being colonized and then of colonizing. Because of this, they have a linguistic history of folding other languages into themselves. Cosmopolitan languages, languages of trade and commerce, smooth out differences and particularities; they prefer abstractions to words and expressions rooted in the earth and in relationships. In cosmopolitan languages, it is easy to separate human experience into North, South, East, and West. This is not to say, though, that English and Spanish don't also have deep connections to the land and the hard work of fashioning a dwelling place in this world. Alongside the cosmopolitan, instrumentalist, well-navigated riverway of these two languages, there meander slower, humbler, more earthy, and organic modes of speech, born out of family-ways and out of patient care for the land. These sites of local expression are mycrorrhiza, that tangle of fungal roots that enrich the soil and feed the trees.
Every poet presents a set of challenges to a translator. There is a mode of writing in English and Spanish, however, that happily plays within the cosmopolitan river. These poems are not so hard to translate. Conversely, poets that dive into the music that bubbles up from the local test the mettle of a translator. Manning's poetry is of this second kind. It turns starkly away from the abstract and looks to the body, to the land, and to modes of speech and turns of phrase that are regional. These provide particularly thorny, but exciting, challenges to a translator attempting to find equivalents between people and places supposedly different. While we might enjoy the wisdom and humor found in Manning's poems, the beauty and challenge of translating his corporal and terrestrial language is that the wisdom of these poems is nestled in the local turns of speech that ask us to seek out those humbler, yet quite proud, strains of Spanish equally connected to family and land so that the universal in these poems might be housed in an appropriately humble home.
All poems by Maurice Manning and are used here with the poet's permission.
No siempre nace belleza de belleza
El cardo es una flor peligrosa,
erizada y callada con sus púas,
su diseño antiguo habla de cuando
la violencia, por más indeseada, era
un lugar común para toda la creación
y el sufrimiento era real, cuando Dios
había serenamente cegado sus ojos a todo,
al estudiar este verde tallo peregrino
que ondula uno podría imaginar
una culebra erguida cubierta en cuchillas.
Pero luego estudias la cabeza morada
ahora a la altura del hombro y ves la abeja
que peina el cabello inocente para polen
y ese comienzo feo es y nada más—
o al menos esa es una manera de verlo,
el contraste ha creado la belleza
de la testa, con su boca abierta, llamativa,
una mitología que sale de la tierra.
Mi juventud fue así,
un comienzo cruel y sombrío,
quizá un plan necesario,
y Dios sumido en un sueño profundo,
o así parecía, y sólo la belleza
trágica de otros me llamaba,
como esta indeseada maleza simbólica.
Y aquí estoy tras tantos años,
un recipiente para llevar la belleza
al mundo y regarla por doquier.
Not Always is Beauty Born of Beauty
The thistle is a dangerous flower,
spiny and silent with its thorns,
saying its ancient design from a time
when violence, though unwanted, was
a commonplace for all creation,
and suffering was real, when God
had placidly closed his eye to it all,
one might imagine studying
this freakish, swaying green stalk,
an upright snake covered in blades.
But then you study the purple top
now shoulder-high, and see the bee
combing the innocent hair for pollen
and the ugly beginning is only that—
or that's one way to see it now,
the contrast has created the beauty
at the top, with its open, hithering mouth,
a mythology growing out of the ground.
My early years were similar,
a pretty brutal and dark beginning,
perhaps a necessary design,
and God was in a deep sleep,
or so it seemed, and only other
tragic beauty spoke to me,
like this symbolic, unwanted weed.
And here I am these long years later,
a vessel to carry beauty into
the world and give it all around.
Alabré la oscuridad ahora, pero luego la hoja
A quién más le hablo si no a los viejos
quienes asumo quieren oír
una voz terrenal
para variar, en lugar de tantas campanas
que al parecer tañen allá arriba.
Las campanas que yo escucho en la tierra
son las aves y con frecuencia los árboles—un árbol
cubierto de hojas es una campana verde.
Cuando algunos de los viejos seguían
vivos me sentaba con ellos bajo los árboles,
típicamente una tarde
después de haberse hecho lo que había que hacer
ese día y lo que había era Tiempo
pero no le llamaba así en ese entonces,
estaba muy joven para llamarlo Tiempo—
era sólo la tarde, y las palomillas
estaban saliendo y las luciérnagas
chispeaban en las sombras húmedas.
Las aves habían cesado y los árboles tañían
por su propia cuenta y para nosotros la resonancia
del amor que todavía pertenece a este mundo.
Eso es algo que les trato de decir,
a los viejos que se sentaban bajo los árboles,
y escuchaban las campanas verdes.
Escenas como esta tienen una hermosa nada,
nada que medir ni malgastar,
y los viejos a punto de dormir
pueden permitir la luz del día salir.
I Will Praise Darkness Now, But Then the Leaf
Who else am I trying to reach but the old
people I imagine want
to hear a voice unheavenly
for a change, instead of all those bells
apparently they ring up there.
The bells I listen to on earth
are birds and often trees—a tree
when it's covered with leaves is a green bell.
When some of the old people were still
alive I sat under trees with them,
usually on an evening
when whatever had to be done was done
for the day and all there was was Time,
but I didn't call it that back then,
I was far too young to call it Time—
it was only evening, and the moths
were coming out and the lightning bugs
were making sparks in damp shadows.
The birds were done and the trees were ringing
for themselves and us the resonance
of love that still belongs to the world.|
That's something I try to say to them,
the old people who sat under the trees
and heard the green bells ringing.
There's a beautiful nothing to such a scene,
nothing is there to measure or squander,
and the people soon to be asleep
can let the light go out of the day.
Pronto, prontamente damos la vuelta
Lenguaje repujado, farragoso,
no es lo suficiente, tal lenguaje,
tan confiado, conscientemente tieso,
reparte el pensamiento, mas resguarda el sonido.
Un poema no es pío,
un poema debe eructar y echarse peditos,
como los plebeyos de Breughel.
Quiero un poema con cuerpo
que haga algo de verdad.
¿No te gusta el raspar de una azada en la tierra?
La mente solitaria es demasiada callada,
y no me gusta la impresión que deja
el lenguaje esponjado, que la mente
se pueda separar del mundo.
Ésta es mi mente ilustre
pronunciando pensamientos desencantados.
Un poema debe ra-ta-tear y tararear
y tener nudillos que truenan—
debemos escuchar la ternilla chisporrotear,
alguien dándole cacerolazos
a la caldera mientras que el sonar
del reloj de cuerda al fondo de la estufa
atraviesa el vapor y el traqueteo
de la campana le dice a los que viven
en la casa oscura que la cena está casi
en la mesa, que es tiempo de ir a lavar las manos
y sentarse juntos para que la pequeña
pueda rezar sus cuatro palabras de gracias.
Soon Soon Enough We Turn
Frilly, laborious language isn't
enough, because that kind of language,
so confident and consciously stiff,
delivers thought, but abstains from sound.
A poem isn't piety,
a poem needs to burp and toot,
like peasants in a Breughel painting.
I want a poem that has a body
in it that's doing something real.
Don't you like the scritch of a hoe in the ground?
The mind alone is just too quiet,
and I don't like the impression, which comes
from poofed-up language, that the mind
could be separated from the world.
This is my illustrious mind,
pronouncing undelighted thought.
A poem needs to bonk and bang
and have a knuckle cracking in it—
we need to hear the gristle pop,
someone clanging a wooden spoon
on a kettle edge as the wind-up clock
through the steam at the back of the stove goes off,
and the blur of the bell is there to tell
the people who live in the dark house
supper is almost on the table,
it's time to wash your hands and sit
together so the little one
can say the four word prayer of thanks.
Bucólicas III
la noche trota hacia mi Jefe
como si tú la fueteaste
o chasqueaste lengua y diente
viene por la pradera ya
oiré el aparejo chillar
veré tu tobillo el mecer
del estribo Jefe cabalgas
la noche mas sin apuro
ya has pasado por aquí
ya has acarreado tu vagón
de estrellas es agua pasada
llegas cuando llegas ay pues
te gustará lo de siempre
da risa pero a mí también
me gusta cuando cabalgas
la noche por el cielo como a
un jaco un matalón
que no te importa montar ay
van rapidito tu trotón
de plata Jefe traquetea
como el sueño casquea como tú.
Bucolics III
the night is trotting toward me Boss
as if you tapped it with a switch
or clicked your tongue against your teeth
it's coming down the pasture soon
I'll hear the leather tackle squeak
I'll see your ankle swinging in
the stirrup Boss you ride the night
but you don't need to hurry no
you've been this way a time or two
before you've hauled your wagon full
of stars it's all old hat for you
you get here when you get here O
I guess you like the same old thing
it's funny but I like it too
I like it when you ride the night
across the sky as if it were
a nag a worn-out horse you don't
mind riding O you get along
your horse is made of silver Boss
it clips like sleep it clops like you
Bucólicas XL
hay otro cielo más allá
del cielo azul Jefe uno
que no prefiera anublarse
hay otra luna amarilla
aparte de la que muestra la cara
en un decir amén Jefe antes
de voltearla otra vez como
tambaleándose del regocijo radiante
para arrugar su cara de repente
oscura porque una idea le amanece
Jefe es la única luna vacila
sola en el único cielo
ay Jefe hecho y derecho de todas
las cosas únicas incluyéndome a mí
qué razón me puedes dar ahora
por llenar todo a medias de miel
para dejar la mitad que queda
despojada hasta del deseo
de dulzura como el labio de un conejo
sin duda deslizas tu dedo por
todas las caritas surcándolas
en dos soy como la luna
prendida al único cielo
por un lado no me molesta amanecer
por el otro me avergüenza
jamás haber pensado que podía
Bucolics XL
is there another sky besides
the blue one Boss another one
that wouldn't just as soon be gray
is there another yellow moon
besides the one that shows its face
so shortly Boss before it turns
it back again as if it sways
from glowing glee then suddenly
its face is pinched to gloom because
a notion dawns upon it Boss
it is the only moon alone
to waver in the only sky
O single-handed boss of all
the only things including me
what reason can you give me now
for filling half of every thing
with honey just to leave the half
remaining torn from even hope
for sweetness like a rabbit's lip
no doubt you run your finger down
the little face of every thing
to cleave it clean in two I'm like
the moon pinned to the only sky
I don't mind rising half the time
the other half I am ashamed
for ever thinking that I could
Bucólicas LXXV
levantas al halcón izas al cuervo
a su alrededor Jefe inclinan sus alas
alzan sus voces mas los cuervos
no temen cuán rápido el halcón
puede girar para arrearlos
del área del cielo que montan
cuán rápido su riña pierde interés
menos que un aliento al viento
acaso algo importa Jefe
quizá a ti esa es la pregunta
principal has empatado
los labios para silbar o
suspirar lo que pasa en el cielo
queda tan debajo de ti Jefe creo
que el halcón es una idea un
viejo gesto sobre la cara la misma
vieja mirada de un poeta terco
los cuervos son como azadas
para la tierra sin arar la aflojan
le dan aire el mismo aire
debajo de ti Jefe que gira
con aves tan lindas tan amorcitas
si el halcón es como el río
los cuervos creo son como la lluvia
cómo te hacer sentir Jefe
puedes tolerar esta crecida este estrago
Bucolics LXXV
you raise the hawk you hoist the crow
around it Boss they tip their wings
they lift their voices but the crows
are not afraid how suddenly
the hawk could turn to drive them from
the patch of sky they're riding in
how soon their spat could matter less
than one breath matters to the wind
does any of it mater Boss
to you perhaps that is the king
of questions have you drawn your lips
together for a whistle or
a sigh what happens in the sky
is so beneath you Boss I think
the hawk is one idea one
old look upon his face the same
old stare as stubborn as a poet
the crows are like a harrow to
unbroken ground they turn it loose
below you Boss that's turning now
with birds such lovely darlings if
the hawk is like the river then
I think the crows are like the rain
how do you feel about it Boss
can you abide this swell this strain
All poems by Maurice Manning and are used here with the poet's permission.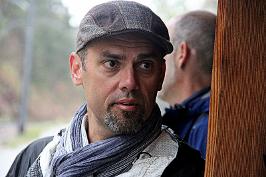 Jeremy Paden was born in Italy and raised in the American Southeast, Central America, and the Caribbean. He is professor of Latin American literature at Transylvania University and the author of several books of poems and translations. His most recent books are:
Under the Ocelot Sun
(Shadelandhouse Modern Press, 2020), a bilingual, illustrated children's book about the Central American migrant caravans,
world as sacred burning heart
(3: A Taos Press, 2021), and
Self-Portrait as an Iguana
(Valparaíso USA, 2021).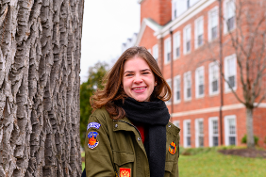 Tatianna Verswyvel was born in Venezuela and raised in Monterrey, Mexico. She is a senior at Transylvania University, where she studies International Relations. She is an Acquisitions Assistant at the University Press of Kentucky. She and Jeremy Paden have been collaborating on translating Maurice Manning's poetry into Spanish. They have published several joint translations.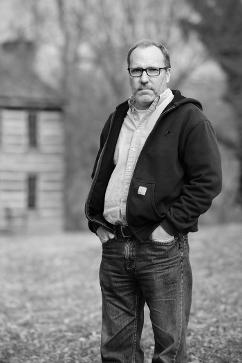 Maurice Manning
was born and raised in Kentucky, and often writes about the land and culture of his home. Manning's first book of poems,
Lawrence Booth's Book of Visions
(2001), was chosen by W.S. Merwin for the Yale Series of Younger Poets Award. His subsequent books include
Railsplitter
(2019),
The Gone and the Going Away
(2013),
The Common Man
(2010), which was a finalist for the Pulitzer Prize in poetry,
Bucolics
(2007), and
A Companion for Owls: Being the Commonplace Book of D. Boone, Lone Hunter, Back Woodsman, &c.
(2004).
Manning has received fellowships from the Fine Arts Work Center in Provincetown and the Guggenheim Foundation. He has taught at DePauw University, Indiana University, in the MFA program at Warren Wilson College, and at the Sewanee Writing Conference. He is a professor of English and Writer in Residence at Transylvania University.