At the Plot of the Unknowns
poetry by Barbara Sabol
—One of every three bodies found after the Johnstown Flood of 1889 was never identified.
I belong to a family of grave tenders―we arrive with grass shears, watering cans,
season upon season.
A seashell placed on a neighboring stone, small plastic farm animal on the next
say, you are not forgotten.
After tamping the annuals, I kneel back, conjure my mother.
If there is an after, I hope she is pleased with these small gestures.
The day is radiant. Mica and quartz glisten monuments along the path
to the plot of the unknown drowned
whose identical marble stones rise from the ground in narrow rows
like sheaves of some strange crop.
Their blank faces marked only by weather. Names writ on water.
Dressmaker, scullery maid, drifter, carpenter, millwright, mother,
the children whose dreams scatter in the grass, you are not forgotten.
I lean my full weight on one stone, knowing in my own bones
there is a story here, and under the next and the next.
The earth is beginning to warm. An elusive wood thrush flutes.
Crocuses open to the light.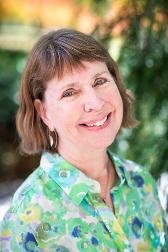 Barbara Sabol
is a retired speech pathologist who carries on her affair with language through poetry. Her most recent collections are,
Connections: core & all: haiku
(Bottom Dog Press, 2022) and
Imagine a Town
(Sheila-Na-Gig Editions, 2020.) Barbara went on to become the Associate Editor of
Sheila-Na-Gig online
and edited the anthology,
Sharing this Delicate Bread: Selections from Sheila-Na-Gig online
(Sheila-Na-Gig Editions, 2022.) Her awards include an Individual Excellence Award from the Ohio Arts Council. Barbara conducts poetry workshops through Literary Cleveland. When not at her desk, she is walking the trails of the Cuyahoga Valley National Park or in her garden. Barbara lives in Akron, Ohio with her husband and wonder dogs.