After the Storm by Barry Peters
Quills of clouds,
layered script rolling east.
She brooms the puddled driveway.
He picks up sticks.
The dog hunts the lawn,
a narrative following its nose:
Low pressure vanquished,
high pressure ensconced
in liturgically purpled robes.
A tranquil denouement
until, from the guttered loft,
a cacophonous choir
of mockingbirds bedeviling
an enormous magpie.
See how it flits.
See how it flies.
See its wings rise
and fall like black tide.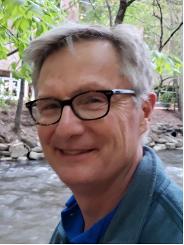 Barry Peters lives in Durham and teaches in Raleigh, North Carolina. Publications include Best New Poets, New Ohio Review, Poetry East, The Southampton Review, and The Southern Review.