What are the stories that make us? Which ones do we invent ourselves and which are told to and about us? Do we believe them because they are based in fact or do we accept them as true regardless of the facts? Such are the questions asked in Erin Keane's debut memoir, Runaway: Notes on the Myths that Made Me, an NPR Best Book of 2022.
The title refers to a literal runaway, Keane's mother, who left her parents' home, married a man more than twice her age, and had two children, all before the age of twenty. Keane's grandparents, an Army colonel and his wife, saw their daughter's flight from home as a source of shame. It was rarely discussed, and then only in the broadest strokes. This left the author, who grew up in small-town Kentucky and now works as a cultural critic, editor, and writing professor, with only the bare bones of her mother's story, as the book's cover art, a ghostly white silhouette, suggests.
For many years, Keane filled in this sketch with details that recall a once-favorite movie, Woody Allen's Manhattan. Over time, however, she glimpsed more and more holes in the stories she'd always been told, and so set out to separate fiction from fact. Runaway is the fruit of that quest, a memoir that reads like an essay collection in which two essential questions are presented early on. The first, taken from a sea shanty, refers to her father: "what should we do with a drunken sailor?" As for the second, the speaker is thinking of her mother when she asks, "what is the difference between a runaway and a missing kid?"
The answer to both questions, it turns out, depends in large part on gender. In the first, this is a foregone conclusion: the drunken sailor is undoubtedly male. Male, and full of swagger, not unlike the speaker's father, who seems to have been quite the raconteur. From smallpox to Operation Blue Bat in Lebanon, from criminal activity in the Canary Islands to a history of addiction, jail, and rehab, it is easy to see how his stories became "our apocrypha, the Book of Red."
Among his escapades, we find his marriage, at the age of thirty-six, to a fifteen-year-old runaway girl. Keane questions the glamorous spin she'd once put on her parents' relationship, a romantic fantasy born of and enhanced by the surrounding culture. Through an analysis of the aforementioned film, Manhattan, the opening chapter unpacks the myriad ways in which society gives men, especially powerful men, and most especially those considered geniuses, a pass. She reexamines her perception of her parents' marriage in the context of the allegations against Allen and other men implicated in the momentum of the #MeToo movement, exposing the many ways in which our culture both celebrates badly behaved men and erases women from the narrative.
Interviews, court records, and other sources reveal that her father's stories, that "dark fairy tale," are for the most part just that, a tale. By contrast, when it comes to her mother, Keane discovers a significant omission: as a child, her mother ran away not once, but twice. The first instance, a previously untold story from her mother's formative years, forms the core of the book and constitutes its longest chapter. The assured, incisive writing gives shape to a life that for decades, had disappeared. Keane, who at one point defines a runaway as "a missing child in search of a search party," transforms herself into just that. She hunts down sources and checks her facts, using what she finds to resurrect a girl called Megan, the pseudonymous preteen runaway who would grow up to become her mother.



Time and again, Keane picks apart elements of our shared culture to reveal the stories that hide in plain sight, a skill her mother excelled in both times she ran away.






The remainder of the book continues in a similar vein, deconstructing and then reconstituting in fuller form old, often incomplete stories from both fiction and real life. Her analysis of The Searchers, for example, which is based on the life of Cynthia Ann Parker, shows how women's stories, even when they drive the narrative, tend to come second to those of "a certain kind of man." Similar questions regarding gender are raised in relation to a variety of cultural phenomena, from Star Wars to The Gilmore Girls, from Grimms' fairy tales to the novels of L.M. Montgomery. Music, too, enters the picture, at one point with the Pogues, the Beatles and Yoko Ono at another.
Time and again, Keane picks apart elements of our shared culture to reveal the stories that hide in plain sight, a skill her mother excelled in both times she ran away. Our attention is rarely on the girls, after all, as Keane's reading of the end of the fairy tale "The Singing Bone" shows:


And what of the princess? The king's prize, the ostensible motivation for carnage, betrayal, fratricide, deception, and revenge from beyond the grave? What's next for a girl who's treated like a living trophy, then widowed so young by her father's world? Freedom? Her own spin-off series? How am I supposed to know? She's not mentioned again.
These moments of literary and cultural critique, engaging as they are in their own right, serve above all to illustrate the author's new-found understanding of her family. Readers might find a place or two where the author could engage a little more with these questions as they pertain to her own life––she mentions her rocky marriage and subsequent divorce, for example, but only in passing, even though one suspects these things inform what she chooses to write. Some also might find a few of the connections between her family's story and the various cultural analyses a bit tenuous at first, though this impression never lasts, for Keane always closes the loop, sometimes implicitly, other times directly, as we see near the end of a passage about her grandfather's love of John Ford films:
Why am I talking about the Colonel and the movies he loved instead of my mother? I keep circling back to the stories that should have been told about girls and women but instead were given over to men, and my own complicity in perpetuating these narrative imbalances and injustices.
By implicating herself not just in the choice of stories, but also in the analysis thereof, Keane interrupts a cycle in which celebrated cultural narratives and her family's own stories reinforce each other in a continuous feedback loop. This disruption is essential in creating space for new narratives to emerge, a responsibility the author takes to heart: "I control the legend that gets printed now, whose story gets fed to which fire."
This is not to say the work is easy, nor will it always win unconditional support. "There is something about a shocking story that makes us not want to question its logic, as if answers might burst the story's magic," Keane writes. If we would only take that first step into the unknown, however, who knows what treasures we might find? The true magic, Runaway suggests, may be closer than we think, hiding right before our eyes.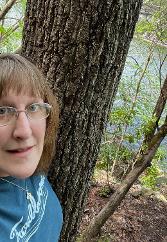 Laura Dennis is a Kentucky writer, mother, Mimi, and professor. Her work has been published in Change Seven, Northern Appalachia Review, Bluff & Vine, and Bethlehem Writers Roundtable, where she was the Spring 2020 Featured Author. She reviews books for a variety of publications and co-edits book reviews for MER. She enjoys music, reading, hiking, and spending time with her friends, family, and pets (three cats and a dog).