"Sometimes what haunts us isn't found in a known presence but an unknown absence—of the kind of trauma that ripples outward in waves that grow smaller and wider at once," writes Rachel Peckham in the opening of Alight: Flights of Prose, a poignant exploration of a 1976 plane crash that killed six men including Peckham's grandfather and two adult uncles. The exact cause of the accident was undetermined, but the event and the loss of these men reverberated throughout their small Michigan farming community and especially through generations of Peckham's family.
Although the crash occurred before Peckham's birth, the event marked her as much as it marked anyone, and arguably more so. The extent of its impact on her is underscored by her unrelenting obsession. In many ways, Alight is an unsolved mystery with Peckham in the role as lead investigator. Much of the book is her attempt to assemble a timeline of the accident, but at the same time, she is forming a personal narrative about the men who were lost and their families, all the while trying to determine what might have happened in the cockpit that led to the plane's fall.
Repeated throughout the book are short sections titled alternately as testimonies and theories. Some sections detail her own reportage where she collects and analyzes evidence from the official record as well as from eye-witness accounts of the crash. In other sections, she builds character studies in an attempt to know and understand the men who died. Peckham writes, "To read a story about your people, there's no separating the characters from the reader. I stepped right inside those scenes." These passages, when she embodies these men or their family members and friends, are some of the most captivating moments in Alight.
Peckham's necessary immersion into this moment of tragedy becomes clearer throughout. Although the crash was deeply painful and often not talked about within her family, the knowledge of it was always present. Peckham describes not being able to sleep alone as a child for fear of ghosts, "not to do me any harm, but to make their existence known beyond the station they occupied in my imagination." These ghosts never appeared in her childhood bedroom, but they made their presence known in various other ways. One notable way they manifested was in her brother's obsession with airplanes, the same brother who looked and acted so much like one of the lost uncles that people in the family commonly confused the two. Conversely, Peckham developed a paralyzing fear of risk, particularly a fear of flight. Her brother would go on to become a commercial pilot. She would take flying lessons herself, not out of joy or interest but in an attempt to conquer her fear. The lessons were also important to better put herself in the place of the pilot of that doomed plane. How could she imagine every possible scenario without holding the controls with her own hands?
Peckham writes in short, sometimes fragmentary bursts. These brief texts are playfully referenced in the book's subtitle as flights of prose. These flights, most of which have their own narrative arc, have been described by some as prose poems. While there is often a poetic tone felt in these pages, the structure and arrangement of these flights—their brevity and fragmentary nature—reflect the patchy qualities of memories and dreams. This helps inform Alight's decidedly ethereal quality.
How could Alight not feel ethereal? It is essentially a ghost story, but it's also more than that. It is more than a mystery waiting to be solved, more than an assemblage of historical facts. Alight is also an exploration of grief in various forms, dipping into neuropsychological research, theories of inherited trauma, and deeply personal confessional moments from family members. Even the idea of forgetting is another form of grief. To not talk about the plane crash is potentially more painful than to talk about it openly. To be aware that others can forget when you cannot is a trauma unto itself.
The central mystery in Alight remains unsolvable. It can only be acknowledged. "Words are not facts, they're frames," Peckham writes as she imagines the events of the crash from every possible angle, exploring the atmospheric effects on flight and what happens to a pilot in a small plane when "the body tells you one thing and your instruments [tell you] another." What happened to cause that small Beechcraft to fall from the sky is not as important as the ripples it has made over the past forty-five years. The deaths of those six men was tragic, but there is a certain triumph in remembering their lives and honoring their story. Some ghosts do in fact need to make their existence known. If Alight teaches us anything, it's that some ghosts require our assistance.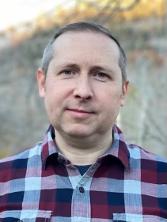 Denton Loving's fiction, poetry, essays and reviews have appeared in numerous publications including The Kenyon Review, The Chattahoochee Review, The Threepenny Review and Iron Horse Literary Review. He is the author of two collections of poetry, most recently Tamp, published by Mercer University Press.