"Some place with room for a garden"
A conversation with Pauletta Hansel and Robert Gipe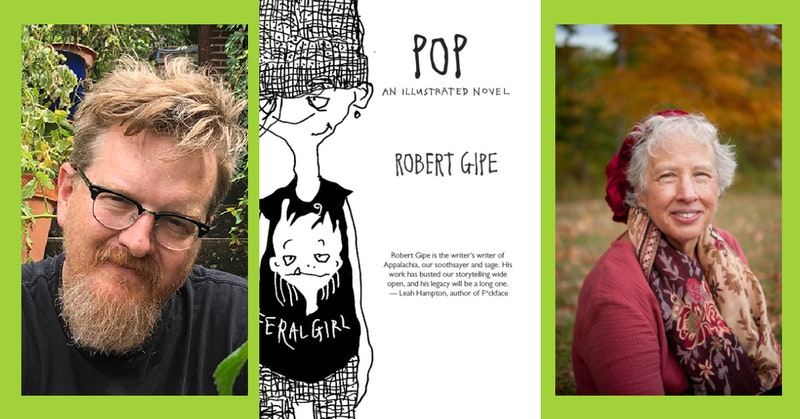 In Spring 2021 writer and illustrator Robert Gipe was joined by poet Pauletta Hansel for a conversation about his novel,
Pop
as part of an online program offered by The Mercantile Library in Cincinnati, Ohio.
Pop
is the third and final installation of Robert's Canard County series.
Trampoline
, the initial book, was first serialized here in
Still: The Journal
.
Weedeater
was the second title in this trilogy of contemporary Appalachian fiction.
Here is an excerpt from their conversation, including some material that was exchanged via email after the event. The recorded version of Mercantile Library's "
Pop: An Illustrated Novel
—Robert Gipe in Conversation with Pauletta Hansel," which includes readings from
Pop
and from Pauletta's poems, can be
accessed here
.
Pauletta Hansel: My husband likes to say we knew Robert Gipe before he was Robert Gipe, but that's not really true, because Robert Gipe was born Robert Gipe in North Carolina in 1963, and he grew up in Kingsport, Tennessee. We didn't know him then, and we didn't know him back when he was a pickle picker, or a forklift driver, or even a technical writer for the Tennessee Eastman Company, where his dad worked. His Mom was a registered nurse, and she called him Robbie, but I don't think we should do that.
I first met Robert when he was working for Appalshop, an arts and media center in Whitesburg, Kentucky near where I grew up. I was already up here in Cincinnati, working for the Urban Appalachian Council, and Robert came to visit as part of Art Meets Ed, an arts education program he ran, looking to collaborate with UAC, which we did. He was a tall, sort of goofy-looking fellow, bearing a family resemblance to Dawn Jewell, I would say now, and I thought he was exceedingly smart and surprisingly good-looking, all of which continue to be true.
But I think what my husband means is we knew Robert in his pre-Trampoline days, when he still had time to fold his long self into a rocking chair in the circle at the
Southern Appalachian Writers Cooperative
gathering at the Highlander Center, sharing early drafts of stories and sketching in his notebook as he listened and responded to everyone's writing.
We miss him in that circle, but we are incredibly grateful for the work that Robert is doing, both in this trilogy of novels, and with
Higher Ground
, a community story and theater project in southeastern Kentucky.
When people ask me who they should read to understand Appalachia, Robert Gipe is always at the top of my list. Not only is his writing amazing, his characters unforgettable and his stories "addictive," "delightful," and possessed of "feral lyricism" to quote Publishers Weekly, his vision of Appalachia and its people is nuanced and, to my mind, true.
So, Robert Gipe. About those stories. I think in Pop, more even than Trampoline and Weedeater, I find my friends and family, and of course myself, in your characters. I just know you based this grown-up Dawn Jewell on my best friend from college, who I don't reckon you ever met, and of course Sam Haney is the late poet and radio personality Jim Webb, whom we both knew well, and I suspect all the mothers and mamaws have a bit of your mother. So, I'm just curious about all of this –how you develop your characters, and maybe also whether working so closely with other people's stories in Higher Ground is part of that process.
Robert Gipe: I hadn't done any creative writing work myself before I got involved in Higher Ground in 2005. It was after the first play that I decided to go to the Appalachian Writers Workshop in Hindman, I invented Dawn Jewell for my application in fiction. The theater work we do has a lot of involvement, hundreds of students and community members over the years. Higher Ground is about us as a community, and it belongs to all us. That work, first of all, really let me see how that kind of writing and theater could help a community process its own stuff, and second it got me started writing my own book. Everything that happens in these [Higher Ground] plays has to be negotiated. Everybody has a voice. With my novels, it was good to have a world where you have a little more control.
Pauletta: How do people feel about seeing themselves in that world? I'm curious if you've gotten any blowback on this, since you live in the community you write about.
Robert: Mostly I was nervous while writing about Eastman—of course that company in the book is not Eastman, any similarities to companies living or dead are purely coincidental. But writing about a fictional Kingsport where a fictional coal float was involved in a fictional chemical spill in a fictional Charleston, West Virginia, was a little nerve-wracking. That's something I probably wouldn't have done before my mother died. She was, to paraphrase Bob Henry Baber, "Kingsport born and Kingsport bred and when she died was Kingsport dead." In a way, these books are just a long mediation on the difference between eastern Kentucky and east Tennessee, and I was able to get more with it on this one because she didn't have to see these people anymore; she'd gone to her reward there in 2016. You were asking about Mom being in the characters: Willett is based on my own experience and his mother is Dot, and she's a significant character in this book.
Pauletta: It is interesting how we get braver as writers when we become the elders, isn't it?
Robert: Yeah, when did your Mom die?
Pauletta: She died in in 2018.
Robert:
I remember getting so much out of reading
Palindrome
, your book about your experience with your Mom in her last years. It's one of the deeper, more universal experiences. And people like that don't really die. We're quoting them every day and becoming them. Mom's funeral, that weekend, man, that was really weird. I mean, you immediately want to go back to hear some things you had never heard well enough when they were alive. You realize you're the oldest person, now, and maybe one of the ones most interested in retelling the family stories.
With Jim [Webb] though, I was told if I ever wanted to see him before he passed I need to get up there. So all the way from Harlan to his place, I was like, what stories do I need to hear again so I can tell them good. I got him to tell the story of when he got in a fight with Specky Cornett. I was like, man, Jim, why were you even fighting him, and his eyes got real big, and he said, "Specky Cornett is a tush hog." A fictionalized version of that is in Pop.
Pauletta: There's been a running joke with folks in SAWC (the Southern Appalachian Writers Cooperative) that started after Jim left the room in the middle of one of his stories. When he came back in and found somebody else telling the rest of it, he said, "I didn't know I could go on without myself." I was just thrilled to find Jim going on without himself in the body of Sam Haney.
So, speaking of SAWC, here's more than a touch of magical realism in Pop, and an exploration of Appalachia as a mythical place. This brings to mind some of SAWC founder Gurney Norman's earlier Appalachian myth work. Would you like to talk about the role of myth and magic in your work?
Robert: I love Gurney Norman. I love his work and I love his way of being in the world. I worked with Gurney on community-based projects in Letcher County when I first came to eastern Kentucky and then on Where Art Meets Ed, a project that brought artists and K-12 teachers for the better part of a week in the summer to work out how classroom teachers could integrate the arts into their work. Gurney is one of the ones who has helped me understand that Appalachian literature is just an extension of Appalachian oral storytelling and that storytelling is a way of living—a values system—although we have never talked about anything like that exactly. But he has told me stories of his growing up and coming of age and working in the mountains and living in California and the culture and the music and the happenings in the mountains that have made it into books, and he's told me those things as an extension and a part of his own life story. And we have shared stories of the people we've known and worked with, some of whom have made it into books and some of whom should be in books and will or won't make it there. But from him I've learned that we are all mythmaking all the time, that we are all on heroic journeys and we infuse the world with meaning and power, and name the world's meaning and power to suit us, and that things are magic if you look at them from the right angle, and not get hung up on the fence between what we can imagine and what we have experienced.
It's no surprise that Gurney and I have a great mutual friend in the oral historian Alessandro Portelli, who helped me understand that the way people remember things is not always necessarily factual, but it is still important to know and understand how people remember things because that is the way they create meaning. And understanding what people think is important, and what people think is most real, is not separate—nor does it exclude—what "actually" happened.


"How do we propagate responsibility, accountability, and reparations rather than punishment and annihilation of those whose behavior wounds, offends, does damage? Does violence have to beget violence? These are things I'm thinking about all the time, and they affect how I draw characters, I reckon."

-Robert Gipe
Pauletta: While we loved you first and best, your readership has extended beyond Appalachia. What do you want people to know about Appalachia, and how does that affect your storyline? What do you feel like you have to explain about the region for others to get it?
Robert: I've pretty much lost interest in explaining things to people—in endeavoring to help people "understand" anything, really. We've been explaining the region for over a hundred years and it seems like they would have got it by now if they were going to. Thank you for asking. I'm curious—where are you on your journey of Appalachian explanation? I get flabbergasted with the cluelessness of so many people off from here. But you have dwelt amongst them lo these many years. How are you holding up, holding on to your mountain self? Especially in these Trumpy days.
Pauletta: One question my husband threated to ask you is, "Why is it whenever my wife reads one of your books, she starts talking like she just got off the Trailways from Cutshin Creek?" I had to tell him that Trailways never stopped at Cutshin Creek, but the point is that I have, over the forty plus years I have lived in Cincinnati, become bilingual. I tried hard in the early years to hang onto my accent, but it slips in and out of gear. My writing still lives in Appalachia, though, maybe more so than when I first left. I shared a draft of my newest book, the one that will be out next year, with a writing mentor who has no experience with the region, and I found myself surprised by her questions. Like why a poem about Appalachian stereotypes would be called "The War on Poverty." And some of the images that explore the tension between beauty and devastation fell flat with her. This got me thinking about the question I posed to you, which is really a question to me, I suppose, who am I writing for and why? But I know I never want to create an Appalachia that leads anyone to think they fully understand the region in all its complexities. Not just for the sake of the reader, but for me, too. I don't want to become nostalgic—or bitter—about the region or to convince myself that there is some monolith called Appalachian culture. Maybe it is easier to stay grounded in paradox when you live there. I don't know. There are a whole lot of us mountain folks here in Cincinnati, and I have expended a fair amount of energy fighting off the stereotypes, both positive and negative, about what it means to be Appalachian. I think what I appreciate most about Pop is that it is not just one story, but many stories all skootching over to make room for each other. You write about flawed and wounded characters without making them only victim or perpetrator.
Robert: First off, I'd like to say I think the title of this conversation might ought to be "The Power of Positive Skootching." As far as my feelings for my characters goes, everybody has good days and bad days. Everybody has their upbringing to live up to and/or overcome. I am sick of Puritanism (both liberal and conservative Puritanism, religious and non-religious Puritanism) with its judgmental ways and casting into Hell of so-called sinners. Today it seems we are all so ready to play judge and jury on the scantest of evidence and the slightest regard of how our judgment does or doesn't result in the long-term health of our society or happiness for the greatest number of people. How do we propagate responsibility, accountability, and reparations rather than punishment and annihilation of those whose behavior wounds, offends, does damage? Does violence have to beget violence? These are things I'm thinking about all the time, and they affect how I draw characters, I reckon.
Pauletta: Over the last several years I have found myself concerned about the ways in which a focus on Appalachians as a specific and often oppressed group is counterproductive. At the end of Pop, you give a very specific acknowledgment of how white privilege and patriarchy has benefitted you. Why was it important to include that?
Robert: It feels like 2020 was the cracking open of an opportunity to get a lot more people on the case working to build a new world that might begin to replace the world as it is. White supremacy and capitalism and the carceral state as we have experienced them do not have to define the world we live in. But before we can start building something new, we have to name the world as it is, acknowledge it, and acknowledge the possibility we can live another way. I feel like it's time for everyone who is in a position to do so to say, "The house we live in is rotten." Just because the room I'm sitting in might be in pretty good shape, doesn't mean that the place isn't a misery for most of the people who live in that same building. And to play that metaphor out—rather than repair this house built on a foundation of violence and theft and exclusion and persecution, seems better and more positive to get folks together designing us a new place to stay, so that eventually we can move out of this falling down old haunted hateful place and move somewhere nice—some place with room for a garden.
Pauletta: The trilogy begins and ends with a teen narrator, Dawn in Trampoline, and her "wild-ass genius daughter" Nicolette in Pop. Any reflections on why you chose to speak your stories through the voices of young women?
Robert: Dawn suffers a lot of loss in the middle book, Weedeater, and between that book and Pop, she falls into a hole of her own. I was trying to explore whether this cycle has to necessarily repeat and to look at the family conditions that diminish the odds that this trauma has to continue generation after generation. These kids today, they're more optimistic and they're less invested in what economy has to be. By the time we get to Nicolette's generation, I don't really understand them in the same way that I did other characters. It starts to be more mysterious to me. So I was interested in trying to understand how she was figuring it all out, and how she was managing her mother's difficulties in a different way than how Dawn managed her mother's difficulties.
Pauletta: I love that circling back, and I love Nicolette, and I love those choices. May the Feral Girls ride on!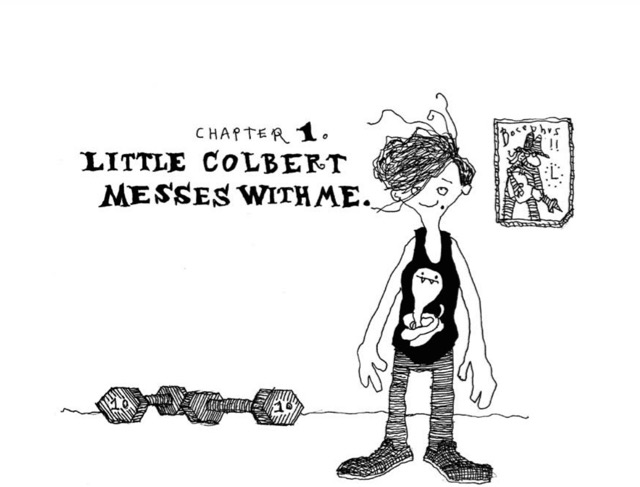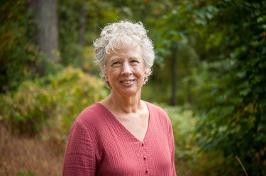 Pauletta Hansel
's eighth poetry collection is
Friend
, epistolary poems written in the early days of the pandemic; others include
Coal Town Photograph
and
Palindrome
, winner of the 2017
Weatherford Award
for Appalachian poetry. Her writing has been featured in
Oxford American, Rattle, Appalachian Journal, Still: The Journal,
and
Cincinnati Review
, among others. Pauletta was Cincinnati's first Poet Laureate (2016-2018), and is past managing editor of
Pine Mountain Sand & Gravel
, the journal of the Southern Appalachian Writers Cooperative.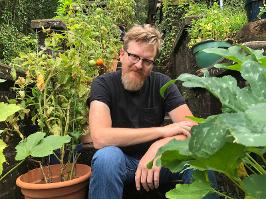 Robert Gipe
lives and works in Harlan County, Kentucky.
Pop
is his third Ohio University Press novel. His first,
Trampoline
, won the 2016 Weatherford Award for Appalachian novel of the year. His second novel,
Weedeater
, was a Weatherford finalist. For the past thirty years he has worked in arts-based organizing and is the founding coproducer of the
Higher Ground
community performance series. He has contributed to numerous journals and anthologies, is a playwright, and is currently a script consultant on a forthcoming television show based on Beth Macy's Dopesick.