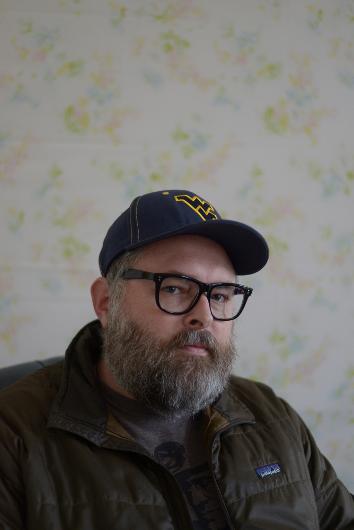 For many Appalachians, Roger May'€™s birth story is a familiar one. His father'€™s people were from Pike County, Kentucky; his mother'€™s people from Mingo County, West Virginia, and he has made many a trip across the Tug Fork of the Big Sandy River. When May was ready for high school his mother moved the family to Raleigh, North Carolina, where he currently lives with his wife and four children.

Roger May credits his family'€™s move away from the region as the impetus to travel back to the region as a documentary photographer. In the interview that follows, May mentions he made the six-hour drive back home to West Virginia 14 times in 2014 alone. Currently enrolled in the Certificate in Documentary Arts program at the Center for Documentary Studies at Duke University, May works as a part-time lecturer and commissioned photographer. Early in 2014, May covered the West Virginia-based Freedom Industries chemical spill for The Guardian. Additionally, his photography has been featured in Oxford American, Appalachian Heritage, and most recently in National Geographic, among other places. His first book of photographs, Testify: A Visual Love Letter to Appalachia, was the result of a successfully funded Kickstarter campaign in 2013. The handsome two-volume, hand-crafted book sold out quickly. May will serve as photographer-in-residence at the 2015 Appalachian Symposium at Berea College.

In February, 2014, May designed and launched a crowdsourced photography project: Looking at Appalachia: 50 Years After the War on Poverty. This contributor-based photography project will have its first exhibition in May, 2015. We were honored to speak with Roger May for Still: The Journal. We believe his work in the region is truly one of the best examples of identifying/representing contemporary Appalachian diversity, complexity, as well as tradition. In our interview, May speaks about the Looking at Appalachia project, about Appalachian documentary photographers and their images, and about those pesky regional stereotypes.
Still: We think the most current news for Roger May is the first exhibition of your Looking at Appalachia project in Spartanburg, South Carolina, in May, 2015. Can you tell us a little history of the Looking at Appalachia project, how this exhibit came about, and what you're doing to prepare for this exhibit?


Roger May:
The
Looking at Appalachia
project was launched in mid-February, 2014, after I came to the realization that it just wasn't possible to do the project myself. I really wanted to personally explore the entire region and photograph as much of it as I possibly could in 2014 to mark the fiftieth anniversary of the declaration of the
war on poverty
.
It didn't take long to realize that between my family and my day job, it just wouldn't be possible to undertake such an enormous project. Besides, one person's perspective on the region would be far too similar to what we're all accustomed to; a narrow view on a region far more complex and nuanced than many folks take the time to show. With those realizations, I thought crowdsourcing the project would be a way to get a lot of folks involved and to attempt to see Appalachia as this greater woven-together tapestry of people and place.

I decided to use the Appalachian Regional Commission's
map of Appalachia
to define the geographic boundaries for the project. I know a lot of folks are at odds with that map, but for the purpose of the project, it serves as an easily identifiable marker. For folks that aren't familiar with the region – and even for those who are – it really served as an eye-opening moment and even before photography is introduced into the conversation, it's already challenging us to rethink how we collectively and individually look at Appalachia. I even got some push back from a few "esteemed" photographers who were disapproving of my opening the call for work up to anyone – professionals and amateurs alike. That bothered me on a number of levels because that moves in the direction of being a gatekeeper of who is and isn't allowed to show Appalachia and that simply isn't my interest. I frankly don't give a damn if you have an MFA or if you're a CPA. What matters to me is that you are out there actively capturing your Appalachia as you see it, not as you think others might want to see it.

The project really took off, and I soon realized I was sort of in over my head. I tried to think strategically about the scope and arc of the project, but what was immediately clear to me was that I needed help reviewing the submissions. I hate using the word "curator" because we're all curators these days and that word gets tossed about far too often, but in a sense I needed help curating the work I was receiving, otherwise my own subjectivity would likely steer me in the same direction I was headed when I wanted to photograph the project myself. I reached out to some friends and photographers whose work I both respect and admire and asked if they'd be willing to serve as an editorial board. Without hesitation, they all agreed and this project simply couldn't have happened without the support of
Megan King
,
Chris Fowler
,
Kate Fowler
,
Raymond Thompson
,
Aaron Blum
,
Susan Worsham
, and
Pat Jarrett
. I also asked several folks to serve on an advisory board to help me think about how to guide the project and to be aware of opportunities for funding, grants, exhibitions, and so on.
John Edwin Mason
,
Pete Brook
,
Joy Salyers
,
Elaine McMillion Sheldon
, and
Rob Amberg
have been invaluable, and I'm grateful for their guidance and for their friendship.

In 2014, we saw over 2,000 submissions to Looking at Appalachia. In total, 297 photographs were selected to be part of the online archive. From there, we've selected 76 of these for the print exhibition, which as you mentioned, opens in Spartanburg, South Carolina on 21 May, 2015. From there, the show will begin traveling for the next couple of years.
I just received word that the
Southern Documentary Fund
, a 501(c) (3) arts organization based in Durham, North Carolina, has accepted the project for fiscal sponsorship. This is a huge step forward for the project as it will allow us to begin accepting tax-deductible charitable contributions.
Still:
We're interested in your creative process as a documentary photographer. In a
previous interview
you've talked about making lots of "shitty pictures" as part of your growing process as a photographer. What have those "shitty pictures" taught you as an artist?
RM:
You know, like anything, photography is a completely subjective practice and a solo pursuit. More than anything, I've learned to keep working through periods of self-doubt and not being sure of what I was even doing. I never cease to be amazed by the people I meet, by the lives that are opened up to me, and by the trust that is offered and earned. I've learned that trust is the highest form of payment I'll ever receive – or care to receive.
Still:
What are some of the ways that you translate the reality of a person, place, or thing into a photographic representation?
RM:
That's a really tough question. Any photographic representation is limiting and so incredibly subjective. What is included in the frame, its composition, often says as much or more than what is left out of the photograph. I think a lot of factors have to be taken into consideration. Is this more of a purely art photograph? Is it a long view of people and place? What is the intent of the photographer and those doing the work of looking? Of course I'm drawn to aesthetically pleasing pictures and beautiful compositions, but those rarely matter to me outside the context of a deeper, long form story or series. Time, then, is the key to being able to translate reality into photographic representation. I feel it's simply not possible to make any sort of important work on the fly and that's a continual learning process for me.
Still:
Who are some photographers that have influenced your thinking about and your own photography of the Appalachian region?
RM:
Without a doubt, Rob Amberg has probably had the most profound impact on me. I'm not even sure where to begin. He's a true craftsperson who has just an amazing presence and vision of this world. I have benefited tremendously not only by seeing his photographs, but by his writing as well. He's the one of a handful of photographers I know that makes me want to be a better writer. There's something to that, I think. There's an obvious visual narrative and language with photography, but Rob is equally adept with the written narrative. I've often found that photographers can do one or the other better, but it's rare to find someone so incredibly skilled at both. When those two merge, stories become much more rich and nuanced and that's one of things I deeply admire about Rob's work. His heart, mind, and vision combine to tell stories in a way that I wish more people, including myself, took notice of and put into practice. I'm proud to know him.
William Gedney
is another photographer whose work I greatly admire. He made only two trips to Kentucky in 1964 and 1972, but the work he made there is some of the most beautiful I've ever seen.
The beauty of the people, my people, and place, my place in this world, motivates me to continue making work in Appalachia. It's my heart, my heart work.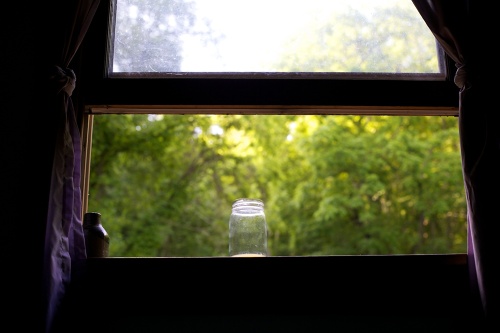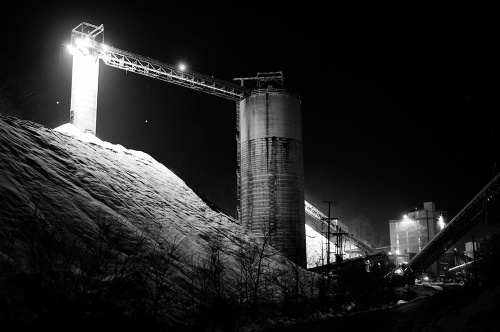 images from Testify, ©Roger May, used with permission
Still: What motivates you to keep taking pictures of Appalachia?

RM: Some might argue that it's simply semantics, but allow me to address the phrase "taking pictures." I say "making" pictures and I'm very intentional in doing so. In Appalachia, there's been a good deal of taking and I don't want to be another taker in a long line of takers. I think about that a lot. If I'm taking, I'm not being a part of sharing a story, or being part of the conversation, or doing anything but reinforcing the notion that it's OK to continue to take and not give back. But if I make a picture, if I ask someone if I can make a picture of them, it implies that I can't do what I'm doing without them. I truly can't do it without them. So, making becomes an exchange rather than a one-way transaction. I always offer to mail a print or email a picture. In the last few years, I've also been working with instant film so I'm often able to hand someone a print before I even leave, which always leaves a smiling face to be sure.

I think a large part of why I continue to make pictures in Appalachia is that I long to be there all the time. I live in Raleigh, North Carolina and though I've been here for a couple of decades, it still isn't home. So, in a way, I long for home and making pictures there keeps me rooted in a way unlike any other until I can get back for good. In 2014 I made 14 separate trips to West Virginia alone and on the drive back from each one, I found some sort of solace in knowing that I was one trip closer to never having to leave again.

The beauty of the people, my people, and place, my place in this world, motivates me to continue making work in Appalachia. It's my heart, my heart work. I think it's rare that one ever gets the chance to feel like they know they're doing what they're put here to do and, for me, I'm getting to do that. In some small way, I'm getting to do what I was put here to do. And what I find most reassuring in saying that is that I would be doing it even if nobody knew it. Projects are great and I'm incredibly thankful for the recognition and support of my peers, but all that aside, I just want to make work for the people who let me into their lives and for me.


Still: Photographs of Appalachia often illicit great controversy. Shelby Lee Adams' work is quite divisive, with some people celebrating it as an accurate portrayal of the region and others decrying it as posed stereotype. There are many examples of this. When making photographs in the region, are you conscious of whether or not this image might come off as stereotypical? Are there things you avoid photographing simply because they might perpetuate stereotypes?

RM: Absolutely. You have to be aware of all the different filters at work. I try to be incredibly mindful of stereotypes, both perceived and real, but work hard to show the truth somewhere in between. There are certain visual cues, triggers if you will, that almost anyone can see that lead them to the conclusion that stereotypes are being highlighted. Hell, I suppose simply the act of photographing Appalachia has become it's own stereotype. In some ways, completely avoiding stereotypes creates a stereotype. Think about it. The wizened, bearded mountaineer. The all-knowing, wrinkled grandmother knitting in the rocking chair on the porch. Pushed to the other extreme, overly romanticizing these ideas of folks is just as damaging and ought to get us as riled up as broken down cars, gun racks, and rebel flags. But for some reason, they usually don't. Why? Well, on the surface, they're not as visually triggering. But they illustrate the same type of untruth. Somewhere in the middle is as close to true as we'll ever get and that's where I look for pictures.

I love this passage from James Still's The Wolfpen Notebooks:

"I've traveled a bit yet I keep coming back like iron filings to a magnet. Here we are more conscious of the individual. Everybody is somebody… Some people who come into the area expect to meet with barefoot men packing hog-rifles and wearing black hats plugged with bullet holes. The "hillbilly" stereotype. Not too many lately as roads are beginning to open up the area and some are learning better. Naturally, if a visitor lingers a while he'll notice regional differences in speech and attitudes. Yet he'll find that human nature operates here pretty much as elsewhere … But outsiders persist in believing that the woods are still full of barefoot men."

Still: To stay on the subject of controversy and stereotype for one more beat, let's think about the Stacy Kranitz case. CNN.com published a photo essay by her that led to a national conversation about stereotypes. Kranitz claimed that the editors there consciously chose certain pictures and left others out to make them appear to be more sensational. But doesn't that lead us to the fact that a photographer ultimately has no control over the context their pictures might be seen in? For example, Kranitz argued that if the entire series was viewed that there would be more balance present—a showing of both negative and positive that would highlight the complexity of the region—but what if a viewer only saw a single image, with no context at all? The main question here is, how much must a photographer think about the different ways in which a viewer is going to see his or her work?

RM: Well, you know people love a little controversy and the media really thrive on our love of controversy. That's really nothing new. As photographers, we always have control over everything. Period. The only way that changes is when we start showing it to the world. That's the point at which we start losing the context we made the work in. Stacy admitted some naivety in the process by not assuming CNN would arrange the edit in a way that would get them the most clicks, shares, and comments and she took responsibility for that. Only she knows why she made the pictures she did and the context in which they were made, but it certainly becomes something different when such a large media outlet distributes it versus Stacy talking about her work in, say, the setting of a lecture or a slideshow. Those are completely different presentations. I don't think it's that Stacy didn't consider that, I just don't think she expected her work to be framed that way and to anyone unfamiliar with her work, I'm sure it could be off-putting.

Generally, I work in the mindset that as long as the person I'm photographing is OK with what I've done and I can look them in the eye at the end of the day and know that I've been truthful, I'm satisfied. I may not be truly happy with the quality of the images I made or feel good about the composition or light, but knowing that I've done my best to connect with folks, to share, and to be open to the experience is what matters. How do they see the work? How do they feel about it? Do they want it shared with a larger audience? We're bombarded with imagery these days and it's important to think about how quickly images move from one location to the next. It's a challenge to think about the ramifications of that, but I feel like if I'm not making anything I don't feel good about, I stand a much better chance of addressing any issues that may arise.
I was raised in a god-fearing, Christian family and my granddad was a preacher, the hell-fire, and brimstone kind. He was an honest man, a fair man, and his relationship with god was something he took very seriously.

Still: We've noticed that so many of your photographs of the region include religious iconography and/or people participating in religious rituals, like in your Glory series. You say that you don't really hold with the religious philosophies shown in the photographs, but something must draw you to those issues. What is it?

RM: You know, that's a great question. Clearly, I'm drawn to religious iconography and nowhere has that been more evident for me lately than in the Glory series. I think in some way I'm trying to connect with my granddad and I'm somehow finding bits of him in each of those kinds of pictures. He had a profound impact on my life and I miss him every day.

I was raised in a god-fearing, Christian family and my granddad was a preacher, the hell-fire, and brimstone kind. He was an honest man, a fair man, and his relationship with god was something he took very seriously. When I left home and later joined the Army, I explored other religions and ended up studying and practicing Buddhism for a few years. Years later, I returned to Christianity for a while, even serving as a deacon in a non-denominational church. It was in that capacity that I sort of had a Wizard of Oz moment of seeing the curtain pulled back on the church's administration and leadership. It was devastating and disgusting. It could never be the same for me. That was 2010. Since then, I've spent a lot of time trying to reconcile my heart and my head.

I can tell you that I find god in a lot of places and that I don't see modern-day American organized religion as any sort of answer to the questions I'm asking. Tom T. Hall's "Me and Jesus" comes to mind.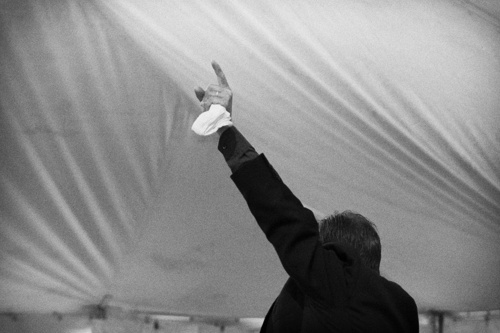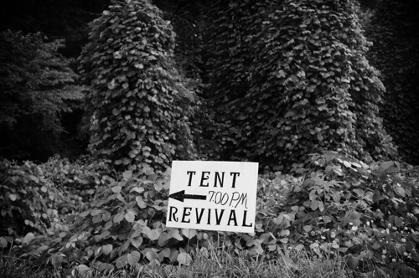 images from the Glory series, ©Roger May, used with permission
Still: We love your Testify book, which you've subtitled "a visual love letter to Appalachia." What kind of responses have you had with the publication of this lovely, hand-crafted book?

RM: Thank you so much. It's really been overwhelming. Between the Kickstarter supporters and those who preordered the book, it sold out pretty quickly. I can't accurately describe what that means. I feel incredibly lucky to have made the book and to be able to share it with so many people. I'd love to make another edition of it at some point.


Still: Do you have other book projects in the works?

RM: Indeed. I'm working with library staff at the David M. Rubenstein Rare Book and Manuscript Library at Duke University on the framework for a book of William Gedney's Eastern Kentucky photographs. I'm actively looking for an interested publisher.
Testify, ©Roger May Book cover, This is My Heart for You, by Silas House, ©Roger May