Interview with Silas House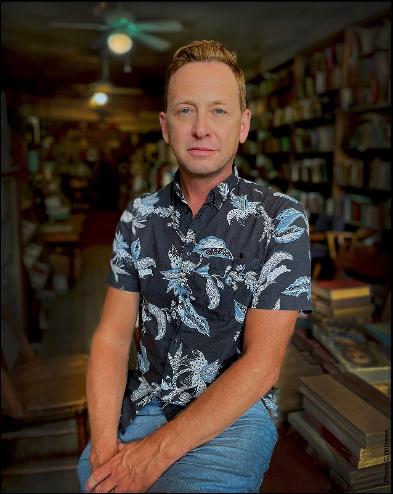 Still: The Journal talked with New York Times best-selling author Silas House about his newest novel, Lark Ascending, scheduled for release in late September, 2022 from Algonquin Books.
Lark Ascending is Silas's seventh novel, following his widely successful previous novels: Southernmost (2019), Same Sun Here (with Neela Vaswani, 2012), Eli the Good (2011), and his well-read, well-loved trilogy Clay's Quilt (2001), A Parchment of Leaves (2002), and The Coal Tattoo (2004), all originally published by Algonquin and recently re-released in paperback by Blair. Silas has also written a book of creative nonfiction, Something's Rising: Appalachians Fighting Mountaintop Removal (with Jason Howard, 2011), and published three plays. He edited James Still's posthumous novel, Chinaberry (2012), and currently serves as series editor of Fireside Industries, a collaborative imprint of University Press of Kentucky and Hindman Settlement School.
Silas's fiction, feature writing, and opinions have appeared in The New York Times, The Atlantic, The Advocate, Time, Garden & Gun, and other publications. A former commentator for NPR's All Things Considered, House is the winner of the Nautilus Award, the Storylines Prize from the NAV/New York Public Library, an E. B. White Honor, and many other awards. A critical anthology exploring his literary achievements was published in 2021: Silas House: Exploring an Appalachian Writer's Work, edited by Sylvia Bailey Shurbutt.
In June, 2022, Lambda Literary awarded Silas the 2022 Jim Duggins, PhD Outstanding Mid-Career Novelist Prize. The Duggins Prize "honors LGBTQ-identified authors who have published multiple novels, built a strong reputation and following, and show promise to continue publishing high quality work for years to come. "

In anticipation of the release of Lark Ascending, we asked Silas some questions about his newest work.


Still: The Journal: Hey Silas. Nice to have you back to Still: The Journal! Some of our readers may not know that you were one of the original founders of this journal and served as our fiction editor from 2009-2020. We're very happy to learn about the upcoming release of your newest novel, Lark Ascending, out from Algonquin Books in late September, 2022. Without giving too much away, could you tell us a little about this story and how/why you came to write it?
Silas House: This novel is set in the near-future and centers on a character named Lark. It's an epic journey that takes the characters from West Virginia to Maine, to Nova Scotia and across the Atlantic on an overcrowded refugee boat, and finally on a long walk across Ireland. The novel is a meditation on deep grief, but it is shot through with light and hope. The book grew out of the sharp grief I experienced after losing my beloved aunt, Sis, and to a large part it is about the collective grief so many of us have suffered over the last few years, particularly in witnessing things like climate change, the demise of our democracy, the pandemic, or division in our nation. My books are always a result of what I'm experiencing myself, for the most part.

Still: In some ways, this book seems a big departure for you: writing a dystopian future surrounded by environmental ruin, writing characters in survival mode; but in other ways, some of the themes for which you are best known also mark this novel: family and place. Can you talk about how writing this book was both different and familiar for you?
SH: You're exactly right. It is set in the near-future but in many ways that's the best way to write about what is going on right now. So I did have to do some world-building, which is a whole new challenge for me, but ultimately I am writing about the same things I've always been writing about: family, both blood and created; concepts of home; travel/escape (which, despite the allegiance to home in all of my work, shows up in all of my novels); the natural world and our connections and disconnections with it.
Still: How did you come to choose Glendalough as a safety destination in your story, a place the characters believe will offer protection?
SH:
Glendalough is a glacial valley in the Wicklow Mountains of Ireland. In the 6th century, a man named Kevin founded a monastery there and for centuries after it was a pilgrimage site. It has a long, complicated history but one interesting thing to me is the legend of St. Kevin praying there for so long with his arms outstretched that a blackbird built a nest in his hand, so he kept praying until the eggs had hatched so as not to harm the birds. Seamus Heaney wrote a famous poem about it,
"St Kevin and the Blackbird."
Glendalough has long been thought of as a thin place—a site where the veil is thinner—and for anyone who has ever been there, Glendalough just has an unexplainable feeling. When I was thinking of these people in my story who had been through so much seeking a place of solace, Glendalough made perfect sense to me. I believe it's the most peaceful-feeling place I've ever been. This novel is about people who are down to their last shred of hope, so they will try anything or anywhere to find protection.
Still: Can you talk specifically about the title of your novel?
SH:
I think
The Lark Ascending
, by
Ralph Vaughan Williams
, is one of the greatest pieces of music to ever be created. I cannot listen to it without tearing up. I listened to it the entire time I was writing the novel and the book is my interpretation of it. The composition is a journey, sonically. It captures flight, and it is full of both sorrow and joy, grief and hope, so it was the perfect soundtrack for this book that was centering on those themes. To me, it is a transcendent piece of music, and I hope that readers will seek it out while reading the novel. I've already created
a playlist for the novel
, containing all the music that was important to me while I wrote the book.





Still: The Journal: People who have read your novel already call it "urgent" and "terrifying," but also "hopeful" and "almost like a prayer." How do those words and phrases help the reader know your book and your intentions as a storyteller? What do you hope this novel will give to readers?
SH: My main goal as a novelist is always to make readers feel as many emotions as possible. I especially love that the words "terrifying" and "hopeful" are being used in reviews already because I think that sums up what it feels like to live right now. I mean, we're living in a time when a teenager goes into an elementary school and massacres little children. I cannot imagine anything more terrifying. Yet we have to hold onto hope; we have to keep fighting for change. We have to remain hopeful. That's what the book is about to me: refusing to give up. It's about feeling so weary that you think you cannot go on, but knowing that you must, that you have to keep fighting back. I think a lot of people feel that way right now, as if there are so many battles to fight, and one of them is holding onto hope. I don't mean to sound too grim, but I think the last few years have been the saddest I've ever witnessed as an American. And so I really strived to show that in the book but to also not weigh it down with that. There is joy in the book, and hope. Some of the chapters are told from the point of view of a dog. To my mind, a dog is one of the things that puts true joy into the world, so those passages are really important in Lark Ascending.
Still: This is your seventh novel, your fifth with Algonquin. What's it's been like for you to have a long-term relationship with your publisher?
SH: I feel really lucky that the same person, Kathy Pories, has edited all of my novels for adults. I trust her, and that trust is so important between a writer and an editor. I believe every writer, no matter how experienced or good, needs a great editor. Kathy is known as one of the best in the business. She always makes me see my own work more clearly and makes suggestions or queries that prod me to expand in places that need that and to prune in places that need that. And it's great to have a twenty-one year relationship between a writer and an editor; there's a sort of short-hand and trust that cannot be achieved in any other way than time.
Still: Tell us what you've got planned in terms of touring with Lark Ascending in 2022-23? Will you be doing a lot of traveling? Are you going to Ireland?
SH: I'm doing my first national tour in a very long time. I'll be all over the United States—from New York City to the South to the West coast. The launch will be here in Kentucky. There are several special events being planned right now, but I don't have all the particulars yet. The travel is tiresome but I love getting to meet readers and have conversations with them. Hopefully things will stay steady, Covid-wise, so we will be able to do in-person events the whole time. I'm so thankful for Zoom—it certainly made surviving the pandemic easier—but there is nothing like being together in person.