I don't only dream of muddy water by Larry D. Thacker
anymore, which used to bother me
since dark waters portend death they say,
until the dream rivers turned clean and quiet,
clear enough to see under the rippled surface,
deep, deep, until the randomness of truth
focused like a foundation firming up
the river's webbing:
green pop bottles hurled from the bank,
plastic jug, plastic cup, plastic plate,
glowing green rubber worm hook
caught in a mouthless doll's face;
streaks of rust and yellowed poison
pooled in a hollow log – mesmerized
into the story of a one-eyed giant catfish.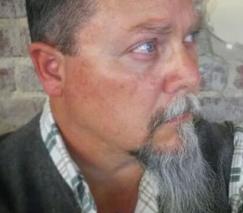 Larry D. Thacker
's poetry and fiction can be found in publications including
Spillway, Still: The Journal, Valparaiso Poetry Review, Poetry South, The Southern Poetry Anthology, The American Journal of Poetry
, and
Illuminations Literary Magazine
. His books include four poetry collections, two chapbooks, as well as the folk history,
Mountain Mysteries: The Mystic Traditions of Appalachia
. His two collections of short fiction include
Working it Off in Labor County
and
Labor Days, Labor Nights
. He earned the MFA in poetry and fiction from West Virginia Wesleyan College.