Exorcism
poetry by Sarah Pennington
1.
driving through the country,
following the curves of the road
in the pitch dark
the radio on low enough to provide a warm hum,
but not loud enough for any words to pierce the blackness of the air
the highbeams occasionally illuminating eyes in the forest
if I'm skittish, deer and fox
if I'm hopeful, black bear and lynx
I say,
you must stand still and concentrate
if you squint hard enough into the fine mist over the falls,

you can see the palest of colors emerge:

a pink too pale for baby clothes,

a yellow lighter than antique glass,

the blue sheen found on a white sheet fresh from the wash,

and the green of the first pale sign of spring
as the clouds move away the colors emerge,
arching over the rocks into the dark river flowing below
I stand on the dark rough rock of the overlook,
leaning over the black iron safety rail,
in your silence an expression of awe,
your hot hand filling mine
as we watch
2.

I wanted to go back to the falls this trip,
face the Moonbow alone
and purge myself of your ghost
my favorite poem from that long ago seminar
a false memory of that night,
a closeness and beauty we never had
frozen on the page
I crave exorcism,
but–
your memory is gone in most ways
I go months without my breath growing sharp,
my hands growing cold
no longer full of fear
of seeing you
a monster around every corner
before you, my moonbow memories held another
also now gone from my life
also a choice I made
as I drive through the forest
returning home, the road flowing to the city
carrying me back to my love,
the life I chose
the music on the radio weaves its spell
I see a flash of yellow between the trees
black bear, lynx,
the scream of a panther in the hills
the same sound my soul made the day I left you
the stubborn animal of my soul choosing life
and freedom and love
and the feel of the sun on my freckled skin


3.

now I exorcize you on the page,
excise your shape from my words
free myself from the burden of your shadow
my own sort of ritual
and all the exorcism I need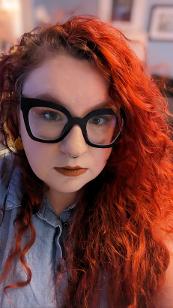 Sarah Pennington
(she/her) is a queer, Appalachian writer and artist living in Louisville, Kentucky. She grew up in Whitley County, Kentucky and her heart is still in the mountains. She studied creative writing while attending Bellarmine University and the University of Louisville. Her writing has been published in
Bellarmine Magazine
and other journals. Sarah is also a potter and visual artist. Her visual art can be found on Instagram
@SarahJosephineCreates
and can frequently be found at multiple venues in the Louisville area.