I flick incense ash into the water
and press my face into the surface,
sink just past the ears,
and breathe until
the sun is gone, and then
I breathe once more
and find, just under the skin:
a world below our world,
of inverted sky and soil, air you can taste,
songs you can drink. Vibrations
in different frequencies like shimmering air
over a hot sedan, a ring of metallic light
throbbing around waving strands of weeds
and comets darting in the darkness,
around the fish drifting past,
around every particle of mud.
My spine bends between universes.
A linchpin of bone pinches in my chest.
A limestone oak in a cold static tempest
whispering from light years away,
the day dark as night like a dead star.
It is all I can do
to stay together,
so incredibly close
to bursting across
the pond floor.
Everything lays on my hollow chest.
The stars wink and twinkle
in a Milky Way of gentle current.
Down here, the vacuum keeps me solid.
Above, the sun wobbles like a burning flag.
I could fall into myself, go inside out.
I could stay here trying out opposites,
breathing dirty water, playing poker
with carp, soaking everything like a sponge,
forgetting the sharpness above,
the teeth and blades and fires that bite.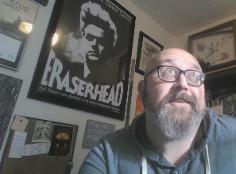 Sean L Corbin
is the author of the chapbook
The Leper Dreams of Snow
(Finishing Line, 2018), and has published a fair amount of work in a fair amount of places. He is a lifelong resident of Appalachia across several state and county lines. He currently lives in Lexington, Kentucky, with his wife, Amanda Kelley Corbin, and their variety of beasts, human and otherwise.