West Virginia in the Later Anthropocene by William Woolfitt
And in those days, we will see emerald ash
borers eat up the ash trees, and the rain-swollen
Cherry River break the streets, churning through
downtown Richwood and Fenwick, and temperatures
eight degrees warmer, early bud break, frost damage,
false spring. And we will wake to bleached
grass, brain-eating amoebas in Summersville Lake,
heat waves, cattlemen putting out hay for their cows
in October, refinery towers and power plants and stacks
jaundicing the sky, the slow green fire of
kudzu creeping north. Senators will veto climate plans.
Long gone the big-eared bat, Cheat
Mountain salamander, snuffbox, gone the brook trout,
northern flying squirrel, sheepnose. Scrub
oak and trash pine will choke the old hardwoods.
Perhaps we will no longer spew the lies of our fathers.
quilt ourselves in sweet nothings and newsprint.
Rain will push Buffalo Creek into basements,
seep into aging pipes, overwhelm the sewers.
Ticks will spread fevers. And we will dirge
umber songs for saw-whet owls and blue-headed
vireos, for Mason County farmers buying
water tanks, the Allegheny Plateau parched and
xeric. There were deeds, blanks, accords we signed
yesterday. The stink of ammonia and smoke. Hiss,
zip, whiz, shreds of paper fall like snow.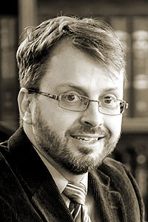 William Woolfitt
grew up in West Virginia, and now lives with his family in Cleveland, Tennessee, where he teaches college writing classes. He is the author of three poetry collections, most recently
Spring Up Everlasting
(Mercer University Press, 2020). His essay collection
Eyes Moving Through the Dark
is forthcoming from
Orison Books
.