Bluegrass Fridays
poetry by G.H. Plaag
fluttering dreaming on the delicate brook
of banjo at the weekend fair lit in kickdrum twostep
brushes on the wound snare soft bluegrass
flowing from the bantam stage like so
many waterfalls, the air bright with clawhammer
and the day's faint pink closure dripping with pedal steel.
the tourists flood biblical up the mountain
with frozen lips holding little paper cones of blue
raspberry ice, watching in greeneyed kneeslap
the dulcimer player in the knob's mosquito shadow,
violet and speckled with the mad life of early
stars. peeking, winking. the ski lifts dead metal
for the summer. the hatchbacks crooked hills in the pale
dusk, wrapped up in dewpoint, abandoned
at the chain motels. suburbanites from the gated selfsame
kingdoms arriving in golden train for real country
biscuits, pan-fried catfish, and a dash of pimiento
cheese; the vacation flash of disposable
cameras deployed to catch the quaint. scheduled family
adventure still feels purest non-digital. for brief moments it seems
the rock face is alive with spirits watching thru geode eyes
the creeper crawls with new vigor down the ambered hills
toward the warped-glass glow of the outdoor halcyon
the rising bluegrass squall kicks up a frontier wind
and Daniel Boone's shadow swaggers by in coonskin cap
before one of those big fellas with Florida plates stops
at the traffic signal blaring luke bryan from a giant '19 Chrysler
and shatters the music and i swear to god grins evilly
from beneath a Gators cap as he twists the volume
and punches through the night when the light turns
pixel green, trailing slick production and ripped diesel but impossibly
the band keeps playing, in the name of something.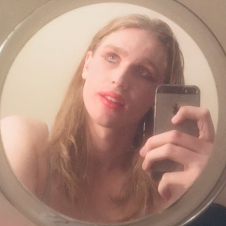 G.H. Plaag
was born and raised splitting time between Boston and Appalachia and currently resides in New Orleans, where they are conducting research for a forthcoming novel. A nonbinary writer from a working-class suburb, their work contends with the intersection of class, environment, and gender. They hold an MFA in Creative Writing from Hollins University, where they also taught, have been published in the
Academy of American Poets
and
The Winter Anthology
, and are the recipient of multiple awards in writing, including the Bedford International Poetry Award and the Gertrude Claytor Poetry Prize. They are a passionate naturalist, an avid baseball fan, and, fumblingly, a proponent of anarchy.