Dreams of Flying by Les Brown
I wanted to fly like the birds—
every child dreams
of cutting gravity's bond—
as I ran down the steep pasture slope,
leaping skyward on giant steps
above the hoof paths and close-cropped grass,
feeling the earth drop below me.
If only for a moment,
I could touch the clouds.
Time pulled me down,
of leaving earth again,
making loops and spins,
on my small white house,
seeing my tiny father walking
with milk bucket to the barn,
my mother, minute, dashing dishwater
among her wilting hollyhocks.
I would ride updrafts
like a vulture
searching for the dead
in that gray valley.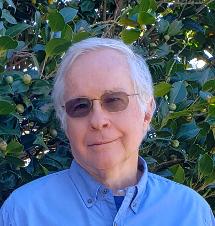 Les Brown
, a native of the mountains of North Carolina, is professor emeritus at Gardner-Webb University. He has published poetry and short stories in several journals, including
Pinesong, Kakalak, Moonshine Review
, and
Pine Mountain Sand & Gravel
. A Pushcart Nominee, Les's book,
A Place Where Trees Had Names
, was published by Redhawk Publications, 2020. He lives in Troutman, North Carolina.