Interview with Savannah Sipple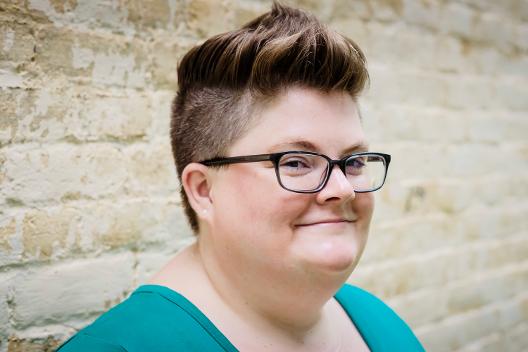 Photo by ©Rebecca Dayle Ashby

Poet Savannah Sipple is a long-time contributor to and friend of Still: The Journal. Her steady support and advice to us through the years has been invaluable, so we are jubilant to help her celebrate the publication of her first collection of poems, WWJD and Other Poems from Sibling Rivalry Press in early March, 2019. Savannah's collection explores the complicated paths of identity, politics, gender, and sexuality, while firmly rooted in a sense of place.

Savannah grew up in Beattyville (Lee County), Kentucky, surrounded by coal fields, rough terrain, and the Daniel Boone National Forest. Her experiences in a rural, conservative, ecologically-ravaged place figure prominently in this collection as a poet finds her voice and a balance to these often brutal forces. We're featuring a review of Savannah's collection in this issue as well. Poet Pauletta Hansel writes of WWJD and Other Poems: "In the tradition of Appalachian poetry . . . 'story' is usually at the heart of Sipple's poems. And within the telling of these stories, there is not a single misstep. Her skill is such that we enter fully into them and find ourselves carried and swept to new truths—perhaps uncomfortable, heartbreaking truths—but we are held there within the trustworthy craft of Sipple's poems."

Savannah studied writing with the late Mary Ellen Miller at Western Kentucky University and earned the MFA from Spalding University. Her work has appeared in Waxwing, Appalachian Heritage, The Offing, and many other journals and anthologies, including If You Can Hear This: Poems in Protest of an American Inauguration. For several years, Savannah was a professor of English for the Kentucky Community and Technical College system where she sponsored and edited a literary magazine. She is now co-owner of Brier Books, an independent bookstore in Lexington. She lives in Lexington with her partner, Ashley. She has received grants from the Money for Women/Barbara Deming Memorial Fund and the Kentucky Foundation for Women. In summer, 2019, Savannah will serve as writer-in-residence for KFW's annual Summer Residency Program.

We asked Savannah to talk about her evolution as a poet, the importance of form and shape in poetry, and on writing about trauma. WWJD and Other Poems takes its title from the popular motto and ancient moral imperative to act in the imitation of Christ. So, yes, Jesus shows up in this interview, too.
Still: How did you come to writing poetry? Would you say that's your primary writing genre?

Savannah Sipple: I've been writing poetry since elementary school, and I think I came to it because of children's books and songs. I have loved to read for as far back as I can remember, and there's a part of my brain that is very mathematical, so as a kid, I loved the musicality and rhythm of poetry. I could count syllables and rhyme, so I thought I knew it all.

I don't think I really fell in love with poetry until I was a teenager. I was fifteen and had to spend a weekend on a college campus as part of a student leadership program, and I was so out of my element. I was the shy hick kid surrounded by wealthier kids from urban areas. One of the leaders lent me a copy of Mary Oliver's Dream Work, and my entire world opened up. It was the first whole collection of poetry I ever read or owned (I bought a copy on the way out of town).

I also write essays and I occasionally play a pickup game of short story writing, but poetry has my heart.


Still: What, for you, sets poetry apart from writing fiction or memoir or essay? What were you able to say in your new collection through poetry that you couldn't have achieved in a short story or a personal narrative, for instance?

Sipple: I think what sets it apart is the way poetry can manipulate language and shift and move in such a confined (or not!) space. I primarily write narrative poetry, and there's a challenge in telling a story in a poem.

In WWJD and Other Poems I play with form and spacing, and I don't think that's something I could have done in a short story or personal narrative. When I write a poem, I weigh every word, every comma, dash, and period. There's something freeing in stripping a story to its bare bones.


Still: One of the craft characteristics that marks your work is the use of juxtapositions. Love and brutality, acceptance and rejection (especially regarding physicality and sexual identity), affection and hatred for a place, etc., are placed comfortably side-by-side. This opposition is especially prominent in the long poem "What We Tell Ourselves." What sort of affects or responses were you aiming for in using this startling technique of antithesis?

Sipple: That's the world I grew up in, and, to a huge extent, it's the world we live in. The way I feel about Appalachia is so complex, and I wanted to capture that throughout the book, but especially in "What We Tell Ourselves." Part of that poem captures the things we tell ourselves in order to justify our brutality: "this is fitting to the Lord," "the water is safe," "things are different for a girl," and "I'll knock your damned teeth out." The poem is specifically about brutality against women and against the land, and, to me, they're one and the same.

I don't know that I wrote the poem with the aim of a particular response. I wanted to be as honest as possible. Growing up, I was regularly threatened with violence. That's one truth. Another is that there came a point where I wanted to fight back. I wanted to act out in violence because I was tired of the threats, of my father screaming in my face, and I internalized my emotions; but also, if I fought back, then at least I might have deserved the fit he was throwing. Was my anger justified? I don't know, but it was there and it felt important to include it.
We're taking control of the narrative. And they can't stand it. It's why Dr. Christine Blasey Ford was able to testify calmly and professionally while Brett Kavanaugh took the stand and threw hissy fits. And yet we reward that kind of behavior.
"Navel-gazing is not for the faint of heart. The risk of honest self-appraisal requires bravery. To place our flawed selves in the context of this magnificent, broken world is the opposite of narcissism, . . . Listen to me: It is not gauche to write about trauma. It is subversive. The stigma of victimhood is a timeworn tool of oppressive powers to gaslight the people they subjugate into believing that by naming their disempowerment they are being dramatic, whining, attention-grabbing, or beating a dead horse. Believe me, I wish this horse were dead."
Your poems are full of trauma: emotional, physical, domestic, sexual, ecological. Could you talk about how you shaped these hard truths into poems, into art?

Sipple: Anyone who thinks writing about trauma is navel-gazing has some internalized misogyny to deal with. And while I don't think writing or talking about trauma should ever be considered "beating a dead horse," I do think the ways we write about trauma can shift and change. We all process trauma differently, so if two people were in a car together and then were in an accident, their narratives would likely differ at least a little if for no other reason than they're sitting in separate seats.


I agree it's subversive to write about trauma, particularly for women because there's power in controlling the narrative. It's why men work so hard to silence their victims. The default is to not believe women and the first course of action is to discredit them, so when we take the step to say, "here is what happened," we are, by default, subverting those in power because we're speaking out in opposition to them. We're taking control of the narrative. And they can't stand it. It's why Dr. Christine Blasey Ford was able to testify calmly and professionally while Brett Kavanaugh took the stand and threw hissy fits. And yet we reward that kind of behavior. Rapists get slaps on the wrists or suffer no consequences at all, like Brock Turner. My poem "When Those Who Have the Power Start to Lose It, They Panic," is about this very thing. It started as a response to Brock Turner and kept evolving into a larger commentary. Febos says, "I don't know who these supposedly self-indulgent (and extravagantly well-connected) narcissists are. But I suspect that when people denigrate them in the abstract, they are picturing women. I'm finished referring to stories of body and sex and gender and violence and joy and childhood and family as 'navel-gazing'." Amen. We need to keep writing about trauma at the very least until these men stop protecting each other and until women are no longer held accountable for the behavior of men. And even then, I don't think we should stop writing about it.


In terms of my book, I tried for so long to avoid writing some of these poems. Earlier drafts used persona to write about the trauma I've witnessed and experienced, but I was doing a disservice to myself and to anyone else who has had similar experiences. The voice wasn't authentic. Part of that is because I couldn't face everything and, for me, using persona was a way to avoid writing the heart of the poems. Gaslighting is a manipulation and control tactic. Because I had been gaslighted, by others and myself, I had to do some things to care for myself and start processing my experiences before I could write about them without the protective layer of persona. I also had to keep pushing myself as a writer. I had to push through the fear, but I also had to challenge myself to use authentic vernacular and to explore different kinds of form. But once I let go and gave myself permission to write to the heart, my whole style of writing shifted.



Still: We were reminded of Gertie Nevels' notion of the "laughing Christ" in The Dollmaker when we read your "Jesus" poems. Our reviewer said that your "Jesus kicks ass," and your Jesus is certainly more rowdy than Nevels' laughing Christ. Yours is a savior with a big sense of humor and we find Jesus in unexpected places. Can you talk about what informed your distinctive creation of Jesus in these poems and why you chose that character to walk alongside the speaker? While you're at it, can you tell us why some of the Jesus poems have bracketed titles and some don't?


Sipple: We're so uptight with who we think Jesus is and how we think he'd behave, and I wanted to turn that on its head. Religion often plays a big role in domestic abuse and homophobia, so I wanted to reckon with both of those, and I do that by putting Jesus in situations where we don't normally see him. For me personally, I had to deal with my own internalized homophobia in order to come out, and Jesus preached a message of love. Throughout those poems, he's loving me, sometimes in ways I can't love myself, like in "[Jesus is my best girl friend, my dutch boy]," I'm writing about hating myself to the point of self mutilation and he says, "don't break the yolk" and later in "[Jesus and I are on a break]," he encourages me to flirt with a girl. My coming out was such a process, but it took even longer than that for me to start to value myself.


The poems that have the bracketed titles are the ones where I'm trying to comment on my relationship status with Jesus. In one, we have lunch like two friends who haven't seen each other for a while. In another, I'm clearly in pain and need a friend. In another, we're on a break because I'm not sure I can be friends with Jesus and flirt with girls, too, but like someone who truly loves me, he's still there cheering me on.



Still: We also admire how these poems take such different shapes and forms. (Lord, your "Evangelism BINGO" poem!) Could you talk about how you make decisions about shaping a poem?


Sipple: The forms of the poems are very deliberate. Most of the time when I'm writing first drafts, the poems all come out looking the same: left aligned, sometimes in stanzas, sometimes in one long stanza, but similar. Occasionally, a rough draft emerges from a free-write, but more often than not even my free-writes have line breaks, which I guess means they're not that free . . . but whatever. The magic happens in revision because then I get to play around with word order, line breaks, stanzas, rhyme, and sound—all the fun stuff.

Writing this collection actually liberated my writing because I found myself wanting to put emphasis on certain words or I wanted to give certain phrases or lines space to breathe or to have weight, and I went looking for ways to do that. So some of the poems have lines where the phrases are spaced out or I use the slash mark to create a pause or to put space between words and phrases. I am constantly thinking about where to break a line and how line breaks can add meaning, so incorporating space and slashes was a new way for me to say, hey—pay attention!


"Evangelism BINGO" came from an attempt to write about evangelism itself and I kept getting caught up in the emotion of it, so I trimmed it down to words I associate with evangelism, and I chose a BINGO board because of its association with churches and its versatility. The words can be read vertically, horizontally, or diagonally. After I filled the squares with words I associated with evangelism, I went back through and changed some of them. I didn't want to write the expected, so I added words that maybe should become part of the church vernacular and ordered them with words that could be associated with the church or with something else.



Still: Tell us about your relationship with Sibling Rivalry Press, the publisher of WWJD and Other Poems.


Sipple: First of all, Bryan Borland and Seth Pennington are two of the very best people on this planet. They have committed themselves to publishing marginalized voices and they do so selflessly. I've been a fan of their work for several years now, and I knew I wanted to send my book to them because of the work they were publishing. They take care of their authors. This is my first book and there have been a lot of things I had questions about. They've answered every question with kindness and care. They designed a cover and made tweak after tweak because the only thing I could concretely tell them was what I didn't want. They advocate for my book, and me, every chance they get. I can't ask for more than that. I got to meet Seth in person last fall at a mutual friend's wedding, and right from the get-go we were able to talk comfortably about the book and our experiences, and I count him and Bryan as family now. I'm quite proud to be published by Sibling Rivalry Press.



Still: We'd like to know what's on your reading nightstand. What are you currently reading or what have you read recently that you'd recommend to others?


Sipple: I'm working on a memoir right now, so I've been reading a lot of memoir and essays, but I'm also always reading poetry. Lately, I've really loved the memoirs Educated by Tara Westover, The Fact of a Body: A Murder and a Memoir by Alexandria Marzano-Lesnevich, and Heavy by Kiese Laymon. In poetry, I recommend Magical Negro by Morgan Parker, I Can't Talk About the Trees Without the Blood by Tiana Clark, Still Life with Two Dead Peacocks and a Girl by Diane Seuss, and The Carrying by Ada Limon.
On my nightstand: The Book of Delights: Essays by Ross Gay, Kill Class by Nomi Stone, All You Can Ever Know: A Memoir by Nicole Chung, Hard to Love: Essays and Confessions by Briallen Hopper, Holy Moly Carry Me by Erika Meitner, and The Great Believers by Rebecca Makkai.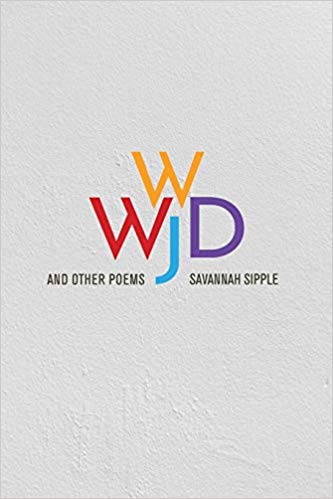 Read our
review
of
WWJD and Other Poems
by Pauletta Hansel