Interview with Whitney Dangerfield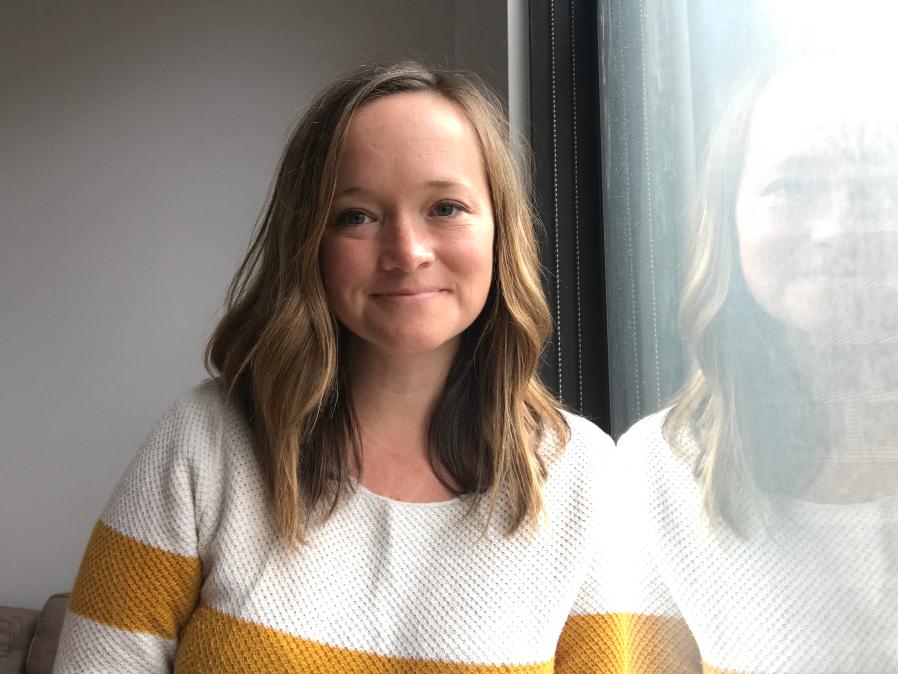 photo supplied by Whitney Dangerfield

We invited Whitney Dangerfield to answer some questions about her work as a journalist, editor, and digital storyteller for national media. Whitney grew up in North-Central West Virginia, in towns situated along the Monongahela River. For three generations, her family worked as miners, engineers, and managers for coal companies. We wondered how her unique exposure to coal culture and her upbringing in Appalachia had prepared her for work as a writer/researcher for National Geographic, a senior staff editor at The New York Times, and a digital editor for Serial, This American Life, and S-Town.

She spoke about that and about what she does specifically these days as a digital editor, including working on two podcasts, Serial and S-Town, that have achieved "blockbuster status," according to The New York Times. This winter, Whitney is also offering a class related to the type of work she does as a digital editor. Enrollment in "At the Heart of it All: Storytelling Across Form" is through The Makery at Hindman Settlement School.

Whitney truly is a multi-disciplinary artist. In addition to her professional life, she is working on a memoir that explores her family's relationship with coal. Whitney lives in Brooklyn with her husband Mark Sparrough, a filmmaker, and their son Cooper.
Still:
Take us through the evolution of how you moved from West Virginia to start your work in journalism.
Whitney Dangerfield:
I grew up in Fairmont and Morgantown, West Virginia, graduating from high school in Morgantown. Like many people that age, I was anxious to see new places. So I went away to school—to the University of Virginia—and then away again, after college, to work in Dublin, Ireland. After about a year in Ireland (I've always been a sort of restless person), I traveled for about 5 months, in Tanzania and Kenya, Australia, New Zealand, and Europe. It was an incredible experience. And when I got back home (my parents had moved when I was in college from Morgantown to Abingdon, Virginia) I knew that I didn't want to look back on that time as the best in my life. It was important to me to continue to grow and learn and engage with stories and the world as best I could. But there was one requirement: I still wanted to be close to my family, to be able to visit them often. I kept thinking, "If you could work anywhere, where would it be?" My answer was National Geographic. They did so many stories and projects in different parts of the world, and I wanted to be a part of that. It took me some time, but I found an alum from my college who worked there, and I drove to Washington, D.C., to have lunch with her. When I got back to Abingdon, she wrote me to say that there was an entry-level job opening, and if I was close by, I could come in. By that time, I was back home, six hours away. But I told her that I was going to be close by, and I promptly got back in my car.



Still: Did you always know you wanted to work in journalism?


WD: I hear people talk about how they always knew they wanted to be writers or work for magazines. That wasn't the case for me. I wish I had that clarity at such a young age. In undergraduate school, I was a little scattered and I took the long route to my degree through pre-med, business, and engineering classes, until I finally settled on International Relations. And then, of course, I traveled, as I said. I found my career path, though, when I eventually landed at National Geographic Magazine in 2001. My boss, Karen Kostyal, mentored me and gave me opportunities to write and edit. As part of the "Departments" team, I did administrative work and picked the letters to the editor. I also wrote short pieces in the front and back of the magazine. It was fun to cover so many different topics—from interviewing writers and photographers about their stories from the field to writing about subjects like a two-headed tortoise, the science behind tropical storm names, and even George Washington's teeth.


At
National Geographic
, I learned how to write short; every single word counts when you only have 150 of them to tell a story. I also just tried to glean as much as I could from the researchers, writers, and editors. I loved every part of how a story came together.


During this time, I got my Master's degree in Creative Nonfiction at Johns Hopkins University, and I started working on my own personal essays in earnest.



Still: How did you move from
National Geographic
to The
New York Times
?


WD: After almost six years at National Geographic, I volunteered to take a buyout. I had finished grad school, and I wanted to spend more time concentrating on my own writing. I began freelancing; my stories appeared in National Geographic Traveler, The Washington Post, Smithsonian Magazine Online, and in other publications. Most of my colleagues who took the buyout were now at magazines around D.C., so I did a lot of editorial work for them. One of them, Miki Meek, eventually took a job at The New York Times, and she sent me a notice about an opening there she thought I'd like.


I had only been freelancing for a year, but I applied, and several months later, seemingly out of the blue, I got a call for an interview. It was all sort of whirlwind after that. I wasn't necessarily looking to leave D.C., but I couldn't turn down a job offer at the Times. So two weeks later, I moved to New York City. I can't believe it, but I'm coming up on 10 years in the city.



Still: What kind of work did you do at The New York Times?


WD: I had been primarily a print person before I went to the Times, but had done some digital work. I knew it was important to gain strong web skills to stay viable in the business. I started on the night shift at the Times as a web producer in 2008, getting stories ready for the website. I then worked as a homepage producer. In that job, I fielded requests from desks around the paper. I wrote and edited short descriptions of stories, but I had to do them quickly, like in 15 seconds quick. That was an invaluable skill to learn, too.


After about a year and a half, I landed at the "Opinion" and "Sunday Review" sections. It was there that I was able to marry my print and web background. As a Senior Editor, I pitched and edited many "Op-Ed" and "Sunday Review" essays, but I concentrated on multimedia projects and how the section worked online. For example, while my colleague worked with a writer on a piece about a program that helped people with HIV stay on track with their medicine, I went to the hospital and interviewed the patients about their personal experiences. We then featured the story and the edited audio together in one package. When the Editorial Board decided to come out in favor of legalizing marijuana, I pitched a timeline on the Board's evolving view on the topic and worked with an art director and designer, who gave it a nice twist.

I edited a photo essay series called "
Exposures
." As the photo editor selected the pictures, I would work with the photographer on what he or she wanted to say about them.
I also created and edited a series about writing, called "
Draft
." With this weekly series, I wanted to provide essays for writers about everything from structure to getting the comma right, and of course, about the sometimes frustrating, but always lovely, process of writing. I was given a lot of freedom to come up with a mix of stories and to reach out to wonderful writers to work with me. There is nothing better than helping someone shape a story. I will always treasure that time. The years I spent at the
Times
were hectic, but I really loved it.
Of course, there have been times in the past when someone at work would say something about my home state that I found frustrating—and I've certainly read articles that feel cursory and lack the nuance of the region. I've also been disappointed by comments from people back home who find it just as easy to dismiss the work of New York journalists.
Still: What are the challenges of being Appalachian in the culture of New York journalism? What are the advantages?

WD: I am still very much attached to West Virginia, so sometimes I feel pulled in different directions. I suppose the more optimistic view is that I can see issues from multiple perspectives. The stereotype is that the New York media world is out of touch with the rest of the country and when they cover Appalachia, the characters in the stories are one-dimensional. The stereotype of people in Appalachia is that they are ill informed and single-minded about certain issues. I don't find either of those stereotypes to be accurate.
Of course, there have been times in the past when someone at work would say something about my home state that I found frustrating—and I've certainly read articles that feel cursory and lack the nuance of the region. I've also been disappointed by comments from people back home who find it just as easy to dismiss the work of New York journalists. But day-to-day, I've found that the journalists I've worked with in New York are incredibly thoughtful and work very hard to get Appalachia right. On a personal level, they are open to ideas and to my comments about what they might want to look into. I also know that my journalist and writer friends back in Appalachia are equally as dedicated to their own work and can capture the complexity of the region perfectly. In general, I would always like to see more thoughtful coverage of the area.

So, to answer your question in a more succinct way, I love that I can straddle these two worlds. I think it makes me a better journalist. And in the end, the two areas aren't that different. I just wish we could all see that more clearly.



Still: Tell us about your current work as the Digital Editor at Serial, S-Town, and This American Life.

WD:
I was a fan of
Serial
Season One, and when this job came up in 2015, I was excited about being part of this team and focusing on storytelling in a new form. I also wanted to see what it was like to work in a smaller group and to be able to focus on projects for a longer amount of time. Being a Digital Editor here means I have a number of different roles—part art director, project manager, editor, multimedia creator, researcher. It really depends on the individual project. I was hired to create and manage the website for
Season Two of Serial
. Sarah Koenig, Julie Snyder, and Dana Chivvis are impeccable journalists, and what they did with Season One is remarkable. We knew that the audience would be big for Season Two, and I wanted to make sure the website matched the quality of the storytelling. I'm proud of the work the artist
Carl Burton
did; his illustrations really captured the mood of the story. I also worked with a mapping team to develop interactive maps and with designers and artists on engaging graphics. With a site like this, you never want to repeat the main audio story. You want to give it context or augment it in ways that feed the audience in between episodes. Since I was already following some of my own leads in the stories for the website, I also did reporting and research for the season, too.
S-Town
was a different type of project. Brian Reed is an incredible writer, and he told me about the story when I first got to
Serial
two years ago. He and Julie Snyder make an amazing team, and they are responsible for the show. I sat in on edits and weighed in when I had thoughts, but my job was really to come up with a look and feel for the site and show. I knew early on that we didn't want to do multimedia as we had with
Serial,
and that included showing photos on the site.
John B. McLemore
was such an interesting and complex character, and there were so many visual directions in which we could have gone. I mainly tried to listen—to the story, to the nuances, and to how the creators felt about the show. Brian felt strongly that the visuals should be beautiful, and I knew they wanted
S-Town
to feel like a novel. I threw out a lot of different ideas for artists and looks, and we finally landed on the artist
Valero Doval
. I worked closely with Valero to figure out things like how complex the art should be, if we wanted movement, and so on. The design firm Studio Rodrigo then worked with me on how all of the other visual aspects—the navigation, fonts, etc.—would work. I'm very proud of the
S-Town
site.
Right now, I'm working with others on the redesign of
This American Life
's website.
This American Life
has been on the air for more than 20 years and has more than 600 episodes. It has been a huge project, but I'm excited about what we've created. I've done a few web projects for
TAL
, too. I'm also working with the
Serial
team on Season Three, mostly doing research and reporting at this point.
Throughout my career, I've found that storytelling can take on so many different forms. I've written and edited, worked on photo essays and multimedia, and taken on art direction. I've set out to learn and grow creatively, and there's a lot more to explore.


Still: What types of creative writing do you like to read?
WD: I must preface this answer: I have a four-year-old. My son is the best part of my day, but man, can he be a drain on reading time. I recently went to the beach with my family. In the past, pre-child, I would read 3 or 4 books during the week. This year, I read about 3 pages. So I'm embarrassed to say that I'm not as up to date on new books as I should be nor do I read as much as I used to. My best reading time is on my subway commute. I read a lot of articles in The Atlantic, The New Yorker, and the Times. I listen to podcasts: This American Life, obviously; Death, Sex, and Money; Heavyweight; and others. I try to keep up with what all of my friends from the Appalachian Writers' Workshop are writing.
In terms of books I've read recently, I really loved
The Evening Hour
by Carter Sickels and
Heat and Light
by Jennifer Haigh. I am about to start a new book by
André Aciman
. He and I worked together on essays at the
Times
, and I think he's a great writer and person. I want to read so many books, but right now, on my near-future list is
Underground Railroad
by Colson Whitehead,
Dreamland
by Sam Quinones, and
The Twelve Lives of Samuel Hawley
by Hannah Tinti.


Still: We know you've been working on a memoir. Would you talk a bit about what it is about?


WD: Sure, basically, it's a memoir of coal as told through my family. I come from a long line of miners. My great-grandfather started working in the mines as a child, my grandfather worked in the mines through many innovations and was active in protests to gain more protections for miners. My father got his Master's degree in engineering and worked in management. And then, of course, I was never in the mines, but I believe I have a unique perspective on it.


Coal mining seemed very normal to me growing up. Seeing my Dad's work clothes covered in coal dust seemed commonplace, and a lot of my friends' fathers worked at the coal companies, too. I may have been gone from West Virginia for a long time now, but it is and always will be my home. So while I yearn for it, I'm endlessly curious about it, too. I also find everything my family did and why they did it fascinating. Of course, coal mining has become more of a political topic and I've worked at places that made covering climate change a big priority. So, I have always been proud of my family's hard work and I recognize the opportunities my father's job gave me, but I was also consumed by the bigger ramifications of coal in the environment and in the community. In that conflict, I felt there was a story.
I started interviewing my grandfather and then my father. I went underground several times with my dad and read everything I could about the early days of mining. I was writing a lot. I got an agent. Publishers wanted different things from the book. A few years ago, my father, who had a long-term liver disease, started getting sick. He had a liver transplant (my sister was his living donor). But, unfortunately, 6 months later, he died.
We were devastated by my father's death and still are. In the aftermath of all that, I put the book to the side for a bit. But it is always with me, and I still feel like I'm writing it as I walk down the street or wait for the train. I'm also exploring some of the themes of my book in fiction, so we'll see where all of this takes me.